The 3 Best Filterless Air Purifiers So You Never Have To Buy Replacement Filters Again
We only recommend products we love and that we think you will, too. We may receive a portion of sales from products purchased from this article, which was written by our Commerce team.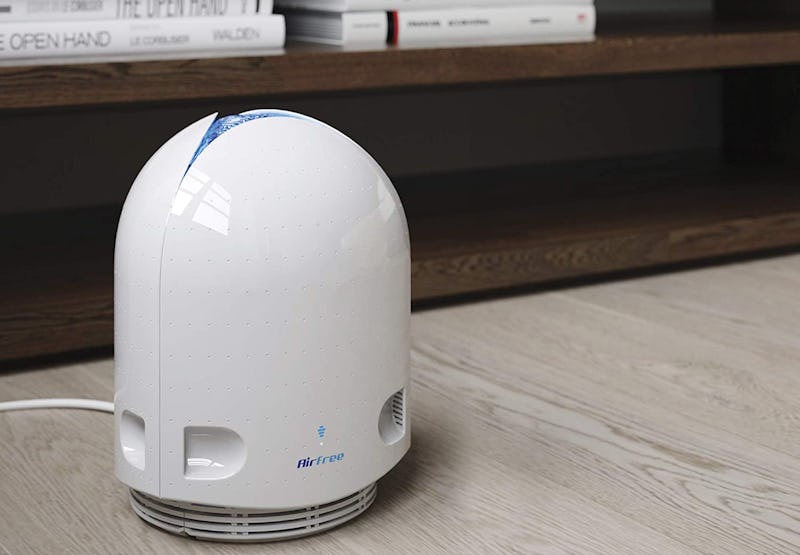 Amazon
When shopping for the best filterless air purifiers, the word "filterless" means different things to different people; for some, it means that the unit has no filters at all — and for others, it means that the existing filters won't need replacing and require minimal upkeep. Either way, you'll want to determine which other primary purification technology is best for your needs as well as your purifier preference. Here are four of the most popular filter-free alternatives:
If none of these technologies suit your needs, you can always opt for a traditional air purifier with a washable filter (like the one all the way at the end of this article). This provides you with some of the most effective air-purifying capabilities, but without the added expense of replacement filters. As always, when shopping for any kind of air purifier, make sure it's suitable for your specific space by checking the intended square footage.
1. The Overall Best Filterless Air Purifier
Airfree's air purifiers uses "exclusive patented thermodynamic TSS technology," which, in other words, means the interior heats up to an extremely high temperature with the aim of boiling away mold, allergens, dust mites, viruses, odors, and bacteria, to freshen your air, and according to hundreds of happy reviewers, it works. Since it's just heat, it doesn't put out potentially hazardous materials like ozone, and it's silent for use in bedrooms, nurseries, or offices. You can also get it in black.
Purification technology: heat
Intended square footage: 450 square feet
One reviewer wrote: "I have sinus rhinitis and bought one of these for my bedroom and after the first day of having it, I can breathe easily through my nose (a very rare treat for me) [...] They are pricy but DEFINITELY worth every penny! No other purifier that I've gone through has been as quiet and effective!"
2. The Best Air Ionizer With A UV-C Sanitizer
The OION Technologies ionic air purifier combines multiple technologies in order to effectively purify your space: It does have a permanent filter, which simply wipes clean, as well as a carbon layer that reduces odors. That said, it also uses an ionizer and a UV-C light that helps neutralize allergens in your environment and filter out contaminants that pass through the machine. Currently, it has more than 6,000 reviews with a 4.2-star overall rating. Plus, its under-$100 price tag makes it an economical alternative.
Purification technology: ionic/UV-C
Intended square footage: 2,000 square feet
One reviewer wrote: "My son is in a basement studio apartment. Lately he had been complaining of musty smell, moisture and poor air quality. [...] I gifted him this air purifier. It stays plugged in, is quiet and runs continuously. After a mere 24 hours he noticed a difference."
3. The Best Ozone Generator
A number-one best-seller in home ozone generators, the Enerzen deodorizer and sterilizer has over 10,000 reviews and a 4.6-star overall rating. It's powerful enough for industrial settings but small and simple enough for home use, too. By putting out ozone for up to three hours at a time, it effectively tackles odors, even difficult ones like animal waste and cigarette smoke. Plus, it has a washable stainless steel filter and extra-large fan. (However, note that ozone generators should only be used in unoccupied spaces, and you should allow several hours of time for the space to air out before returning.)
Purification technology: ozone generation
Intended square footage: 1,250 square feet
One reviewer wrote: "Recently purchased a home that had been occupied by smokers for 30+ years. [...] Fantastic buy. It eliminated the smell in the house so we decided to try and use it on a barn that was destined for destruction due to the horrible smell of cat urine. The barn is now considered useable and will turn into a 'she-shed' all thanks to this Ozone generator."
Also Great: The Best Washable Filter Purifier
This is not a truly filterless option, but it's a great alternative for people who don't want to spend money on replacement filters. The Hamilton Beach TrueAir has a permanent HEPA filter that captures 99% of dust, pollen, mold, mildew, dander, and other potential allergens — and when it gets full, you simply vacuum it clean and start all over again. Buyers love it because it's quiet, works in most small- to medium-sized rooms, and can be positioned vertically or horizontally.
Purification technology: washable HEPA filter
Intended square footage: 160 square feet
One reviewer wrote: "I was so impressed by how well it worked as well as how quiet it was I decided to get one for every room in the house. I love that the filters are cleanable so I don't have to buy new replacement filters every 6 months."