The 14 Best Highball Glasses
We only recommend products we love and that we think you will, too. We may receive a portion of sales from products purchased from this article, which was written by our Commerce team.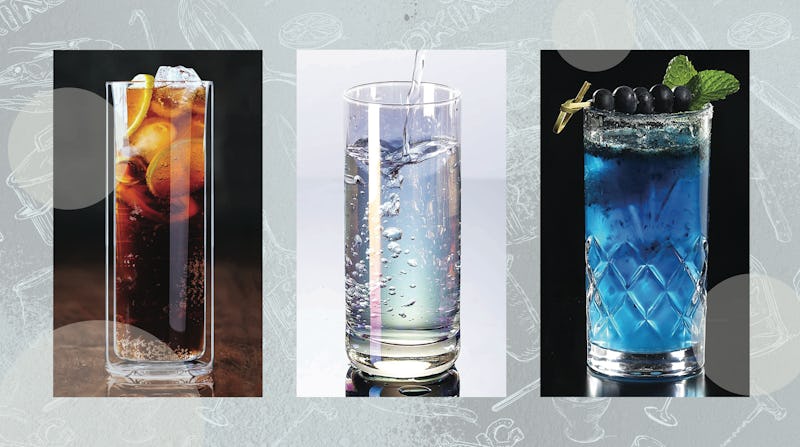 Bustle / Amazon
If you enjoy whipping up classic cocktails at home (or you're in need of versatile cups for other types of drinks), you should keep a set of highball glasses on hand. When shopping for the best highball glasses, make sure they have a capacity of at least 8 to 12 ounces so that they'll hold spirits and mixers with plenty of room for ice. Nowadays, you can even find highball glasses with capacities as high as 20 ounces, which can also be great for water, soda, and other high-volume beverages. While highball glasses are marked by their straight sides and narrow shape, they come in different materials (including glass, crystal, and plastic), and their individual designs can range from simple to ornate.
When choosing a highball glass, think about what material will be the best fit for your lifestyle. Standard or borosilicate glass, crystal, and plastic are all commonly used for barware, and they each have pros and cons.
Highball glasses made with standard glass are easy to find, and they can require varying degrees of care. Some are dishwasher safe while others need to be washed by hand. You might also come across options made with borosilicate glass, which is more resistant to changes in temperature. This can come in handy for glassware like mugs — while it's unlikely that you'll ever need to use a highball glass for a hot drink, it might give you peace of mind to know that borosilicate glass is especially durable.
When you think of fancy drinking glasses, crystal might come to mind. Crystal is clearer and more durable than standard glass — and when the light hits it just right, it sparkles, too. However, spirits can leach lead from traditional crystal and into drinks. So it's recommended that you choose lead-free crystal (also called crystalline) instead of lead crystal for your barware.
When shopping for glasses for indoor and outdoor use, plastic is a durable bet — especially Tritan plastic. Not only is durable Tritan scratch-, chip-, and shatter-resistant, it also is dishwasher safe and can look deceptively like glass.
Highball glasses are offered in a wide selection of designs to suit any preference or setting. Some are basic and let the ingredients take the spotlight, while others are statement-making pieces. Decorative accents like ridges or raised designs can even have the added bonus of making the glass easier to hold.
With all this in mind, here are the best highball glasses that you can buy on Amazon.