The 8 Best Keyboards For Long Nails
Reduce typos and tapping noises caused by your long mani.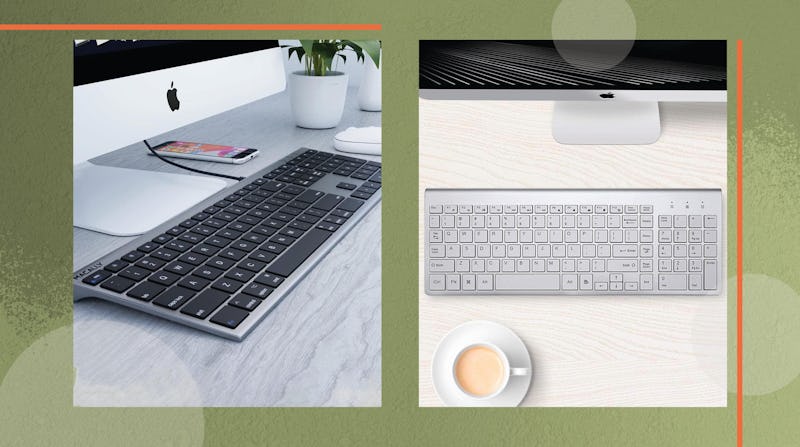 Bustle/Amazon
We may receive a portion of sales if you purchase a product through a link in this article.
If you have long nails, you know that typing on a keyboard can get tricky. Luckily, some keyboard designs can help you maintain your speed and accuracy while minimizing distracting typing sounds. The best keyboards for long nails feature low-profile keys that are easier to type on, according to Reddit users. Plus, these keyboards come in full-size and space-saving options and are available for both Mac and PC users.
What To Consider When Choosing A Keyboard For Long Nails
When shopping for keyboards for long nails, most options are low-profile chiclet keyboards (named because the flat, rectangular keys look like chiclets), which feature minimal key height and more space between each key, reducing the chance of making typos. There are also low-profile keyboards with round keys, which may help typists with long nails avoid hitting the corners of the surrounding keys. Your choice depends on your preferred aesthetics and which style works best for you.
Other considerations when choosing a keyboard include whether you prefer a wired or wireless design, if you'd like ergonomic features such as a split keyboard or padded wrist rest, and if you want a keyboard and mouse combo. You also have the option of choosing a full-sized keyboard with over 100 keys or a space-saving design that eliminates the special function keys and number pads. The kind you choose depends on your workstation setup and style preferences.
With these considerations in mind, check out the best keyboards for long nails available on Amazon.
1. This Apple Keyboard With Over 20,000 5-Star Reviews
This reviewer-favorite Apple keyboard is ideal for those with long nails due to its low-profile design and chiclet-style keys. The ample space between each key helps to reduce accidental key hits and optimized key travel helps to improve typing precision. This full-size keyboard is available in five language options, connects to Macs, iPads, and other Apple products via wireless Bluetooth, and comes with the Lightning to USB charging cable.
One Reviewer Wrote: "Well-made Apple quality. [...] The new keyboard is thinner and I've found the lower profile keys actually help me to type faster. Just took about 1 day to get used to. [...] Yes, the keyboard does lay very flat to the deck surface, it is not elevated in the back. I've personally found this helps keep the wrists in a neutral position and again, helps with typing speed.
Connection: Bluetooth | Compatibility: Mac OS 10.12.4 or later and iOS 10.3 or later | Number Of Keys: 109
2. A Wired Keyboard With A Slim Design
Wired keyboards never need recharging and don't require batteries, making them an excellent choice among some users. This full-sized Macally keyboard features low-profile keys with short travel distances is compatible with both Windows and Mac computers and is hardwired with a five-foot USB-A cable. It's available in space gray or in white to match your workspace decor and includes 20 Apple shortcut keys so you can wiz through projects with ease.
One Reviewer Wrote: "I really like this keyboard. The keys, in particular, feel crisp and solid. Respond well to typing - with a perfect amount of haptic feedback - noise, and "punch."
Connection: Wired | Compatibility: Windows 7 and later, Mac OS 10.6 and later, and any computer with an available USB port | Number Of Keys: 110
3. A Popular Under-$35 Keyboard With Round Keys
The unique round keys of this Logitech keyboard not only look cool but also help to prevent typos by eliminating key corners that could get hit by long nails. It's compatible with Windows, Macs, iPads, and Chrome OS, connects to your device via Bluetooth and can switch between three devices using the yellow keys at the top. This 80-key keyboard is a bit smaller than a full-sized keyboard, however, it still includes shortcut and media keys for convenience. There are five colors to choose from to match your aesthetic and it comes with two AAA batteries that provide approximately two years of use.
One Reviewer Wrote: "So happy with this purchase! [...] I do have acrylic nails on the medium-longer side and this has been sooo easy to type on- I was back to my normal typing speed and not looking at the keys after just a few hours of using."
Connection: Bluetooth | Compatibility: Windows 10 or later, Mac OS 10.15 or later, Chrome OS, Android 8 or later, iPad OS 13.4 or later, and iOS 11 or later | Number Of Keys: 80
4. This One With A Memory Foam Wrist Pad
Featuring a split design and a memory foam wrist pad, this full-size keyboard for long nails helps to reduce muscle strain and improve comfort — perfect for long days in front of the computer. It connects to your computer via Bluetooth, boasts low-profile and quiet-click keys, and can connect up to three devices simultaneously. There are tilt legs on the bottom of the keyboard with three height settings, and the two AAA batteries needed for use are included, providing up to two years of power. Plus, there are additional options in the listing that include bundles with various Logitech mice for a full workspace upgrade.
One Reviewer Wrote: "I love this keyboard. The 'regular' keyboards that have the deep keys work just fine, but I've always enjoyed typing on laptop keyboards with the flat keys. This keyboard marries the best of both worlds. It's comfortable, easy to type on, and pretty quiet compared to my older, ergonomic keyboard. Very, very happy with this purchase"
Connection: Bluetooth or unifying USB receiver | Compatibility: Windows 10 or later, Mac OS 10.15 or later, Chrome OS, iPad OS 14 or later, and Linux, according to the brand website | Number Of Keys: 109
5. An Apple Magic Keyboard Alternative With A 18-Month Warranty
For a Mac-friendly keyboard that won't break the bank, check out this wireless Macally keyboard. It's compatible with Apple Mac Pro, Mini, MacBook Pro, Air, and iMacs, features the Mac 110-key layout with 21 Apple shortcuts, and can connect with up to three devices simultaneously. The low-profile, square keys with rounded edges are perfect for helping long nails avoid mistypes, and the full-size keyboard can get approximately two months of use before needing to be recharged. Also great: It comes with an 18-month warranty for peace of mind.
One Reviewer Wrote: "Absolutely love it! It seems like I can type 5 times faster with much fewer errors. Highly recommend!"
Connection: Bluetooth | Compatibility: Apple Mac Pro, Mini, Macbook Pro, Air, and iMac | Number Of Keys: 110
6. A Low-Profile Keyboard With A Folding Design
This compact, travel-friendly keyboard features a tri-fold design that measures just 6.5 by 4.7 inches when folded, making it easy to slip into your bag or luggage. It has 78 chiclet-style keys, is compatible with Windows, Android, and iOS, and can connect to your device with either a USB cable or Bluetooth connection. You can choose between red, green, or blue backlighting and it offers up to 300 hours of use on a single charge.
One Reviewer Wrote: "This thing is amazing and I use it all the time. It is closer to a full-sized keyboard so the typing feels natural and the tactile on the keys is perfect and I make very few typing mistakes due to the keyboard. It is small and fits into my backpack and is great for when I work remote from coffee shops. I originally bought it for my tablet, but it is really easy to set up another profile to use with my cell phone and it takes one click to switch between the two."
Connection: Bluetooth and USB cable | Compatibility: Windows 8 or later, Mac OS 10.8 or later with HID profile, Chrome OS, Android 6 or later, and iOS 9 or later | Number Of Keys: 78
7. This Keyboard & Mouse Combo For Less Than $30
This desktop duo features an ultra-slim keyboard with low-profile keys and a matching ergonomic wireless mouse. The full-sized keyboard features quiet, chiclet-style keys and it has a battery-saving feature that sends it into sleep mode after 15 minutes of inactivity. The set is compatible with Windows XP, Vista, and Mac, however, hotkey functionality may be limited when used with Apple products according to some reviewers. Both the keyboard and mouse connect to your computer via a USB receiver and require a total of three AA batteries for use (not included).
One Reviewer Wrote: "This keyboard is full-size and the letters, keys, and numbers are where my fingers expect them to be. The key action is light and spring and very quiet. I am able to type as quickly as I want with minimal mistakes. The mouse is engineered with a nice hand-feel and is easy to use. [...] Overall I am very pleased that I purchased this keyboard/mouse combo."
Connection: USB dongle | Compatibility: Windows XP, Vista, 7, and later | Number Of Keys: 101
8. An Ergonomic Keyboard With A Detached Numeric Pad
This ergonomic dome-shaped keyboard allows wrists and forearms to rest in a more natural position, reducing wrist and forearm discomfort. Additionally, it allows your hands to sit at a more level angle which helps to keep long nails up off the keys. It has a cushioned palm rest for extra support, a detached number pad that can be stashed away until you need it, and connects to your computer via USB dongle. This full-sized keyboard has 107 keys and includes the three lithium-ion batteries needed for use.
One Reviewer Wrote: "Wow, just wow is all I can say. [...] The numeric keypad is separate & also wireless so the mouse can be closer to your home row position. The keys are smooth and easy. My speed increased dramatically, but most importantly, my accuracy shot up from ~90% to 99% within minutes of taking it out of the box (no learning curve at all). Definitely worth the price. Highly recommend for anyone that spends time on a keyboard."
Connection: USB dongle | Compatibility: Windows 7 and later | Number Of Keys: 107