Tips For A Super Efficient Home Work Space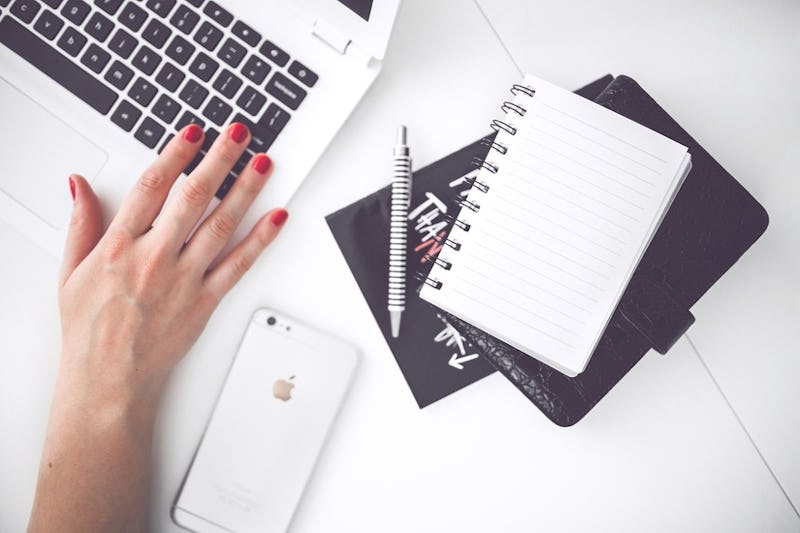 Whether you work from home or not, and no matter what your age, having an organized and productive home office can be the difference between getting necessary tasks done with ease and efficiency and pulling out your hair every time you need to pay a bill. In a piece for Psychology Today, psychologist Sherrie Bourg Carter even sites workstation disorganization as an often overlooked stressor in our lives. "Clutter can play a significant role in how we feel about our homes, our workplaces, and ourselves. Messy homes and work spaces leave us feeling anxious, helpless, and overwhelmed," Carter said.
Basically, an organized home work station just really, really helps. I spent the majority of my 20s keeping every single important document I had in an ever-growing (and ever disorganized) red file folder. Apartment leases, health insurance documents, proof of payment on large bills — they all went in one place without any overarching logic other than that they were "important."
Suddenly, in my late-20s, a few things changed pretty much all at once. I had some unexpected health issues, which meant the paperwork/complicated documents part of my life started growing at an exponential rate, and — because when it rains it pours — I started a brand new career as a freelance writer, meaning I was now working from home. An organized, efficient work space was now seriously needed, and it also somehow had to fit into my bedroom, since I live in New York City and definitely don't have an entire extra room available to me.
After trolling the Internet for at-home-office tips and ideas, I cleared out a section of my room and spent a weekend creating an at-home work station of my very own. And without exaggeration it was one of the best things I've ever done for myself. If you're at your wits end with your current at-home work situation, here are TK tips that will seriously change your life.
1. Separate Yourself From Distractions
Boca L-Shape Credenza Office Set, $1,001.70, C olemanFurniture.com
In a piece for Entrepreneur, Jo Heinz, president of Dallas interior architecture and design firm Staffelbach, noted the importance of keeping your home work-space as separate from the rest of your home as possible. "While comfort is essential in any office, an office that is too casual may seriously impede the ability to get things done. You have to find a way to separate yourself from the rest of the goings-on in the home and to convey a sense of "off limits" to all other normal and natural home sounds and interruptions," he said, noting that this means not setting up your work station in the direct line of site of a TV, for example.
2. Get Organized
Rolodex Seel Mesh Pencil Cup Organizer, $10.79, Target.com
Heinz also sang the praises of the old saying, "A place for everything, and everything in its place." Get a cup for pens and pencils, keep a drawer stocked full of supplies like sticky notes and paper clips, and have a tray for things you need to urgently follow up on. He noted that while it might all seem unnecessary, these small organizational details are actually designed to streamline workflow and relieve stress.
3. Think Ergonomically
Alera Office Chair, $103.99, Target.com
Unfortunately, if you spend more than an hour or so at your at-home work station, an old kitchen chair probably won't do the trick. In a piece for FastCompany.com, Linda Varone, author of The Smarter Home Office, said, "The top of your computer screen should be at eye level or a little below. As you scan down the screen, your eye lids will naturally close a bit and moisten, which reduces eye fatigue. Position your keyboard so your forearms are parallel to the floor. And adjust your chair so your feet rest firmly on something—the floor, or a footrest if you're short." And in the same piece, Michael Chauliac, VP of Marketing at the online furniture supply store Poppin, said, "It sounds obvious, but you should love the chair you're sitting on. Otherwise you will never sit at your desk."
4. A Filing Cabinet Is A Must
Poppin White and Orange 2-Drawer Filing Cabinet, $229, Poppin.com
Organization expert and founder of the site Simplify 101 Aby Garvey said that a filing cabinet is absolutely a must for organizing your at-home work station. She specifically said they are great for what she called "archive documents," which are documents you don't necessarily need every day or every week, but are things you definitely want to hold on to, like tax forms, or a copy of your lease. If you don't have a secure and organized place for these kinds of docs, you could find yourself in an extremely stressful and unnecessary paper hunt somewhere down the line.
5. Have A Plan Of Action For All Documents
Vinea Stacking Letter Tray, $18, Dormify.com
In addition to having a central and organized location of your "archive documents," Garvey said its important to implement a system for all incoming paper. For example, you might want to have a tray for bills to pay and items requiring immediate follow up, and a binder for things you want to keep, but don't necessarily need in your filing cabinet, like menus. Having a place and plan of action for every single paper item that comes through your door simplifies your life and decreases the risk of losing something important.
6. Invest In A Printer
HP DeskJet 1112 Printer, $29.99, Hp.com
OK, full disclosure, I have yet to purchase a printer and scanner for my at-home work space, and it's genuinely the single most inconvenient part of my set up. Chauliac even noted how important having access to a printer is when working at home, pointing out that waiting in line at FedEx or some other print-supplier takes up a chunk of your day you could be going towards much more valuable endeavors.
7. Add Some Loving Details
Yankee Candle Bamboom Reed Diffuser, $19.99, Kohls.com
This is a personal tip from someone who exclusively works from home now. The first thing I do when I begin work each day (after making a cup of coffee, of course) is light a scented candle in my favorite relaxing scent and turn on some relaxing nature sounds on Spotify. I've found that one of the major benefits of working from home is that I have ultimate control over the vibe and feel of my work space, and just having a few self-made perks goes a long way in feeling good about sitting down to a task each day.
8. Think About Lighting
Polished Steel LED Lamp, $165, Lamplus.com
Income.com, a site for young entrepreneurs, contains a whole section on the importance of healthy lighting for an at-home work space. They site a review from the Natural Renewable Energy Laboratory which found that natural light in a workplace is linked to "general well-being," "increased productivity", and "better health," and also that in place of natural light, full spectrum bright light bulbs also help. And in addition to overall good lighting, task-lighting, like an adjustable desk lamp for reading or bill-paying, is also always a good idea.
Setting up a functional and efficient home work station is one of those things that can take a solid day or two, but is incredibly worth it in the long run. Feeling like you know where all of your important documents are, as well as having a system and space for getting important tasks done will mean you're more in control, and therefor way less stressed.
Images: Courtesy Brands; Pexels