The 13 Best Kindle Accessories For An Upgraded Reading Experience
Unique cases, hands-free stands, and more.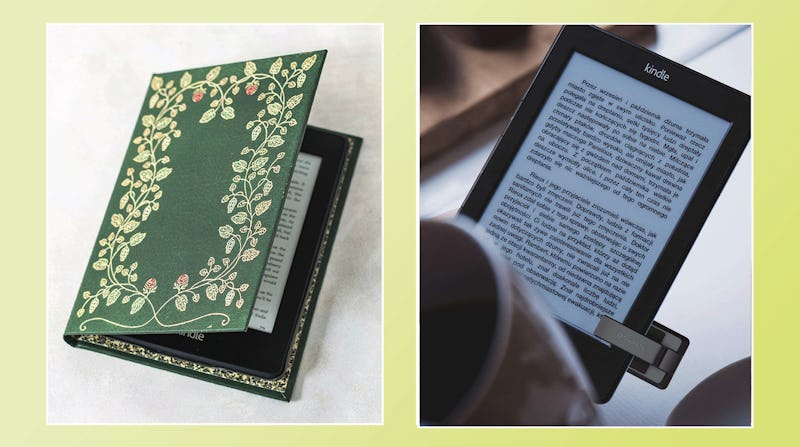 Bustle / Amazon
We may receive a portion of sales if you purchase a product through a link in this article.
Make the most of your Kindle with a few essentials that make it easier (and more fun) to spend hours devouring your favorite books and magazines. The best Kindle accessories include cases, stands, handles, and more, all designed to personalize and protect your e-reader.
What To Consider When Choosing Kindle Accessories
Whether you've got a classic Kindle, the Paperwhite, or an Oasis, you can protect your e-reader from damage with a durable, lightweight cover. Each cover on this list features a fold-back design, so you can fully open it and read your Kindle comfortably with one hand. Some cases can even wake your Kindle when opened and then put your device to sleep when closed, so you don't have to remember to turn it off when you're done reading (a great way to save battery). And don't forget the fun part: Kindle cases come in various colors and styles (one even makes your e-reader look like a vintage hardcover book), so you can choose one that makes the device feel truly yours. And most of the cases on this list are available in sizes for most models — but be sure to select the correct one before hitting "add to cart."
Once you've got your Kindle covered, you can also consider hands-free reading with a soft pillow stand that offers various angles for reading in bed or on the couch or — to keep your hand from getting cramped — an elastic holding strap that attaches to the reader so you can relax your grip. And if having a case, stand, and holder strap all sound appealing, you can opt for a case with all of those features built right in.
One more thing: Kindles come with a USB charging cable but don't include a power adapter, so I've included one if you prefer plugging your e-reader into a wall outlet when charging. With that in mind, read on for the best Kindle accessories on Amazon that'll keep your device protected and powered up for your next reading session.
The Best Covers
1. A Budget-Friendly Basic Cover
Keep your Kindle protected in style with this highly-rated Kindle case. The slim, lightweight case comes in multiple colors and features a synthetic leather exterior and soft microfiber interior that goes easy on the screen. The case automatically wakes your Kindle when it's opened and puts the device to sleep again once it's shut, so you never have to remember to turn off the device when you're done reading. The fold-back design means it won't be bulky in your hand, and the built-in magnet keeps it firmly closed when you're not using the Kindle.
An enthusiastic reviewer: "This product is great! It's so slim, adds no extra weight, and makes my kindle look so good. Easy to flip all the way back when I'm reading and puts my kindle to sleep right when I close it. Highly recommend this case!"
Compatible devices: Kindle (featured), Kindle Oasis | Colors: 18
2. A Cover That Looks Like A Book
This cute book cover case makes your Kindle look just like a classic hardcover novel. The lightweight, splash-proof cover comes in several library-worthy styles, and it folds backward for easy one-handed reading. There's also a built-in magnet that holds the case open while reading and keeps it closed when it's time for a break — but keep in mind that there's no sleep/wake function with this case. Also cool: Each case is crafted in England using traditional bookbinding techniques, so it feels as close to a real book cover as you can get.
An enthusiastic reviewer: "I can't tell you how many compliments I've received on this case. It's study, comfortable to hold, and so well made. It has a strong magnetic close and so many details. I'm more than happy with it. It makes me feel like I'm holding a real book."
Compatible devices: Kindle Paperwhite (featured), Kindle Oasis | Colors and styles: 9
3. A Water-Safe Cover For Oasis & Paperwhite
If the waterproof Oasis or Paperwhite is your Kindle of choice, this water-safe fabric cover is the perfect fit. Available in a handful of colors, the slim and lightweight case is made with water-safe fabric, so you can safely read by the pool or in the bath. Built-in magnets keep it securely closed when you're not using it. Plus, it folds all the way back when you're reading, wakes your Kindle when opened, and puts it back to sleep when closed.
An enthusiastic reviewer: "The texture is great for holding with one hand with no difficulty. The color lends a stylish design that looks great! It goes in and out of my backpack every day, and gets bumped and moved all over the office all day and has shown no signs of wear."
Compatible devices: Kindle Paperwhite , Kindle Oasis (featured) | Colors: 3
4. The Softest Cover
If you're looking for something that'll feel so good in your hands, look no further than this skin-touch Kindle cover. Available in a wide range of colors, it's made with waterproof silicone and folds all the way back for easy reading. A magnetic clasp keeps it securely shut, and opening and closing the cover turns your Kindle on and off.
An enthusiastic reviewer: "I've tried many cases and this is the best. It's light and slim and the texture is wonderful. I find I don't struggle to hold it for long periods of time. It looks and feels modern but luxurious. I love it"
Compatible devices: Kindle, Kindle Paperwhite, Kindle Oasis (featured) | Colors: 9
5. A Versatile Case With A Built-In Stand & Hand Strap
This versatile Kindle case has a built-in stand and hand strap holder, making it easy to read with just one hand or without your hands at all. The faux leather cover folds all the way back and has a soft microfiber interior that protects the Kindle against scratches and smudges. There's a foldable stand with a built-in hand strap and a card slot where you can store essentials. Plus, opening the cover wakes your Kindle, and closing it puts the device to sleep, and the magnetic clasp keeps the cover closed when not in use. It's available in multiple colors and patterns.
An enthusiastic reviewer: "I love the colors in the floral design, which is what first caught my eye. It also seems like a very sturdy case and my Kindle is a perfectly snug fit, which makes me feel less stressed about accidentally dropping it when I fall asleep. The little kick stand is what puts this over the top for me—now I can read while I eat without having to either hunch over my flat Kindle or use some sort of makeshift prop for it."
Compatible devices: Kindle (featured), Kindle Paperwhite, Kindle Oasis | Colors and styles: 7
The Best Holders & Stands
1. This Soft & Lightweight Pillow Stand
This cushy pillow tablet stand is excellent for hands-free reading while lounging on the couch or in bed. The stand is made from lightweight foam and nonslip faux suede fabric, and the two sides each feature three viewing angles, so you'll be able to read comfortably whether you're sitting or lying down. The removable cover is machine-washable (according to reviewers) and comes in four colors.
An enthusiastic reviewer: "This holder is by far the best one I ever got. It's versatile and holds my IPad and Kindle reader perfectly. It's also sturdy while still being soft and comfortable on my lap. I love it."
Compatible devices: All Kindle devices, as well as tablets | Colors: 4
2. A Hand Strap That Makes Your Kindle Easier To Hold
To make holding your Kindle more comfortable, you can add this hand strap holder. The holder attaches to your e-reader with metal brackets that expand slightly to fit over the case, and the flexible strap provides the perfect snug fit for your hand. Bonus: The holder comes with a protective Kindle carrying bag with a soft flannel interior that provides shock absorption and guards against scratches when it's in a bag.
An enthusiastic reviewer: "This is a really unique tool to hold your Kindle while reading. Since I can go hours reading my favorite book, having an easy way to hold my Kindle without causing fatigue is important to me. This is an awesome device that allows me to hold my Kindle with one hand without getting tired."
Compatible devices: Kindle, Kindle Paperwhite, Kindle Voyage, Kindle Oasis (6-inch) | Colors: 1
3. An Adjustable Holding Stand
If you want to use your Kindle hands-free, this adjustable gooseneck holder will allow you to do so. Clamp this holder to your nightstand or headboard and enjoy a book in bed. Attach it to your kitchen countertop when you're whipping up a recipe. One Amazon customer even used it on their treadmill. The options for where and how you use this Kindle holder are practically endless with its sturdy yet flexible adjustable arm.
An enthusiastic reviewer: "Bought this to mount my kindle in the kitchen so I can read or watch shows while cooking. It's amazing! The neck is very sturdy and you need a little arm strength to get it into the position you want it to be in, but once it's there, it's not moving! My kindle is in a case and still fits securely in the cradle."
Compatible devices: Tablets and Kindles with a diagonal measurement of 4.7 to 10.5 inches | Colors: 2
4. A Stand That Looks Chic On Your Desk
Over 52,000 Amazon customers give this Lamicall tablet stand a five-star rating. Its minimalistic design is not only sleek but also sturdy and comes in eight different colors, including black, gray, rose gold, and silver. Different than other Kindle and tablet holders, this one accommodates a charging cable. In fact, some customers even use this stand specifically for charging purposes, so they don't have to lay their tablets down. It's also extremely adjustable, allowing you to view your Kindle in either portrait or landscape mode.
An enthusiastic reviewer: "I am pleasantly surprised and pleased in how well this stand is built! It is excellent! It is rock solid, stable and the adjustable angle really makes it easy to view my Kindle from several angles. Whether I am lying flat on my bed or sitting upright in a chair, this stand really accommodates many viewing angles."
Compatible devices: Tablets, Kindles, and phones from 4 to 13 inches | Colors: 8
The Best Extras
1. A Clip-On Reading Light
Part of the charm of a Kindle is that it goes easier on your eyes than regular tablets, but they can be a bit harder to see if you're reading in the dark — especially if you have the basic Kindle or the Paperwhite, which has fewer LED backlights. This clip-on reading light is an affordable and highly-rated solution. It has a flexible neck, so you can aim the beam where you need it, and it gives off just the right amount of light, so you don't have to worry about disturbing any sleeping partners. It's operated by affordable 2032 lithium batteries, and you'll get 25 hours of light before needing to replace.
An enthusiastic reviewer: "This is a great little booklite! It gives off great light for both books and my kindle. It is compact, cute, powerful, and does just what I want it to do."
Compatible devices: All e-readers and books
2. A Kindle Charger
The Kindle comes with a USB charging cable, but you might need a power adapter to go with it (especially if you don't want to deal with sharing an adapter with your phone). This adapter is compatible with all Kindle tablets and most devices with a micro-USB port, so you can use it for more than just your e-reader too.
An enthusiastic reviewer: "I am so glad that I made this purchase to go with my Kindle. So much easier to charge my Kindle without having to have my computer on."
Compatible devices: All Kindle devices
3. A Remote Control That'll Turn The Pages From Anywhere
This remote control page turner for your Kindle is an extremely nice-to-have accessory. This one works easily from afar, so if you invest in a tablet or bedside stand, you can easily turn the pages without moving. Pair this with a gooseneck tablet holder like the one above, and you can easily use your Kindle while lying in bed.
An enthusiastic reviewer: "As someone who reads in bed a lot, on my side, this is a game-changer. It works reliably and well, stays charged, and has a cool feature where it goes into sleep mode when it's not in use for several minutes so it doesn't waste battery."
Compatible devices: All Kindle e-readers
4. A Wireless Kindle Charging Stand
Amazon's Kindle Paperwhite Signature Edition is Qi-enabled for wireless charging. If that's your device, this wireless charging stand is an absolute must. Prop your device up in the dock, and it'll charge your Signature Edition while you keep reading. It's the perfect two-in-one stand and charger for Kindle owners.
An enthusiastic reviewer: "So easy to just set my new kindle on the docking station at night, pick it up in the morning and not worry about needing to charge my Kindle until night time. Perfect docking station."
Compatible devices: Kindle Paperwhite Signature Edition
This article was originally published on