The 10 Best Lunch Bags For Keeping Food Cold
No more lukewarm lunches.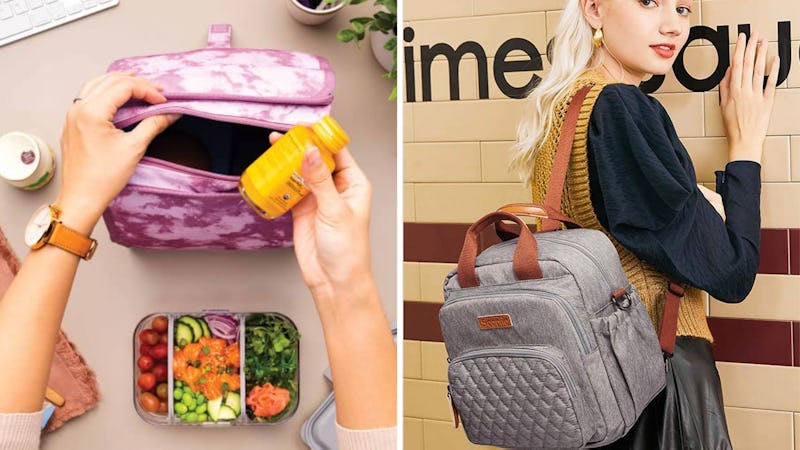 Amazon
We may receive a portion of sales if you purchase a product through a link in this article.
If you don't want to store your lunch in the communal fridge at work (or maybe you don't have access to one), the best lunch bags for keeping food cold feature temperature-retaining insulation to ensure your perishables stay fresh. The best bags are roomy enough to hold your entire lunch, comfortable to carry, and easy to clean.
What To Consider When Shopping For A Lunch Bag That Keeps Food Cold
Insulation
The key to finding a lunch bag that'll keep your food cold is to look for one with thick insulation — materials like aluminum or a PEV lining (which is a type of plastic) can work wonders to trap the cold. And some lunch bags even boast multiple layers of insulation for added protection. Manufacturers may list the max time the insulated lunch bag is designed to keep food cold (sticking an ice pack inside can also help), though Amazon reviews can provide insight into this as well.
Size
Think about the food you're most likely to pack when deciding what size bag to choose. Smaller picks may have a single main compartment to hold a few items, while larger bags boast various compartments and pockets to stash (and organize) an entire lunch, snacks, and maybe even a water bottle.
Other Helpful Features
Handles and straps: Pretty much all lunch bags have a small handle on top. However, some products go a step further and have adjustable shoulder/crossbody straps or even backpack-style straps for easier carrying — which is great if you need to travel with your lunch.
Freezable: A few picks feature gel in the walls of the bag, which acts as a built-in ice pack. Just stick the entire thing in the freezer overnight, and it'll be icy cold by morning.
Sets: Some lunch bags come in sets with coordinating pieces like tumblers, food storage containers, and more for an all-in-one solution.
Shop The Best Lunch Bags For Keeping Food Cold
In a hurry? Here are the top picks for the best lunch bags for keeping food cold:
Whether you're bringing a meal prep lunch, leftovers, or just a simple sandwich, you'll want to carry it in one of these 10 trusty bags — Amazon reviewers confirm they'll keep everything nice and cold.
1. A Lunch Bag With 32,000+ 5-Star Reviews
Pros:
Fan-favorite on Amazon; boasts a 4.8-star overall rating after 38,000-plus reviews
Water-repellent exterior
Con:
Some reviewers indicate it's smaller than they thought it'd be, so read the dimensions carefully
This Carhartt lunch box is an overwhelmingly popular pick — boasting a near-perfect star rating after 38,000-plus reviews. It features two insulated compartments (the main one has a mesh pocket for stashing an ice pack) to keep various items organized. The front zippered section is ideal for utensils, condiments, and more. Additionally, the soft-sided lunch bag is made of heavy-duty, water-repellent polyester material, and it has both a handle and shoulder strap for carrying.
One Reviewer Wrote: "Works really well. Keeps everything cold and organized. Easy to clean as well. I appreciate that it has both a handle and a strap, it makes storage more convenient."
Insulated: Yes | Dimensions: 10 x 8.5 x 4 inches | Available Colors: 5
2. Writer's Pick: A Small, Durable Lunch Bag
Pros:
Pretty gold bow-shaped zipper pulls
Smaller size; it can easily fit inside a bag or backpack
Con:
Only comes in one pattern
This Kate Spade lunch tote is the definition of pretty and practical. It's the smallest size option on this list; however, there is still enough room in the single compartment for a sandwich, a few sides, and maybe even a small drink. The exterior of the lunch bag features a coated linen cloth material (it isn't flimsy, standing on its own with no issue), and the interior is insulated to keep your perishables fresh. The golden bow zipper closure is an adorable detail, as is the fun polka dot pattern. This lunch bag has a small handle on top for transport, though it's compact enough to easily fit in most backpacks or larger bags. Reviewers report success in spot-cleaning as necessary.
Writer's Review: "I've used this Kate Spade lunch bag for several years, and I still love it! It's extremely cute (love the polka dots and zipper). And even with its smaller size, I find that it can still hold my entire lunch with no issues. It's incredibly durable as well; it looks just as good as the day I got it."
Insulated: Yes | Dimensions: 8 x 7 x 4.5 inches | Available Colors: 1
3. A Freezable Lunch Bag
Pros:
Freezable gel built in; no separate ice pack needed
Folds down to compact size for storage
Available in 12 colors
Con:
Some reviewers note that it can be a bit heavy when frozen
Requires space in your freezer overnight
Stick this entire lunch bag in the freezer the night before you need to use it (it folds down to take up minimal space) and the non-toxic gel that's built into the walls will be icy by morning — so there's no need to deal with separate ice packs. But the perks don't end there; the lunch bag features an easy-to-clean polyester exterior that can be wiped down, a wider base for stability, and a zip-top closure to lock in cool air. The buckle-style handle on the back of the bag clips onto totes, backpacks, strollers, and more for hands-free convenience. Some of the different bags within the listing come with containers.
One Reviewer Wrote: "This freezable lunch bag will change your ability to take lunch to work or anywhere! We have this in our freezer at all times, and it keeps food cold for hours so that it is not necessary to refrigerate once you get to work. This lunch bag folds up into a very compact size, so it does not take up much room in the freezer. Once frozen, it is still very easy to unfold and open to put your food inside."
Insulated: Yes (plus a built-in freezable gel) | Dimensions: 8.5 x 6.3 x 9.8 inches | Available Colors: 12
4. An Expandable Lunch Bag With Multiple Sections & Compartments
Pros:
Multiple sections and compartments to separate food
Expandable
Con:
Some reviewers indicate the bag can sag when a lot of heavy items are inside
With more than 10,000 reviews and a solid 4.6-star rating overall, this compartment lunch bag is popular on Amazon largely due to the fact that it has multiple sections and pockets (including two mesh ones for water bottles) to organize all of the contents inside. And the upper section is expandable should you need even more space. The lunch bag is leakproof, and it features thick PEV thermal liners in both of the two main sections; when paired with an ice pack, the lunch bag can keep food cold for up to seven hours. It features handle straps and an adjustable shoulder strap.
One Reviewer Wrote: "The perfect size, so many pockets and compartments, two insulated sections, hand-carry handles or large adjustable strap, easy to clean, and super durable. What more could you ask for?!?"
Insulated: Yes | Dimensions: 9.5 x 8.0 x 10.5 inches (or 11 x 8 x 10.5 inches when expanded) | Available Colors: 5
5. A Lunch Bag With A Removable Liner For Easy Cleaning
Pros:
Plastic liner for structure; removable for simple cleaning
Keeps food cold for 12+ hours
Large capacity
Padded handles for comfortable carrying
Con:
Doesn't fold down for storage due to the liner
This insulated lunch bag can keep perishables cold for 12-plus hours, retaining ice as well. And Amazon reviewers have given this pick a knockout 4.5-star rating overall after 9,100 and growing reviews. The exterior of the bag is made from recycled polyester fiber, and the roomy interior features a naturally antimicrobial and stain-resistant plastic liner for structure. It's removable which makes cleanup a breeze. A mesh pocket on the inside of the lid is designed to hold an ice pack. The entire thing zips shut, and the welded seams prevent leaks. It has padded side handles and a wide shoulder strap.
One Reviewer Wrote: "This is an amazing insulated cooler bag! I need a bag to keep my lunch and drinks cold for about 8-10 hours during the day, and this bag by Coleman passes that test with flying colors. The bag has plenty of compartments and mesh pockets as well to keep everything in place, and prevented from spilling. Even if a drink were to spill, the hard plastic liner would keep it from leaking out."
Insulated: Yes | Dimensions: 10.3 x 7.3 x 8.5 inches| Available Colors: 1
6. A Lunch Bag That Looks Like A Purse
Pros:
Chic, purse-like vegan leather exterior
Three layers of insulation
Con:
This vegan leather lunch bag looks more like a stylish purse than your standard lunch box. However, it still has plenty of handy features like a double magnet closure. It can be carried via the handle or crossbody strap (which is adjustable in length), and the small back pocket is ideal for your phone, condiments, or other small essentials. On the interior, you'll find three layers of insulation to keep your food cold (or warm) for up to six hours. There's also an inner pocket for smaller items. Choose from two size options, as well as various colors.
One Reviewer Wrote: "How cute [is] this lunch bag? [It] looks just like a purse but is insulated to keep your food cold for up to 6 hours!! Gorgeous and functional, you can hit the break room in style."
Insulated: Yes | Dimensions: 11 x 6.3 x 8.7 inches (large size also available) | Available Colors: 4
7. A 4-Piece Lunch Bag Set For Less Than $30
Pros:
Four-piece set: lunch bag, two food containers, and a tumbler
Three layers of insulation
Con:
Some reviewers feel the snap closure doesn't keep the cold from escaping
This Fit+Fresh set comes with a bag, two storage containers, and a tumbler, which is basically everything you need to pack a complete lunch — just don't forget the ice pack. The lunch bag features multiple layers of insulation (including a BPA-free PEV material and polyethylene foam) to ensure the contents stay cool. The exterior is made from water-resistant polyester, and it's leakproof. As for the food containers, they're freezer-, microwave-, and dishwasher-safe. Plus, they lock into each other to not tip over during transit. Stash the tumbler in the pocket on the sides of the lunch bag for easier carrying. Choose from various fun and stylish patterns.
One Reviewer Wrote: "I love the large size and the matching water bottle. I am surprised how well foods are able to stay cold (with an ice pack), considering it is a snap closure. Great price, especially considering that it comes with two storage containers and an ice pack. Would purchase again!"
Insulated: Yes | Dimensions: 10 x 6.5 x 11 inches | Available Colors: 6
8. A Lunch Bag That Can Be Carried 3 Ways
Pros:
Convertible straps; can be carried 3 ways
3 layers of insulation
Water-resistant exterior
Con:
Some reviewers expressed concerns about the durability
Adjust the convertible straps on this lunch bag to carry it one of three ways — via the leather-wrapped handles, as a shoulder bag, or even as a backpack. The water-resistant lunch bag features a zippered main compartment, two side pockets (that are particularly great for a water bottle or other beverage), and additional spots in the back and front for other smaller items. Three layers of aluminum insulation ensure everything stays chilled inside for up to eight hours.
One Reviewer Wrote: "I have no complaints! It's pretty, spacious and durable. I love the option to carry it like a bookbag. I work in a warehouse where temperatures reach over 90°F and with ice packs my liquids stay refrigerator cold for the entire 8 hours. It's the perfect size about like a deep medium purse. I've been using it for about 2 weeks and it hasn't leaked or broken. It has different sized zipper pockets for various items. I keep my cellphone & charger in one section, my utensils & condiments in another. It also has 2 side pockets."
Insulated: Yes | Dimensions: 11.3 x 10 x 6.4 inches | Available Colors: 7
9. A Bento Box Set With 2 Lunch Bags & Ice Packs
Pros:
Bento box set with two lunch bags
Also comes with ice packs
Con:
Bento box lids need to be hand-washed
If you love the idea of using a compartmentalized box for your lunch, this bento box set with lunch bags is an ideal solution — it comes with two bento boxes, two lunch bags, and even a pair of fabric-covered ice packs. Each of the bento boxes has six sealed compartments (holding over four cups of food) that are entirely leakproof when the lid is closed due to the snap-tight latches. The zippered lunch bags feature aluminum mylar insulation to keep everything chilled. Stash extra lunch necessities in the inner and outer pockets, and utilize the carrying handle to hold the bags. The lunch bags are hand-wash only, while the bento boxes are top-rack dishwasher-safe, except for the lids which need to be hand washed.
One Reviewer Wrote: "Love making the kids lunches in these! [...] No leaks, easy to open, comes with lunch bag & ice pack! It's perfect."
Insulated: Yes | Dimensions: 9 x 6.5 x 1.8 inches (lunch bags) | Available Colors: 17 (including the various set options)
10. A Yeti Lunch Bag Reviewers Report Keeps Food Cold For 12+ Hours
Pros:
Reviewers report it keeps food cold for 12+ hours with an ice pack
Folds up to a compact size when not in use
Leak-resistant
Adjustable in size
Con:
This Yeti lunch bag has superior temperature regulation, confirmed by Amazon reviewers. "Bought this for my boyfriend he works construction and it gets ridiculously hot here. He loves this thing says it keeps his drinks ice cold on a 14 hour shift," wrote one fan. Another commented, "We sometimes take 12+ hour car trips and are so pleased when we open up the purple YETI and get our (still) cold food for our car picnic." YETI recommends pairing the bag with this ice pack.
So how does this lunch bag keep food cold for so long? The key is Yeti's unique closed-cell foam insulation, paired with the magnetic closure. The exterior fabric is leak-resistant and strong yet flexible to fold up to a compact size when not in use, and it won't rip or tear, nor will it get discolored by UV rays. The wide opening allows for easy access to your food. And the size of the bag can be adjusted by sliding the closing hook into one of the multiple loops. Carry this pick using the top handle.
One Reviewer Wrote: "Best Lunchbox EVER!! [...] I have owned every type of lunchbox there is and none compare to this YETI lunchbox!! It keeps my lunch cold all day if I use the YETI ice pack with it. I don't ever have to worry about anything in my bag getting warm. It is super easy to clean and the magnetic top ensures that my food stays secure and seals in the cold. Highly Recommend!"
Insulated: Yes | Dimensions: 9 x 6 x 8.5 inches | Available Colors: 15
Also Nice: A Set Of Slim Ice Packs
With more than 17,000 reviews on Amazon and a 4.7-star rating overall, these ice packs are a top pick for use in lunch boxes and bags because they're slim and effective at keeping your food icy cold. The set comes with four ice packs made from BPA-free, non-toxic plastic. They won't leak or burst over time. Choose from five colors within the listing.