The 5 Best Notebooks For Fountain Pens
We only recommend products we love and that we think you will, too. We may receive a portion of sales from products purchased from this article, which was written by our Commerce team.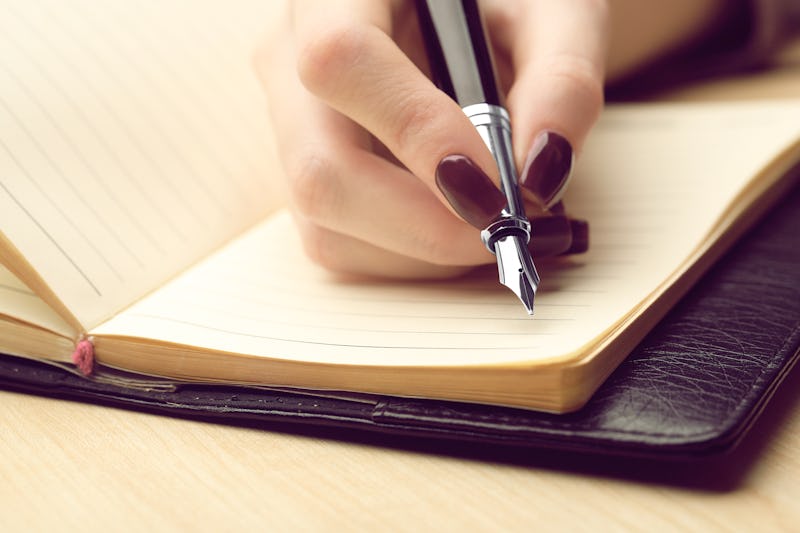 Africa Studio / Shutterstock
If you love to write with fountain pens, you know it can be tricky to find a notebook that's strong enough to stand up to them. The best notebooks for fountain pens have pages that are sturdy enough to minimize common issues like feathering, bleeding, or ghosting (aka when the ink spreads, soaks through the paper, or is visible from the other side of the page). In order to achieve that, look for notebooks with paper that's at least 90 grams per square inch (GSM) thick to combat any ink-related problems — and make sure that the size and style of the notebook is right for your needs, too.
Notebooks come in a number of sizes, and you should choose the one that makes the most sense for you. A5 notebooks, which measure 5.8 by 8.3 inches (just a tad larger than a classic Moleskine), are considered to be the "regular" size for a notebook. If you'd like more space, look for an A4 notebook, which measures 8.3 by 11.7 inches. On the flip side, if you just want a super-compact journal you can shove into a pocket or purse, try a smaller pocket notebook around the size of a 3-by-5-inch flash card. Pay attention to the number of pages the notebook has, too, since this can affect its overall thickness and how much room you have to write.
Depending on how you plan to use the pages, you might choose a notebook with blank pages, graph paper, dot grids, or rules. Blank pages offer complete freedom for sketching or scribbling, and ruled pages are ideal for writing. Graph paper notebooks can help you compartmentalize your pages or plot data, while dot grid notebooks offer flexible guidance that's ideal for bullet journals.
Beyond page format, you'll want to consider if you need helpful extras in your notebook like perforated pages you can easily tear out, an attached bookmark to mark your spot, an elastic closure, a pen holder strap, or interior pockets. Finally, notebooks with book-style bindings are aesthetically appealing, but these bindings don't always lie flat, so keep an eye out for spiral-bound notebooks if this is a concern.
These picks are the best notebooks for fountain pens, with tons of Amazon reviewers noting that the pages take ink super well.
1. A Classic A5 Notebook For Fountain Pens
If you like the look of a classic, leather-bound journal, you'll appreciate this A5 notebook from Beechmore Books. While you can't deny the appeal of the old school faux-leather cover, the notebook's 120 GSM pages are the real stars of the show, ideal for handling fountain pen ink. The 80 double-sided sheets of cream-colored paper are ruled, making them ideal for writing.
While the notebook doesn't have a spiral binding, the manufacturer notes that it's designed to lie flat when opened, and multiple Amazon users confirm that this is the case. An attached ribbon bookmark ensures you won't lose your place between writing sessions, and an elastic band keeps the pages shut. The notebook also has a back interior pocket that's great for stray scraps of paper or business cards.
Choose your fave from a handful of faux-leather colors (and one is designed to look like cork). Plus, the notebook comes boxed with tissue paper, making it a nice gift for others or yourself.
Helpful Amazon review: "This is a very nice quality writing book. The paper is great and does not leak through. I'm using a fountain pen and a calligraphy pen writing on both sides. There are a lot of notebooks similar to this style, but the quality of this one over the others is obvious. Good job Beechmore Books!"
2. A 3-Pack Of Pocket-Sized Notebooks For Fountain Pens
Standing tall among other pint-sized notebooks, this three-pack of Field Notes notebooks is an iconic choice for anyone who needs to jot things down on the go. What the 3.5-by-5.5-inch ruled notebooks lack in size and features (no elastic, pockets, or bookmarks here), they certainly make up for with their thick 90 GSM pages, which are sturdy enough to handle fountain pen ink without adding too much bulk. Each notebook has 48 pages of acid-free paper, with thicker paper serving as the cover to keep the design slim. The binding features a saddle stitch and a few staples to make it easy to press it flat when you're writing. Best of all, the journals come in a three-pack so you can shove one in your pocket and still have extras to stash in a backpack or desk.
If you don't want a super-small notebook, this option also comes as a two-pack of 4.75-by-7.5-inch notebooks, with either lines or dot grids.
Helpful Amazon review: "Bomb notebook I have had many field notes but this one is the most durable besides the expedition. It just feel so sturdy and it looks great if you drop some colorful bad*** stickers on it. Great paper no running ink super useful!"
3. A Spiral-Bound Notebook For Fountain Pens That Comes In 5 Different Sizes
If you prefer a spiral-bound notebook that opens flat from the top, the Rhodia A4 notebook has you covered. With 80 perforated pages that include your choice of dotted, ruled, or grid paper, you can choose the layout that suits you best. You can also choose your preferred size, since the notebook comes in a larger A4 style, as well as A5, A6, and A7. There's also a 6-by-8.14-inch option that's only available with dot grid pages. The pages only have a thickness of 80 GSM, but reviewers note that the fine quality paper does not seem to have issues like bleeding regardless.
Choose from a black or orange cover — Amazon reviewers note that the cover's plastic covering and the notebook's cardboard back give the Rhodia notebook a sturdy feel.
Helpful Amazon review: "Boy howdy.. I bought this pad for math class homework and tests to use with my Lamy Safari fountain pen and it is absolutely perfect. Does not bleed, ink dries quickly, and it's so very very smooth. This is the first Rhodia product I've owned but I absolutely will be getting more."
4. A Budget-Friendly A5 Notebook For Fountain Pens
Whether you prefer your paper blank, ruled, or with a grid or dot grid, there's a version of the Minimalism Art A5 notebook that's exactly what you need — for less than $10 to boot. The notebook has 122 numbered pages and comes with an index to keep you organized (no more remembering where each section starts!). And its ivory-colored paper is 120 GSM thick so it's ideal for using with fountain pens.
The minimalist leatherette cover is available in eight different colors, most of which are bright enough to easily spot in your bag. The notebook has an expandable pocket inside the back cover for storing small pieces of paper, plus an elastic to keep the notebook shut when you aren't using it and a ribbon bookmark to hold your place. The thread-bound design is meant to open flat when in use.
Helpful Amazon review: "I am so happy I discovered Minimalism Art notebooks, after using virtually every other dotted notebook on the market. The quality is really exceptional, with sturdy covers and thick pages that don't bleed with any of my pens, including fountain pens. Highly recommended!"
5. An A5 Notebook For Fountain Pens With A Pen Holder
This ruled A5 notebook isn't fancy at first glance — but it's sturdy, functional, and full of useful features that will make you want to use it every day. And of course, prolific fountain pen users will love how the ruled notebook's 160 pages of 120 GSM paper takes ink super well, so you can write neatly and smoothly.
The notebook has a hard faux-leather cover in your choice of black or blue, with a springy elastic band to keep it shut. A pen holder lets you keep your fountain pen securely attached to the journal, just to make your life a little easier, and an attached ribbon bookmark holds saves your space in between writing and sketching sessions. Though the notebook doesn't have a spiral binding, a lay-flat design makes things easier when you're using the notebook, as do thoughtful touches like small circles in the page corners for numbering.
Helpful Amazon review: "The paper quality in this journal is stunning. Hardly any ghosting, and the nib of my fountain pen doesn't feel like it scratches any texture as it glides across the page. the feel of the cover is beautiful as well, soft and comfortable to hold onto. the circles are really helpful for pagination, as i usually stress over where to put the number on the page instead of just numbering it and moving on. I [...] will definitely be purchasing these more in the future."