The 4 Best Ointments Or Creams For Insect Bites, According To A Dermatologist
We only recommend products we love and that we think you will, too. We may receive a portion of sales from products purchased from this article, which was written by our Commerce team.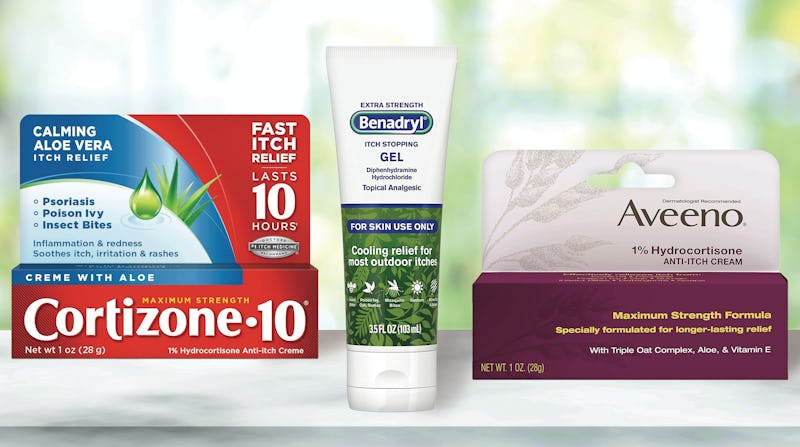 Amazon / Bustle
For certain seasons and geographical locations, bug bites are pretty much inevitable — but there are ways to manage the resulting discomfort. Amazon has some of the best ointments or creams for insect bites, but which ones are actually worth your money? To help answer that question, I got in touch with Dr. Lucy Chen, M.D., a board-certified Miami-based derm with Riverchase Dermatology. According to Dr. Chen, it really all comes down to the right ingredients.
"When an insect bites the skin, the body determines its saliva to be a foreign and dangerous substance. As a result, the immune system will produce the chemical histamine," Dr. Chen wrote to Bustle. It's histamine that causes skin to swell and itch, and if you're unable to stop scratching, you may "break the skin and [cause bacteria to] enter the cut."
Whether you opt for a cream, ointment, or gel, the best options will have ingredients that counteract the histamine response, minimize itching, and soothe the irritated area. According to Dr. Chen, some of the most popular ingredients are analgesics (like Benadryl), steroids (like hydrocortisone), anesthetics (like Lidocaine), and moisturizing soothers (like aloe vera, oatmeal, and vitamin E).
Chosen using Dr. Chen's expertise, these are the four best topical treatments for bug bites — plus a chemical-free option that helps suck the irritants right out.
1. The Overall Best Anti-Itch Treatment
I'm never without a tube of Benadryl's anti-itch gel in my bag, which is why I was thrilled to hear that it was Dr. Chen's top recommendation for insect bites. "This cream contains a 2% topical analgesic which numbs the skin and relieves the pain and itchiness associated with bug bites," Dr. Chen wrote. The clear gel formula is quick-drying, non-sticky, and easy to apply in a pinch — and in my experience, even the itchiest of mosquito bites go numb in just a few seconds.
One reviewer wrote: "If I could give this a million stars I would. It's the one item in my house besides toilet paper I make sure we always have. Works great on bug bites for taking the itch away. [...] It has real Benadryl in it so it really helps with inflammation."
2. Another Popular Insect Bite Ointment
Cortizone 10 is one of the best-selling ointments on the market, and according to Dr. Chen, it has some of the best ingredients for soothing various skin irritations, but especially bug bites: "One of the best ingredients in a numbing or soothing cream is hydrocortisone. Hydrocortisone is a steroid that reduces inflammation in the skin and can decrease the redness, itchiness, and swelling that comes from a bug bite." Cortizone also has aloe vera, which "is an antiseptic agent that protects against infection and can actually help a bug bite heal when applied topically," Dr. Chen wrote.
One reviewer wrote: "The Cortizone definitely helps out with my multitude of bug bites. The aloe also definitely helped the skin around the areas not be as dry."
3. The Best OTC Medicated Bug Bite Treatment
If you're searching for a powerful medicated cream you can buy without a prescription, Dr. Chen recommends Gold Bond with Lidocaine. "Lidocaine is an anesthetic and when applied topically it anesthetizes the skin and the tissues surrounding that area," Dr. Chen wrote. "It also contains aloe leaf juice which, as mentioned above, works to protect the body against infection." This cream has earned a 4.5-star overall rating after 3,500-plus reviews, and past buyers report that it works extremely well for bites, stings, and irritations.
One reviewer wrote: "I got attacked by dirt mites all over my ankles. They left multiple bites with intense burning and itching. I used Cortizone cream and Benadryl spray, but still needed something. So I tried this lidocaine cream and it worked really well. Soothes the itch and not sticky or oily."
4. An Extra-Soothing Cream That's Great For Sensitive Skin
Looking for a gentle medicine-cabinet staple that you can use year-round for all kinds of irritations? Look no further than Aveeno itch cream. Even though it's designed to work on insect bites, rashes, eczema, allergies, sunburns, psoriasis, and poison ivy, Dr. Chen wrote that it's a great option for "those with extremely sensitive skin. Formulated with triple oat complex and vitamin E, this cream works to soothe the irritation that comes with an insect bite while also moisturizing the skin and calming inflammation." It also has aloe vera, which helps to promote healing, and 1% hydrocortisone to stop the itching.
One reviewer wrote: "I've used this for years for hives, dermatitis, and mosquito bites. I have sensitive skin and this has been a real life saver. It's lightweight, has a delicate scent, soothes, and removes itch."
Also Great: This Chemical-Free Bug Bite Tool
It's not a cream or an ointment, but thousands of reviewers report that the best-selling Bug Bite Thing still helps to neutralize itching and irritation on the spot. How? It uses gentle suction to remove venom, insect saliva, and stingers from the skin, which helps stop the body's histamine response. It's also lightweight, easy to tuck into your bag, and super reusable. Get it in your choice of black or white.
One reviewer wrote: "I cannot stress to you enough how much better this simple little tool has made my quality of life. [...] I still really don't know how it does, but it provides instant relief that no pill, cream, or injection ever has ever achieved for me. If you live anywhere where insect bites are common, you need to own one of these!"
Expert:
Dr. Lucy Chen, M.D., board-certified Miami-based dermatologist with Riverchase Dermatology