The 5 Best Outdoor Dog Beds
We only recommend products we love and that we think you will, too. We may receive a portion of sales from products purchased from this article, which was written by our Commerce team.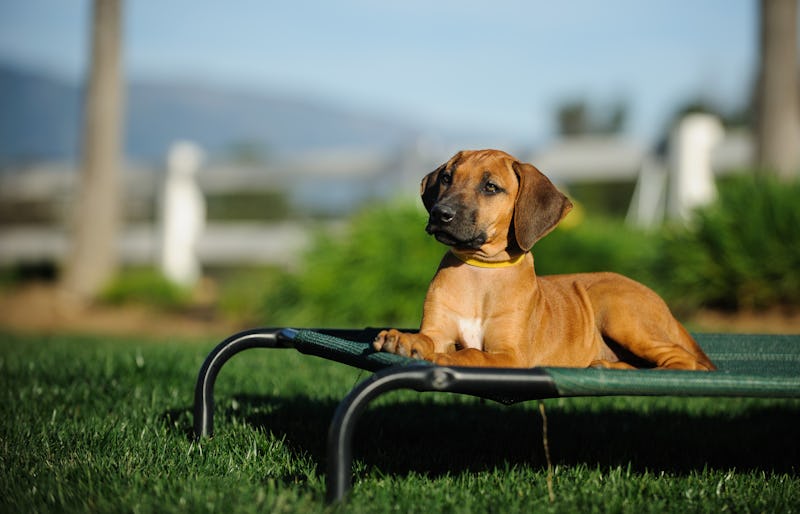 Tara Gregg / EyeEm/EyeEm/Getty Images
Whether your dog spends 24/7 outdoors or enjoys taking the occasional alfresco nap, having the right outdoor bed will keep them comfortable and secure. The best outdoor dog beds are made from durable materials that can be rinsed off easily. To keep the air circulating underneath the bed and to minimize contact with dirt and grass, look for an elevated style. But beyond that, choose the best option based on your dog's size. Also, keep an eye on a potential bed's maximum weight limit, especially if you have an extra-large breed or multiple dogs that might share a bed. Most outdoor dog beds have a max weight between 100 to 250 pounds.
When you start shopping for your bed for your pup, the first thing you'll want to consider is the overall design and material of the bed. Since outdoor dog beds come into contact with the elements, a bed that is made of a mesh material that can be adequately washed off with a garden hose is more convenient than one made of fabric or foam that requires machine or handwashing. For dogs who are heavy chewers, a mesh-style dog bed designed without exposed fabric edges will help ensure that the bed lasts more than a season. In addition, a bed with a canopy that shields a dog from direct UV rays is also a great feature to look for that will help keep your dog cool.
Keep in mind that if your dog is older or has injuries, you may have to sacrifice an easy-to-clean elevated outdoor bed for one closer to the ground with more orthopedic cushioning to support your pet's joints and muscles. Pet owners can also consider topping outdoor dog beds with a washable pad or dog blanket for added comfort.
Here are the best outdoor dog beds you can buy. There's a pick for every budget and every size pooch.
1. The Overall Best
Available sizes: small (35 x 22 inches), medium (42 x 22.5 inches), and large (51 x 31 inches, pictured)
Constructed with high-density polyethylene (HDPE) mesh fabric and a lightweight steel frame, this Coolaroo elevated dog bed is breathable, easy to maintain, and resistant to mold, mildew, and pests. It's a cinch to clean: Simply rinse any debris away with a hose, and let it air-dry. It's the most affordable outdoor dog bed on this list. Amazon reviewers have rated it an average of 4.5 stars after more than 26,400 reviews, and some have reported that the bed is durable and has lasted them years, even when exposed to rain and heat. In addition, it's available in six colors, including this pretty terracotta (pictured), and the large size can hold pups up to 150 pounds.
Helpful review: "This is the perfect outdoor dog bed! It is also massive so both of my dogs can lay on it, which almost never happens. It's very easy to clean by just spraying it down with the hose and there is no getting mad at the dogs when you just bath them and they go lay on this vs the patio furniture!"
2. The Best With A Canopy
Available sizes: 30 inches (pictured), 36 inches, and 48 inches
Boasting a canopy, this Best Choice Products raised dog bed is designed to protect dogs from direct sunlight and harsh UV rays. It's made of easy-to-wash nylon and mesh material and has a lightweight steel frame. Since the canopy is removable, the bed can be used with or without the cover. Best of all, when disassembled, the bed and canopy can fit in an included travel bag to make it easier to take with you on a camping trip, vacation, or anywhere else you and your pet want to go. Just keep in mind that the capacity for the largest one only goes up to 99 pounds.
Helpful review: "Got this for my dog as he usually lies on the concrete patio when we're all outside, with the sun blazing down on him. Got it set up and didn't even have to coax him on. He loves it! He's so comfortable and definitely cooler with that canopy over him. It's also held up well through the heat, rain, and some surprising strong windstorms."
3. The Most Chew-Resistant
Available sizes: Mini (25 x 18 inches), small (30 x 20 inches), medium (35 x23 inches), large (40 x 25 inches), XL (44 x 27, pictured), and XXL (50 x 36 inches)
If your dog enjoys gnawing on everything in his/her path, this Kuranda dog bed might be worth the investment. Kuranda beds have a reputation for being extremely durable and chew-resistant, making them a popular bed choice for animal shelters and rescue groups. While some other cot-style outdoor dog beds leave the edges of the fabric exposed, this model is different in that the fabric is neatly tucked underneath the bed's metal corners, leaving dogs without a starting point to sink their teeth into. If that's not enough, the aluminum frame is also rustproof and the top layer made of heavy-duty vinyl fabric that can be easily hosed down— all together this ultra-strong bed can support up to 250 pounds in any of its six available sizes. Plus, Kuranda beds are backed by a 1-year warranty and come in four color options.
Helpful review: "My Corgis love to spend all their free time shredding the fabric at the corners. So I decided to try the Kuranda 'chew-proof' beds although they cost significantly more. TOTALLY WORTH IT. The unique way the fabric is edges are tucked into the frame are the perfect solution to my problem. Low maintenance FTW. Beds for my whole herd of dogs will be replaced by Kuranda beds."
4. The Best Orthopedic Bed
Available sizes: Medium (28 x 36 inches) and Large (36 x 48 inches, pictured)
Older dogs may have difficulty climbing up on an elevated bed, which is why this K&H Pet Products orthopedic dog bed is a great option for the senior pups in your life. It strikes a balance between providing the orthopedic support that aging or injured dog needs while being suitable for both indoor and outdoor use and relatively easy to clean. In the center of the soft polyester fabric, there's a breathable mesh panel that it's been UV-treated to prevent fading. Meanwhile, the interior support is made from a special "noodle" type of foam that offers soft, comfortable cushioning for a dog to lay on but is completely waterproof. The entire bed can be rinsed off with a hose, or, for a deeper clean, the cover can be removed and either hand or machine-washed. Either way, Amazon reviewers have mentioned that this bed truly lives up its "comfy and dry" name.
Helpful review: "I have two elderly Basset Hounds, one with incontinence and rear-end mobility issues. He loves his Coolaroo but has trouble getting off/on it even though I shortened the legs. This bed is great for him as it's soft and low enough to the ground for little Basset legs but still gives great joint support, while allowing the accidents to drain right though. It's super easy to clean with a hose."
5. The Most Portable
Available sizes: 30 inches, 40 inches (pictured), and 50 inches
For pet owners who like to travel with their dog, this Pet Gear dog cot is the easiest outdoor dog bed option you'll find to pack and carry, thanks to its ingenious design that allows the bed to fold in half. It doesn't skimp on quality, either. It's made with water-resistant mesh material and has a steel frame with rubber leg grips to help prevent the bed from sliding. Plus, the largest model can hold up to 200 pounds of weight. When it comes time to clean, simply hose it off with water. "We always bring this to the park, camping, picnics, and the beach," wrote one enthusiastic Amazon fan.
Helpful review: "I was looking for an elevated dog cot that could be folded to make it easier to travel with. This thing is amazing! its very light and folds up well. My dog is 62 lbs and fits comfortably on this cot made camping so much better since she wasn't laying in the dirt the whole trip. Highly recommend!"