The 5 Best Phone Ring Holders To Buy Now
We only recommend products we love and that we think you will, too. We may receive a portion of sales from products purchased from this article, which was written by our Commerce team.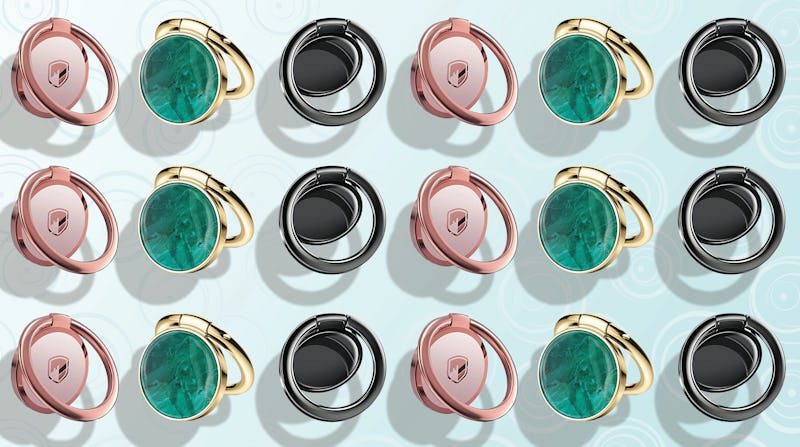 Bustle /Amazon
As far as insurance policies go, picking up a ring holder for your phone is a cheap investment that pays off long-term. Combining a secure grip with a built-in kickstand, the best phone ring holders adhere with mighty 3M adhesive to make your mobile device easier to handle on the go. Many rings are compatible with magnetic car holders, and some will even play nicely with wireless chargers. Finding the right one for you will largely come down to style preference and case compatibility.
Most ring holders will be made of stainless steel — which is relatively lightweight for heavy metal (not to mention corrosion-resistant) and a good choice for the adventurous or accident-prone. But you'll also find some seriously cute metal phone ring stands you'll want to whip out just to show off. I also tracked down a ceramic ring holder that won't interfere with wireless charging if that's an important feature for you.
Smartphone and case compatibility varies, so you'll want to remember to check for both specs to avoid disappointment. The biggest kicker is adhesive. All but one featured below rely on trusty 3M tape for ring holder that's not going anywhere. Some are strong enough to adhere to just about any case material, while others are contraindicated for waterproof or silicone cases. A smooth surface will provide the best base for the tape to stick, but many of these come with multiple replacement adhesive pads if you end up getting another case down the line.
From luxe-looking styles that offer plenty of versatility to cute and affordable multipacks with impressive staying power, these are the five best phone ring holders for every type of tech user.
We only recommend products we love and that we think you will, too. We may receive a portion of sales from products purchased from this article, which was written by our Commerce team.
1. This Cult-Favorite Ring Holder With More Than 45,000 Ratings
Case Compatibility: Brand advises that for rubber or silicone cases, adhere directly without transparent film
With an impressive 4.5-star average from over 45,000 ratings on Amazon, it's safe to say that the FITFORT ring stand is one of the best on the market. It offers 360 degrees of rotation and 180 degrees of flip so you can adjust the angle just so. It's made from stainless steel and zinc alloy, with four coats of your chosen metallic finish, for a durable shine that lasts, and its 3M adhesive is strong enough to hold up to five kilograms (that's roughly 11 pounds). It's compatible with a magnetic car mount, like this one from the same brand, for always having your phone within reach. The pair will run you about $20 but the convenience is downright priceless. "This is great, it holds tight to my car holder and I wish I'd known about this a long time ago," a shopper commented. "This is stylish, it is made well, it helps you hold on to your phone so you do not drop it as easily." Make sure to view the phone compatibility chart on Amazon to ensure it will work with your device.
If you're on a budget, the plastic Spigen ring holder comes with a small adhesive car mount.
2. A Ridiculously Gorgeous Ring Holder That's Basically Jewelry For Your Phone
Case Compatibility: Can not be used with silicone phone cases or those with a matte surface
This downright stunning phone ring holder has a faux stone center set into a metallic frame that looks so luxe. It's made from durable stainless steel and zinc alloy and it attaches to your case with a proprietary adhesive — it also works with magnetic car mount holders. While it can not be paired with silicone cases, it does have universal smartphone compatibility. And the brand even includes extra tape in case you swap phone cases. With 360-degree rotation and 180-degree flip, you'll always have a comfortable fit. "I love this product, it is exactly what I expected, it is very sturdy, it fits perfectly on my phone and it is gorgeous," a fan raved. You can also get a matching marble phone cover and equally stylish airpods case for a beautiful set. Not bling-y enough for you? Try this gold phone ring holder that looks like a queen bee.
3. An Affordable 3-Pack With Lots Of Cute Options
Case Compatibility: universal
If you have several devices, consider picking up a multipack of phone ring holders for a secure hold and convenient pop-up tripods no matter what gear you're using. There's a sturdy metal ring for reinforcement where it counts, with a flat edge on the bottom for stability when you're using it as a stand. Meanwhile, the lightweight yet durable plastic disc comes in so many fun prints — from galaxy prints to tiny cacti and even black marble — that all adhere with 3M adhesive, and shoppers were roundly impressed by how well it adhered. With 360-degree rotation and 180-degree flip, you're guaranteed easy one-handed operation. "I got this almost a year ago and it hasn't BUDGED. I've only used one and gave the other two to friends, because again I only needed the one because it works so well," a reviewer raved. "And it looks SO cute." The ring holders are compatible with all phones, tablets, and cases, according to the brand.
4. A Chic Faux Leather Phone Wallet With A Ring Holder
Case Compatibility: reviewers report success pairing it with a silicone case
Whether you're traveling light all day or all night (hello, improbably tiny clutch) this adhesive phone wallet with a ring holder keeps all the essentials together and is easy to hang onto thanks to the 360-degree rotating ring. The card slots have a snug fit to keep your ID safe, and it's even RFID-blocking for total peace of mind that your information will stay secure. The 3M adhesive promises plenty of endurance, too, so you'll probably have replace your phone before needing to swap out the ring holder. "OMG This is my absolute favorite adhesive wallet. I've used many styles and this rocks! The ring flips and twists, the two pockets can hold between two and three cards. And the color is gorgeous," a shopper praised. The brand notes that the case is compatible with most iPhone and Android smartphones but to be safe, check the device compatibility list.
Need something more practical for every day? This flexible phone wallet with a ring holder is stretchy enough to store your earbuds and clocks in at just $4.
5. A Ceramic Phone Ring Holder For Wireless Chargers
Case Compatibility: works with cases thinner than 1.6 millimeters, does not work with metal or silicone cases
This ultra-thin phone ring holder will conduct power without interference or scratching up your wireless charger. It's made from ceramic and is just 3-millimeters thick to be totally tech-friendly, and it sticks on with some solid 3M tape. There's even a lifetime replacement warranty, so you'll only have to buy it once. The only caveat is that you need to get the placement just right to ensure a charge, but even that is a simple matter of making sure your phone simply lies flat. "Best phone ring I've had, and I've gone through more than I can count," a reviewer reported. "The ability to still wirelessly charge is unique and totally works. Also, unlike the other ones I've used, after nearly a year, it doesn't spin out of control and is still useable as a kickstand." It comes with 360-degree rotation and 180-flip and it can hold up to five kilograms in weight. It offers compatibility with Galaxy, iPhone, and other smartphones but see the device chart to ensure it will meet your needs.
Also Nice: A Universal Liquid Screen Protector
Protect all of your tech with this genius liquid screen protector, which wipes seamlessly on to everything from tablets to smartphones and watches for extra insurance. It relies on liquid silica dioxide to increases strength and shatter resistance, and it claims to boost hardness to 9H on the Mohs scale (right below a diamond). It'll even resist fingerprint smudges and fill in minor imperfections, but it can't replace a new screen if things are really dire. "Very easy to apply...The screen now has smoother feel to touch and although it's invisible I can tell it works because I've dropped my phone many times and there are no cracks or chips on my screen," a reviewer was pleased to note. You also get a convenient phone wipe for cleaning included.