The 6 Best Podcast Headphones, According To An Audio Engineer
Better sound quality & comfy padding at every price point.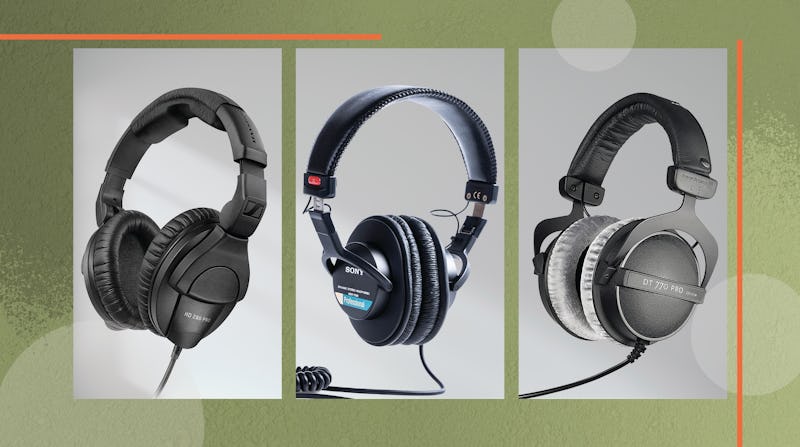 Bustle/Amazon
We may receive a portion of sales if you purchase a product through a link in this article.
Whether you're just beginning a podcasting adventure or you're a seasoned professional, owning a good pair of headphones can make a huge difference in your recording and editing experience. The best podcast headphones are durable, hardwired, and minimize the amount of sound that can escape from them, according to Dan Baker, director of audio production at Sorrentino Media. From budget-friendly options with a built-in mic to professional-quality models with folding cups, there are options for every kind of podcaster.
The Expert
Dan Baker is the director of audio production at Sorrentino Media and has experience as a podcast producer, as well as a video director and production assistant. Baker graduated from Ohio University with a Bachelor of Fine Arts in production design and technology.
What To Look For In Headphones For Podcasting
When recording a podcast, sound quality is a top priority. To minimize sound leaks (like when you can hear someone's music playing from their headphones), look for closed-back headphones with solid ear covers that trap audio from escaping. When it comes to comfort, look for extra soft and padded designs with ear cups that can be adjusted for the perfect fit.
In addition, Baker suggests choosing wired headphones because Bluetooth and other types of wireless headphones can cause latency (a delay or lag in sound delivery) or a loss of connection altogether. And when it comes to the sound reproduction of your headphones, the frequency range determines the range of sounds a set of headphones can deliver. Most headphones cover a frequency range from 20 to 20,000 Hz (about the same as what the human ear can hear). However, if you also plan on using your headphones to listen to music, some high-end headphones feature a range that extends up to 35,000 Hz and may provide qualities of airiness, crystallinity, transparency, and coloring, despite being inaudible for many. No matter the frequency range, these headphones are available in convenient fold-up designs, making them easy to take on the go and they come with nice accessories like travel pouches and handy adapters to plug into different kinds of podcasting equipment.
When you're ready to begin recording, scroll on for the best podcast headphones on Amazon.
1. These Expert-Approved Headphones
The Sony MDR7506 headphones are highly rated on Amazon and come recommended by Baker, who tells Bustle, "These are the only headphones I use." Baker also notes they're durable, adding, "My first pair lasted a decade before I replaced them." The closed-ear design provides ample protection from sound leakage during podcast recording. Additionally, these lightweight headphones weigh just eight ounces, feature a cushy padded lining around the ears and over the headband for supreme comfort, and have a fold-up design that makes them great for stashing away. It also has a lengthy 9.8-foot cord and an included adapter if needed.
A Rave Review: "When I began working on podcasts and audiobooks, my collaborator referred me to this headset. I considered getting a cheaper set but my wife convinced me that "the right tools make the difference." She was correct. From the moment I put these headphones on, I understood why this model is a workhorse for music and podcast industry professionals."
Frequency Response: 10–20,000 Hz | Weight: 8 ounces | Cord Length: 9.8 feet
2. The Best Headphones With An Extra-Wide Frequency Range
If you're looking for the most detailed acoustic definition and a large frequency response that can boldly deliver a wide range of sounds, consider the Beyerdynamic DT 770 headphones which are also great for listening to music. They feature robust bass capabilities and a delivery system that produces audio with zero distortion. The closed-backed design isolates the sound to your ears while the velour pads, adjustable ear cups, and padded steel headband provide a soft and comfortable fit. These headphones come with a 9.8-foot cable, a 6.3-millimeter jack adapter, and a drawstring bag. The listing also includes options for 32- and 80-ohm versions for smartphones, laptops, and studio use.
A Rave Review: "If you're not a huge audiophile, one might question there cost or how much of a difference can it make. The only way to describe it is going to a store and seeing a 4K TV versus the TVs years older. You might not think it makes much of a difference in your day to day but its a transformative experience. That doesn't begin to approach the topic of comfort. You can wear these as long as you can listen to music, forever. I use them for audio recording and podcasts. I couldn't be happier with the quality."
Frequency Response: 5–35,000 Hz according to the brand website | Weight: 10.2 ounces | Cord Length: 9.8-foot straight cable
3. This Lightweight Option Reviewers Find Super Comfortable
Weighing only 6.7 ounces, these headphones are the lightest pick on the list making for comfortable wear over long podcasting sessions. They also boast a wide frequency range, exceptional clarity, and deep bass response. The ear cups have an oval shape that allows for a perfectly contoured fit around your ears and the swivel cups allow for easy one-ear listening.
A Rave Review: "These have worked perfectly with so many projects, I've used them with my mac book pro and the blue mic and I've been able to create some great voice overs, podcasts and edit audio in a room full of people. That says a lot for a journalist trying to meet a deadline without interruption. So comfortable wearing on those long editing days. Clear and crisp sound quality, especially when editing in layers. Great for any professional."
Frequency Response: 15–20,000 Hz | Weight: 6.7 ounces according to the user manual | Cord Length: 9.8-foot straight cable
5. This Budget-Friendly Pick With A Built-In Mic & 2 Styles Of Cords
If you're looking for a pair of quality headphones under $35, consider these affordably priced podcast headphones that rival their higher-priced competitors. These headphones feature a convenient mic right in the cord and a button that can answer, pause, and end calls — ideal for guest call-ins. They have padded, swiveling ear cups for noise isolation and portability. Plus, these headphones come with a straight, four-foot, 3.5-millimeter audio jack cable and a coiled 9.8-foot, 1/4-inch cable to accommodate use with gaming consoles, laptops, audio equipment, and more.
A Rave Review: "I absolutely love these headphones. Of course you can't beat the price but the versatility of these headphones make them special. I use them for recording podcasts as well as just listening to music. The sound quality is great and the reversible cord makes these adapter free and ultra convenient."
Frequency Response: 20–20,000 Hz | Weight: 10.6 ounces | Cord Length: 4-foot straight cable, 9.8 foot coiled cable
5. These Popular Pro-Level Headphones
Featuring a closed-backed design, these professional-level podcast headphones are known for their noise isolation and sound quality according to reviewers. They feature soft ear and headband pads for long recording stints, and the ear cups fold and rotate so they're great for packing up on the go. According to reviewers, the headphones have a coiled, three-foot cord that can stretch longer if necessary — although you may experience some pull on the headphones if you do.
A Rave Review: "These are great for mixing, recording, podcasting, and even video editing. If you can make something sound good on these headphones they will sound good on alot of devices."
Frequency Response: 8–25,000 Hz | Weight: 10.1 ounces | Cord Length: 3 feet coiled according to reviewers
6. These Headphones Made By A Legendary Audio Brand
Shure has been in the audio game for almost a century and their products have earned an impressive reputation for quality. These podcasting headphones are an upgrade to one of their classics that have been elevated to deliver superior audio with crisp sound. They feature soft padding that extends up and around the entire headband and a sleek design. The headphones come with a 9.84-foot detachable cable, a carrying bag, a quarter-inch adapter, and a two-year warranty.
A Rave Review: "I bought them to replace some cheap headphones I use for podcast recording and editing [...] The headphone sound great. Clear sound with a good range, they are very neutral. The feature that unexpected blew me away is the comfort. I can wear these most of the day in meetings, and continue wearing them into the evening as I edit a podcast."
Frequency Response: 10–22,000 Hz | Weight: 9 ounces | Cord Length: 9.84-foot straight cable
Expert:
Dan Baker, director of audio production at Sorrentino Media