How Your Zodiac Sign Affects Your Taste In Music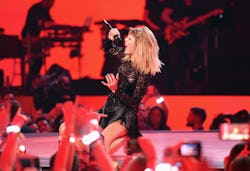 Kevin Winter/Getty Images Entertainment/Getty Images
When it comes to deciding who gets playlist-making duties at the next socially distanced group picnic, you might want to take people's zodiac signs into account — because believe it or not, your astrology can influence your taste in music. Of course, musical preferences differ from person to person and the cosmos can only tell you so much. But you might be surprised once you start picking up on how your zodiac sign affects your taste in music — it could be the reason your bestie wants to blast the latest Drake while you just want to listen to '90s grunge jams all day.
One good way to gauge someone's general musical vibe is based on our zodiac sign's element — which is either earth, air, fire, or water. This grouping informs various aspects of your personality ranging from how you communicate, whether you're a night owl or a morning person, your sense of style, whether you're a homebody or a nomad, and yes, perhaps even which musical artists are on your playlist.
In an interview with VICE, astrologer Annabel Gat broke down some of the aspects of different zodiac signs' musical preferences, based on their element and explained that fire signs (Aries, Leo and, Sagittarius) prefer upbeat and energizing music, while earth signs (Taurus, Capricorn, and Virgo) like music that's more organic-sounding, sensual, and soulful. Air signs (Libra, Gemini, and Aquarius) love thoughtful lyrics but can still jam out to futuristic-sounding techno, and finally water signs (Pisces, Cancer, and Scorpio) prefer music they can lose themselves in, as they enjoy more artistic, emotional, and romantic tunes.
So, how does your zodiac sign affect your taste in music and which artists do you like based on your astrology? Read on to get some insights — and then make yourself a zodiac-themed Spotify playlist while the cosmic inspiration is still fresh.
This article was originally published on