The 4 Best Pots And Pans For Deep Frying
We only recommend products we love and that we think you will, too. We may receive a portion of sales from products purchased from this article, which was written by our Commerce team.
by Ileana Morales Valentine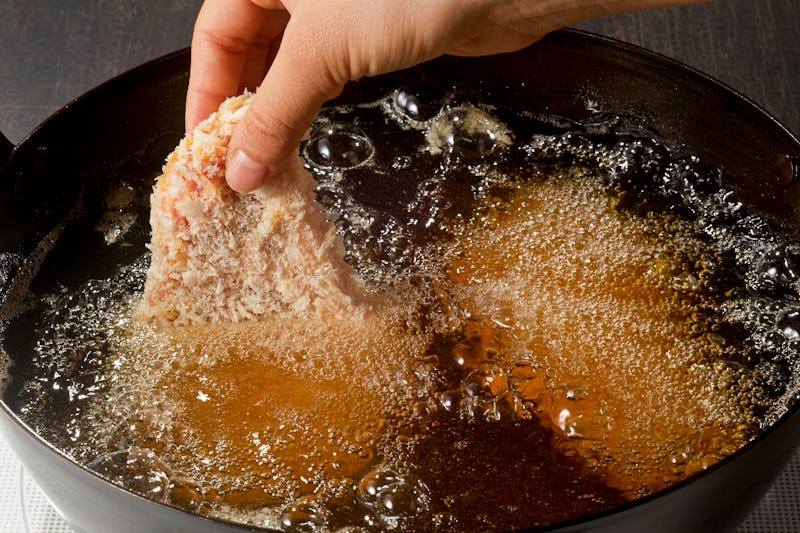 funny face / Shutterstock
Deep frying, versus shallow pan frying, results in a totally different taste and texture. The best pots and pans for deep frying are deep enough to fully submerge foods in hot oil and are made of cast iron for superior heat retention, but if you prefer a lighter or lower-maintenance option, carbon steel and stainless steel are worthy alternatives.
There are a few material options to consider with a pick that rises to the top. Cast iron retains heat well with its thick, heavy walls, and that's particularly helpful because frying requires maintaining a consistent temperature and it drops when food is added to the hot oil. An enamel coating on cast iron (which you'll find in many Dutch ovens) is helpful when frying since the lighter interior allows for closer monitoring of the food you're frying so that you don't overcook it and an enamel surface is easier to clean than cast iron (though you will need to take care not to scratch the surface with utensils). Carbon steel is similar but heats up faster than cast iron and is more lightweight; it's also more prone to rusting but just needs to be gently washed by hand like cast iron. Stainless steel is lightweight, reliably durable and conveniently dishwasher-safe; choose a tri-ply pot or pan with an inner layer of aluminum or copper for improved heat conductivity, and keep in mind this will be more expensive.
For deep frying, choose a pot or pan with walls at least 3 inches deep to prevent splatter and enough room to submerge foods in oil; you never want the pot to be more than two-thirds full for safe frying. A heavy pot or pan with a capacity of four to six quarts is an appropriate size for deep frying.
Keep reading for the best pots and pans for deep frying; each one is versatile enough to deep fry without a deep fryer but also function as a workhorse in the kitchen.
1. Editor's Pick: The Best Large Deep Frying Pot
This large deep-frying pot is my kitchen essential for cooking nearly anything: a Dutch oven. And clearly I'm not alone since this pick has an overall 4.8-star rating and over 29,000 reviews. Lodge's cast iron pot has side handles and a capacity of 6 quarts with ultra-deep 5-inch walls and a tight-fitting lid, so you can safely fry anything in it.
The pot is coated in enamel, making it nonreactive and easier to clean, and it doesn't require seasoning like most cast iron. Although it's technically dishwasher-safe because of the enamel, the manufacturer recommends hand washing with warm soapy water to keep it at its best. This pot can be used on gas, electric, ceramic, and induction cooktops — and it is also oven safe up to 500 degrees Fahrenheit.
Choose from dozens of colors to match your decor and several sizes including 1.5 quarts, 3 quarts, 4.5 quarts, 7 quarts, and 7.5 quarts.
Editor's note: "This is hands-down my favorite pot for deep-frying everything from doughnuts to chicken wings and beyond. It's deep enough to help minimize splattering, retains heat well, and is super easy to clean. Many of my colleagues love this one, too!" — Carina Finn, editor at Bustle
2. The Best Cast Iron Pan For Frying Chicken
This 10.25-inch round skillet with 3-inch deep walls is a great cast iron pan for frying chicken. It can hold up to 4 quarts, according to reviewers, and its long handle and helper handle are useful for toting the heavy pan around a kitchen. This highly rated skillet should be washed by hand, but it arrives conveniently pre-seasoned with vegetable oil for immediate use. This pick is safe for all cooktops, including induction, and it is oven safe — reviewers say it works at high temperatures, though a maximum temperature is not mentioned. Because this pot is made out of cast iron and retains heat so well, you are guaranteed to get crispier fried chicken all around — including on the sides that touch the pot's high walls. If you need to size up, there's also a 12-inch version available for purchase.
A helpful review: "This tall pan Is great [...] I bought this for doing some budget deep frying. But, it is also very fine for a no-spatter saute. Those tall sides are what works for less mess. Be sure to do the baked-on flax seed oil treatment, that will make any new or old iron pan simple to clean..."
3. The Best Wok For Deep Frying
Woks are often thought of for stir-frying, but their unique shape makes them an excellent vessel for deep frying. This quality wok for deep frying is made of heavy gauge carbon steel and can hold a little more than 4 quarts, according to reviewers. Deep frying in a wok is less messy than some other pans and uses less oil thanks to its sloped walls. This flat-bottomed wok is safe on gas and electric ranges.
This 12.5-inch round wok features a long detachable handle, which allows it to go from stovetop to oven, and it also comes with a wooden lid. Wash the pan with hot water and dry it completely, get rid of any burned-on food with a scouring pad, and finish by coating it lightly with cooking oil.
A helpful review: "I love this pan !!!! I use it for everything that's not acidic [...] Quick fry , deep fry , certain soups [...]"
4. The Best Stainless Steel Pot For Frying
This stainless steel pot for frying is certainly an investment, but the versatile pot comes from well-known All-Clad and is built for durability. The tri-ply stainless steel construction holds up to 6 quarts and also comes in an 8-quart version, and this pot with side handles comes with a tight-fitting lid with a handle. The round pot's walls are about 4 inches deep, and this pick is safe to use in the oven, broiler (up to 600 degrees Fahrenheit without the lid), gas, electric, and induction stovetops, and it's the only pick on this list that is really and truly dishwasher safe.
A helpful review:"I love this pot! It's exactly as expected and couldn't be happier. Perfect for soups, chilis, deep enough for frying, baking, perfect!"
Nice To Have: A Strainer That Can Take The Heat
After obtaining the right pan, a stainless steel spider strainer is another essential tool for deep frying. The 5.4-inch strainer is held by a long sturdy handle, and it's useful for safely lowering food into hot oil and then straining out fried foods. It's also helpful to move food around as it fries in hot oil so it cooks evenly, and you can do that with this highly-rated strainer, too. It's also available in a 7-inch version.
A helpful review: "This is a well-made spider strainer. Strong handle, sturdy basket. Many others in this price range are disappointing (like a set of 3 I purchased at the same time — they won't last). Very pleased with the quality. Perfect size for pasta, veggies, dumplings, and even for frying chicken pieces. It's important to me that my strainers are dishwasher safe, so no wood handles. This has been a workhorse. I recommend without reservation."
This article was originally published on