For Delicious Crispy Food At Home, These Are The Best Deep Fryer Choices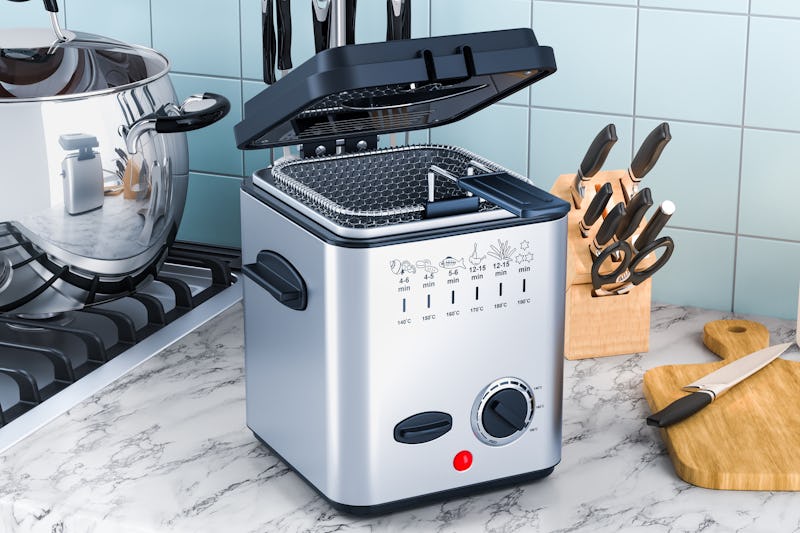 Alexlmx / Fotolia
To deep-fry your favorite foods quickly and without a lot of mess, you'll need one of the best deep fryers for home use. Whether it's chicken, fish, french fries, onion rings, or donuts, deep fryers speed up cooking time and produce a rich, crunchy final product. Luckily, these appliances are also available in a variety of sizes and price points to fit right into most kitchens.
When you're trying to choose the best deep fryer for your home, there are a few essential things to consider. The first is the fryer's capacity and size. For most homes, a 4-quart capacity deep fryer, which allows you to cook two to three meals or appetizers for a bigger group at once, is a good fit. If you're frying for just one or two people, or only need small portions, a small 1 ½- to 2-quart capacity fryer will probably be a better fit.
For cooks who want a lot of control to pick the heat level best suited for their different dishes, look for models that allow you to easily adjust the oil temperature from 325 up to 375 degrees Fahrenheit. According to the USDA, you'll want to fry your food at between 320 and 375, depending on the food item. However, not having that kind of control can save you a lot of money. Additional features like an oil-ready indicator light and dishwasher-safe parts are also nice to have.
So, to find the perfect deep fryer for your kitchen, check out my roundup of the best deep fryers for home. All of these top picks are available on Amazon with features and sizes to suit your tastes, budget, and countertop space.