4 Blissfully Quiet Dog Toys To Replace Your Pup's Annoying Squeaky Toys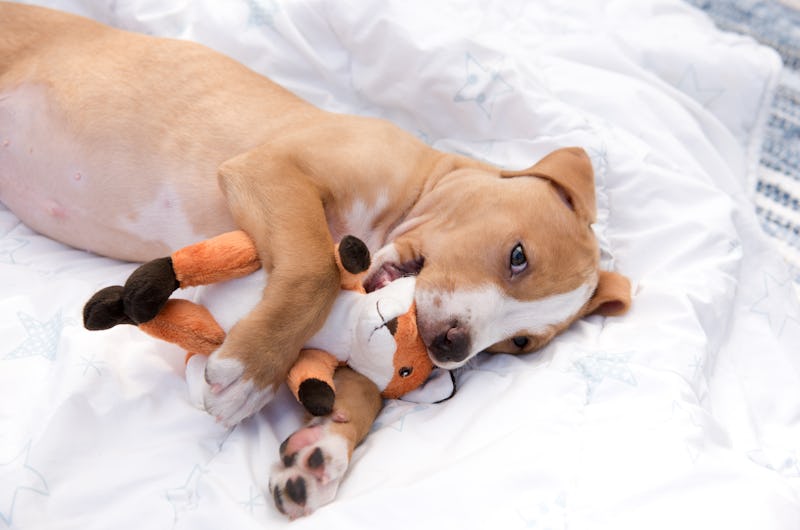 Anna Hoychuk / Shutterstock
While your dog might love their squeaky toys, the sounds can get pretty annoying for you — lucky for you, there are "squeak" toys that can keep both you and your dog happy. Some of these toys work by squeaking at a frequency too high-pitched for human ears, while others have an option to mute the squeaking. Others make a different kind of noise that you might find less grating. At the end of the day, the best silent squeak dog toy for your dog will depend on how your dog likes to chew and play — and what your needs are in terms of noise.
Toys that produce sound at an ultrasonic range of 24 to 28 KHz will be audible to your pup but not to you, since humans cannot typically hear sounds above 20,000 Hertz (Hz). But some toys are not audible at all unless you step in and help, which means you can both enjoy the squeaking together, but the noise won't bother you while you're busy doing something else. Finally, so long as you're not bothered by the sound of a crushed water bottle, crinkle-style toys emit a similar noise, which many find less jarring.
If your dog is an aggressive chewer, plush toys mean more cleanup. With this in mind, opt for a plush toy without stuffing for your dog to spread around the house — or choose one of the non-plush toys on the list.
To help you choose which is right for your pet, here's my roundup of the best silent squeak dog toys. All of these picks are top-rated and doggy-approved for a fun (and quiet!) playtime.
We only recommend products we love and that we think you will, too. We may receive a portion of sales from products purchased from this article, which was written by our Commerce team.