4 Best Snuffle Mats For Dogs
We only recommend products we love and that we think you will, too. We may receive a portion of sales from products purchased from this article, which was written by our Commerce team.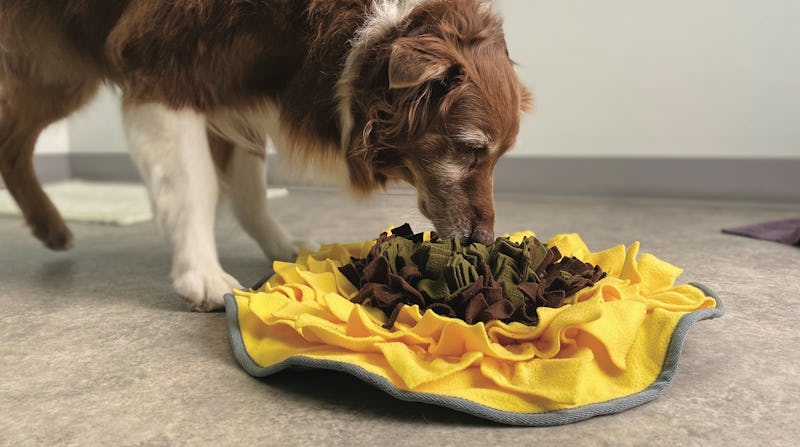 Ryan Brix/Shutterstock
Encouraging your dog's natural foraging skills is a great way to help keep them busy and release some excess energy. When looking for the best snuffle mats for dogs, choose one that's durable enough to withstand multiple foraging sessions and is easy to clean (ideally in a washing machine). Keep your dog's personality in mind as you shop — you'll want to choose a design that will pique your dog's interest and keep your pet sufficiently stimulated.
If your pup is a quick learner, opt for a snuffle mat with multiple hiding spots. Some snuffle mats include a variety of pockets, flaps, and fringes to tuck kibble or dog treats into, while others have designs that can be adjusted for increased difficulty.
Another factor to consider with any dog tool or toy is how easy it is to clean and store. If you have a big drooler or you plan to regularly use it as a slow-feeder (slowing down meals can improve a dog's digestion), you'll especially want to choose a snuffle mat that's safe to toss in the washing machine. Some options are also constructed in ways that make them compact and portable. Most of the snuffle mats below are easy to roll up or collapse for easy storage — and some even come with strings to keep them securely stowed.
Keep in mind that most snuffle mats aren't designed to be chew toys — so make sure to supervise your pup's foraging time, especially if they're heavy chewers. Below you'll find four of the best snuffle mats to keep your dog busy.
1. The Overall Best Snuffle Mat For Dogs
This PAW5 Wooly snuffle mat is popular with both shoppers and critics alike, and for good reason. It's the only snuffle mat on the list made from a durable, soft cotton-polyester blend that mimics large blades of grass. Plus, it's machine-washable and durable. Many users have reported that it can last through multiple wash cycles without fraying or ripping. One reviewer wrote: "I throw it in the wash once a week with our rags and dog towels, run it through heavy cycles and high heat in the dryer and it's still in perfect shape." If your dog is a heavy drooler or you plan to use the mat often, consider this model your best bet for easy cleanup. Sprinkle kibble on top of the mat for easy access, or provide more of a challenge by tucking the treats deeper into the fabric blades.
While this snuffle mat lacks an anti-slip bottom, one reviewer found that placing the mat against a wall helped to keep it in place. Some reviewers also noted that their dogs figured out how to pick up the mat and shake out the treats — but many others attested that it entertained their pups for upwards of 30 minutes at a time. No matter what, the manufacturer offers a 30-day guarantee to let you try it out first and make sure it's a great fit for your pup.
Enthusiastic Amazon review: "I bought this mat to help keep my dog entertained while on crate rest. He was interested in it the moment I took it out of the package. It's large enough to feed him his entire meal of kibble on the mat, and sometimes I hide treats in it for him to find. It's easy to wash in the washing machine and seems durable - it's been through the wash a few times so far."
2. The Best Budget Snuffle Mat
With more than 10,000 reviews on Amazon and a 4.2-star rating overall, this budget-friendly snuffle mat is a great find at a great price. It is made of felt cloth with a nonslip bottom — just pour dry kibble or treats into the felt tabs and watch your dog sniff out their treats. It's designed with a convenient drawstring that allows you to switch up the difficulty level by cinching up the sides of the mat. One reviewer attested, "My dog absolutely loves it; adjusting the tightness of the string adds more difficulty and takes more time for him to find the treats. It's a great buy." You can even try using it as a slow-feeding bowl for dry kibble to prevent your dog from gobbling down their food in seconds. Plus, the drawstring feature comes in handy when you need to store it — and because of its collapsible design, many reviewers like that they can easily pack it for travel.
Although this snuffle mat is machine-washable, the manufacturers recommend washing it by hand at least once a week for best results. However, many reviewers have suggested it does well on a gentle wash cycle. The felt material isn't indestructible, though, and it can come apart over time, according to reviewers. If you plan on using this snuffle mat on an everyday basis, you may want to consider buying multiples to keep in rotation or opt for something more durable. The manufacturer also doesn't outline a specific warranty or money-back guarantee. But for less than $20, it's a solid option.
Enthusiastic Amazon review: " Good for the price [...] The overall quality is good. My shepherd mix has managed to pull apart some of the green cloth but it has still held up pretty well and keeps them entertained."
3. The Best Large Snuffle Mat
If you have a large dog or multiple dogs at home, a large snuffle mat might be a better fit. This mat comes with different puzzles (including cups, ruffles, straps, and tabs) to hide treats and kibbles in. Made with soft polar fleece, this snuffle mat is machine-washable and easy to pack away. All you have to do is roll it up and use the included strings to tie it together. It also comes with nonslip grip on the bottom.
As far as cons go, durability may be an issue with dogs that are natural chewers. Some reviewers have mentioned that this mat didn't last long before their dogs ripped holes in it. One reviewer described: "My dogs love this mat. Unfortunately, they can easily chew through it. I was hoping it was made of tougher material. They will enjoy it while they can." There's no specific money-back guarantee listed, but the manufacturers do claim to do their best to solve any customer satisfaction issues. This mat is also available in a slightly smaller size that measures 39.4 by 23.6 inches.
Enthusiastic Amazon review: "My dogs love it, the large is perfect size for my big dogs. They like to lay on it when they find all the food, stays put on my tile pretty well with the rubber underneath."
4. The Most Challenging Snuffle Mat
Do you have an active dog who loves a challenge? This snuffle mat has interchangeable activities and puzzles that you can easily switch up to keep your pup on their toes. It comes with five additional attachments with different flaps and pockets to tuck treats into: a handkerchief, puzzle board, wallet, book, and ball pocket. You can use the five elastic loops to attach the extra puzzles to the mat or let your dog play with the various puzzles individually. The center of the base is designed to look like a flower and comes with thick layers of "petals" constructed from oxford and polar fleece. Along with being machine-washable, it includes a nonslip bottom, as well as removable anti-flip poles around the rim to help keep the mat in place.
There's no simple way to roll it up or fold it down, so it might not be the easiest mat to store. It can also take some extra effort to set up or take apart, which could make washing this snuffle mat more of a chore. This product doesn't mention any type of satisfaction guarantee, but many reviewers have noted that the seller's customer service responded to and fixed issues right away.
Enthusiastic Amazon review: "This is a beautiful and well made toy. My 1 year old Labradoodle rescue (medium sized; about 40lbs) is super smart and energetic and this keeps her busy for a really long time. [...] This is the first puzzle toy/snuffle mat that has kept her attention and proven to be any sort of challenge. She even tried to "muscle" it by picking it up but a good amount of the kibble stayed stuck in those felt pockets. She shook it, chewed it, and it doesn't show a bit of wear. She wanted to carry it around, but the foam rolls in the sides kept her from being able to do that. I would definitely buy this again and recommend it to all my friend with energetic dogs who like to sniff, hunt, and use their brains!"