The 9 Best Soaps For Soft Water, According To Experts
We only recommend products we love and that we think you will, too. We may receive a portion of sales from products purchased from this article, which was written by our Commerce team.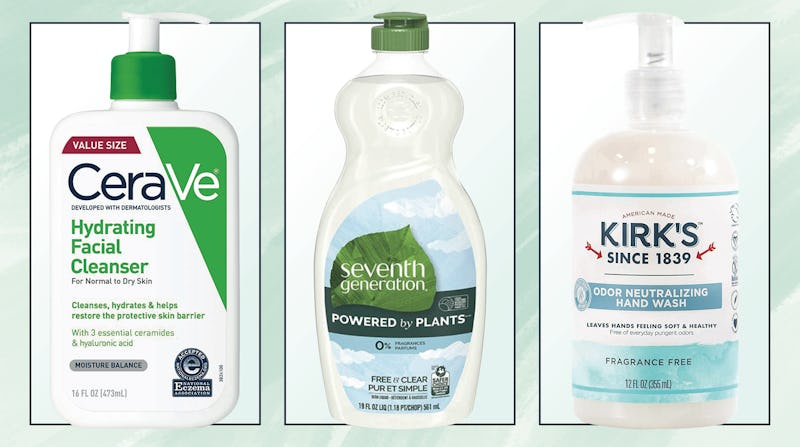 Bustle / Amazon
If you have soft water in your home, you have a lot of options when it comes to soap. "Most everything will work well in soft water," Stephanie Greenwood, long-time soap maker and founder of Bubble & Bee Organic, tells Bustle. However, soft water does make it harder to rinse soap away, and according to Elizabeth Mullans, M.D., a Board-certified dermatologist and founder of Uptown Dermatology, you should "be mindful of soaps and opt for one that is fragrance-free." That's why the best soaps for soft water use gentle formulas that are free from synthetic fragrances and wash away easily, whether you're bathing, washing the dishes, or doing a load of laundry.
When choosing a soap, it helps to understand the difference between hard and soft water. Hard water contains a high amount of calcium and magnesium, which creates soap scum and requires more detergent to get things clean. "Soft water does not contain the amount of minerals that hard water does, so you will need less detergent to get your clothes clean," Dr. Mullans tells Bustle. But 85% of the United States has hard water and many manufacturers add chelating agents such as ethylenediaminetetraacetic acid (EDTA) to improve soap's performance, which can cause skin irritation for some people. With soft water, you can choose a soap that's free from EDTA and other potentially irritating ingredients. Similarly, soap-free, synthetic detergents are a good choice if your skin is easily irritated. The best ones still "give you loads of lather and a clean rinse," according to Greenwood, adding: "Organic and natural soaps will work better in soft water than in hard water, so if you're looking for more natural options, soft water is your friend."
With all that in mind, scroll on for the best soaps for soft water, including body wash, hand soap, and dish and laundry detergents.
Experts:
Stephanie Greenwood, founder of Bubble & Bee Organic
Elizabeth Mullans, M.D., a board-certified dermatologist and founder of Uptown Dermatology