The 12 Best Sous Vide Accessories
We only recommend products we love and that we think you will, too. We may receive a portion of sales from products purchased from this article, which was written by our Commerce team.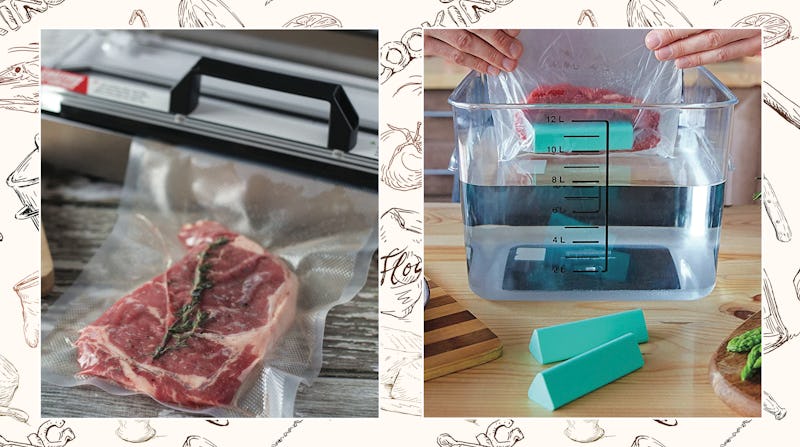 Bustle / Amazon
Sous vide is a relatively hands-off cooking method that yields crisp veggies, tender meats, and flavorful fish, and the best sous vide accessories make it even easier to get flawless results every time. These tools will make prepping, cooking, and adding finishing touches a breeze, and they've got a loyal following on Amazon to back them up.
First off, while you can sous vide on your stovetop, a sous vide machine makes it easier to precisely heat water and keep it circulating, so it's one of the best accessories to invest in. And since metal transfers heat, using traditional cooking pots can make sous vide cooking less efficient — that's why it's helpful to use a food-safe polycarbonate container instead. A 12-quart container is recommended for feeding four to five people, and you can size up for larger groups.
When it comes to the cooking process, vacuum-sealed food bags are an easy way to remove as much air as possible, and they're recommended for sous vide vegetables. Stainless steel clips, sous vide weights, or a sous vide rack will prevent the bags from floating to the surface during cook time. And if you're making multiple bags of food at once, a rack will also keep them spaced out so water circulates and the food cooks evenly.
Finally, you might want a pair of grippy, heat-resistant gloves to make getting slippery bags out of their bath easy, along with a searing torch that'll add the finishing touch to tender meats. Also helpful: A silicone trivet that protects your countertops from damage.
The best sous vide accessories are sure to give you incredibly flavorful results and help you avoid any hiccups. Find them all below.