The 10 Best Summer Hiking Boots
We only recommend products we love and that we think you will, too. We may receive a portion of sales from products purchased from this article, which was written by our Commerce team.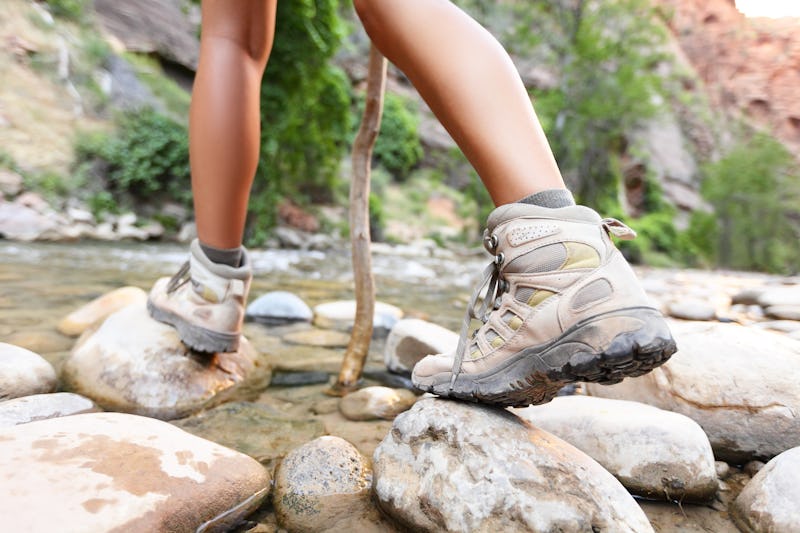 Maridav / Shutterstock
If you want to enjoy some spectacular summer hiking, you need a boot that's built to handle warm weather. The best summer hiking boots are breathable, have great traction, and support your feet.
What To Consider When Shopping For Summer Hiking Boots
The first thing to know when buying hiking boots is that the ones that are very breathable tend to be less waterproof. After all, if air can flow in and out, so can water. Many boots have mesh panels combined with waterproof soles, so you can still trudge through shallow puddles without getting your feet soaked. Other boots are more waterproof, but have breathable tongues and moisture-wicking liners to help keep you cool.
If your feet aren't prone to overheating, you'll likely be fine with a traditional waterproof boot for summer as long as it doesn't have a thick lining. Another way to keep your feet cool in hot weather is by choosing a boot in a lighter color. Darker colors absorb more heat, which is why darker shoes have been shown to have higher temperatures inside.
Finding The Right Boot Sole For You
You'll also want to consider the sole of your boot. Many hiking boots have soles made from Vibram, which is a brand of rubber that is well-known for its traction and durability, while other boots have regular rubber soles that can also be designed with great traction. Soles also have a variety of traction types that work on different terrains. Soles with thicker lugs — the bumps that provide traction — are great for mountaineering, while wider lugs are good for more casual hiking and make it easier to remove mud.
Along with outer soles, boots also have different types of midsoles that impact support and cushioning. Midsoles made from EVA, which is a rubber-like polymer, are lightweight and soft to reduce the stress of impact, while midsoles made from polyurethane (PU) provide less cushioning — but are more durable.
Stay cool this summer with picks from this list of the best summer hiking boots.
Shop The Best Summer Hiking Boots
In a hurry? These are the best summer hiking boots:
This article was originally published on