The 8 Best Towels For Peloton To Optimize Your Ride
We only recommend products we love and that we think you will, too. We may receive a portion of sales from products purchased from this article, which was written by our Commerce team.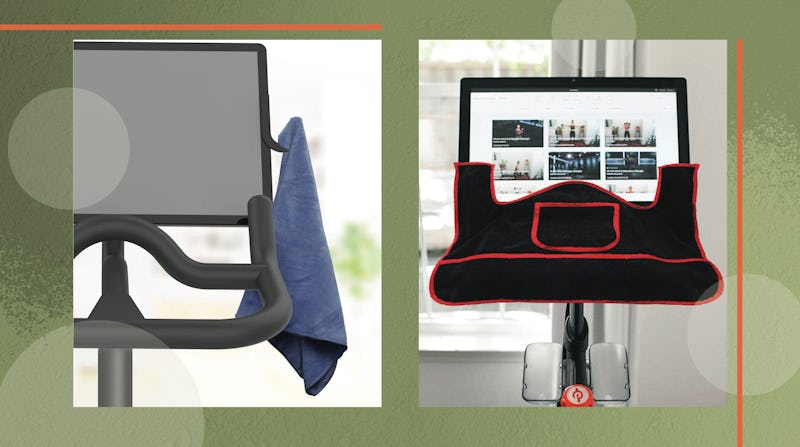 Bustle/Amazon
A high-intensity workout is a great way to sweat. But chances are, that sweat won't just end up on your forehead — so a sports towel to pat yourself (and your bike) down is essential. When it comes to choosing the best towels for Peloton, it's most important to get a quick-dry towel that's ultra-absorbent and stands up to multiple washes. Though you can also look for features specifically designed to work with the bike, such as one that covers the handlebars.
When shopping for a towel for Peloton, first consider how you tend to use your towel during workouts. Do you like to hang it on your handlebar for easy access? In that case, look for a towel with a loop you can snap onto your handlebar. Some towels might even include a hook that can be attached to your bike screen. Perhaps you like to wear it around your neck so it absorbs sweat in real time, in which case you'll need a longer, narrower towel that hangs around your neck. Or, if you're a heavy sweater, you might want a towel that covers the entirety of your bike's handlebars, which can absorb sweat on your hands and forearms and prevent slippage.
Once you've landed on a design, it's time to think about fabric. Many towels designed for workouts use a microfiber fabric because of its high absorbency and durability: Microfiber is made from a blend of polyester and polyamide and has a flatter surface than terrycloth, which allows it to actually absorb liquid rather than push it around. Microfiber also tends to dry quickly, which means each time you reach for your towel during a workout, it will be relatively dry. That said, Peloton's own towels are cotton; so if you're looking for a one-to-one alternative to their branded towels, or if you simply prefer cotton, there's an option on this list for you, too.
However you choose to use your towel, scroll on to shop eight of the best towels for Peloton you can find on Amazon. Then, go ahead and add a few more of the best Peloton accessories to your cart so you'll be fully geared up for an incredible, inspiring sweat sesh.