The 3 Best Underarm Sweat Pads To Keep You Dry & Stain-Free
We only recommend products we love and that we think you will, too. We may receive a portion of sales from products purchased from this article, which was written by our Commerce team.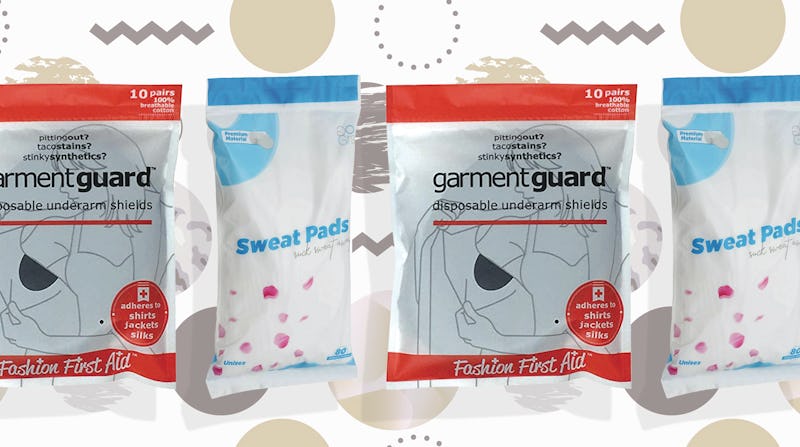 Bustle/Amazon
Everyone sweats, but nobody enjoys the feel of damp clothing or the look of pit stains — and sometimes, over-the-counter antiperspirants just don't cut it. That's where the best underarm sweat pads come in: Made from a super-absorbent fabric like cotton or microfiber, they come with a multi-layered design that slips imperceptibly under your clothes, keeping your underarms dry and your tops protected from stains.
Most underarm sweat pads look pretty similar, but where they differ is in the fabric construction, size, and color. The most effective sweat pads will be made from an absorbent fabric that acts like a sponge, instead of simply wicking moisture away. Most commonly, you'll find pure cotton or microfiber options, or a blend of both. Cotton is a natural fiber, so it's more environmentally friendly, but microfiber is more durable and possibly better at resisting odors. But both are soft, hypoallergenic, and absorbent, so which one you choose depends on your personal preference — or choose a blend to get the best of both worlds. Another factor that contributes to absorbency is the construction itself. Look for sweat pads with a multi-layered design — usually two layers, though some will have more — to ensure maximum protection and absorption. One pick below even has an "impermeable" layer to prevent moisture from reaching your clothes entirely.
In terms of size, most measure just under five inches in length and are relatively thin, which keeps them from looking bulky under your top; but you can also find a larger option if you want extra coverage and security. Also, note that sweat pads come in shades similar to common undergarments, so they'll stay low-profile as you wear them.
One last thing to note: If you do any research into underarm sweat pads, you may come across antiperspirant or deodorant wipes being referred to as "sweat pads" — that's not the focus of this list, but you'll find one extremely popular option included for good measure.
Scroll on to shop three of the best underarm sweat pads on Amazon, all designed to offer you added sweat protection for a little more peace of mind.