The 5 Best Antiperspirants For Sweat
We only recommend products we love and that we think you will, too. We may receive a portion of sales from products purchased from this article, which was written by our Commerce team.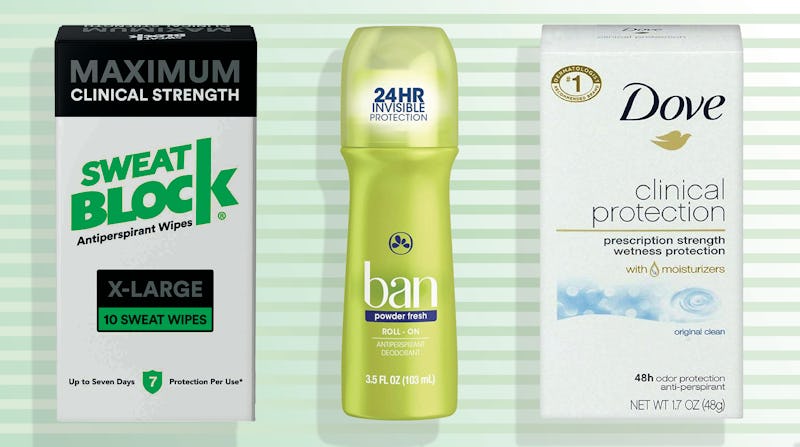 Bustle / Amazon
There's a lot of contradictory advice out there, so to find the best antiperspirants for sweat, I turned to four experts for advice. According to Dr. Peterson Pierre, M.D., founder of the Pierre Skin Care Institute in California, the best antiperspirants are made with aluminum to "decrease sweat by blocking sweat pores and consequently decrease odor." While aluminum has gained a bad rap in recent years, Dr. Ava Shamban, M.D., dermatologist and owner of Ava MD in California, confirms that it is safe to use. Dr. Joshua Zeichner, M.D., a New York City-based dermatologist and an associate professor of dermatology at Mount Sinai Hospital, also writes that "aluminum salts are safe and effective" in antiperspirant products.
This may come as a surprise, but according to dermatologist Dr. Zeichner, there is no such thing as an aluminum-free antiperspirant. "Antiperspirants contain aluminum-based salts that form a plug within the sweat gland to prevent sweat from reaching the surface of the skin," Dr. Zeichner tells Bustle. However, different antiperspirant products have different levels of aluminum-based compounds — which means some are formulated to block sweat for a few hours, while others offer days-long protection. "The higher the concentration of the aluminum salt, the better it can block the sweat gland," Dr. Zeichner explains.
When it comes to form, it largely comes down to personal preference. According to cosmetic dermatologist Dr. Michele Green, M.D., "For the best results and highest level of protection against sweat, it's important to use the form of antiperspirant that works for you." She writes, "If you're looking for a form of antiperspirant that is quick and easy for everyday use, there are dozens of antiperspirant deodorant sticks available over-the-counter that are effective and gentle." Dr. Green adds that roll-on antiperspirants can be another great option because they can be applied in a thin layer without leaving behind a thick residue.
Finally, consider your sensitivities. If you have sensitive skin, Dr. Green recommends steering clear of antiperspirants formulated with parabens and added fragrance, which can cause irritation. (Keep in mind as you shop that while not every manufacturer explicitly specifies if a formula has parabens, they will often specify if it's paraben-free.) And, according to Dr. Green, antiperspirant lotions "are wonderful for sensitive or dry skin because they can moisturize while helping combat sweat production and odor."
Keep scrolling for the best antiperspirants for sweat, which come in various forms — including clinical-strength sticks, roll-ons, creams, and wipes — to best suit different skin types and body areas. However, if you have any health concerns, it's always best to consult a medical professional.
1. The Overall Best Antiperspirant Deodorant
Type: Stick
For use on: Underarms
Dove Clinical Protection Antiperspirant Deodorant offers up to 48 hours of protection and has one of the highest concentrations of aluminum salt on the market: 20% aluminum zirconium tetrachlorohydrex gly. Plus, it has an alcohol-free formula with added moisturizers to keep skin feeling soft. While the antiperspirant is not fragrance-free, its subtle scent can be described as "soapy and clean," according to one reviewer.
Promising Amazon review: "I've been an avid user of Dove clinical protection for many years. It's the only deodorant brand that I've used so far that actually prevents sweating. It's had pretty consistent results. And for a pack of three, the price is a steal."
2. The Longest Lasting Antiperspirant
Type: Wipe
For use on: Underarm and body sweat
These SweatBlock antiperspirant wipes offer up to seven days (seriously!) of sweat protection. They're formulated with 15% aluminum chloride, the highest concentration of the specific aluminum compound approved for over-the-counter use. According to the manufacturer, tingling is normal upon initial application — but you should always test the formula on a small area first, as those with sensitive skin may experience itching or irritation.
SweatBlock is designed to reduce sweat rather than unwanted odors, but the brand specifies that you can add a supplemental deodorant to your wipes routine if you wish. Plus, according to one reviewer, adding a deodorant might help counteract the scent of the wipes: "It smells funny, but when you can put on your normal deodorant on, it doesn't really matter in the long run."
Promising Amazon review: "This is the best product ever!! Who knew that a simple wipe would give me the results I've been seeking for YEARS. I can honestly say, I STAND BY THE SWEAT BLOCK WIPES 100% effective for ME. I will def continue purchasing!"
3. The Best Antiperspirant Deodorant For Sensitive Skin
Type: Stick
For use on: Underarms
Both fragrance- and paraben-free, Vanicream's antiperspirant deodorant was designed with sensitive-skinned folks in mind. The product offers up to 24 hours of protection with its 20% concentration of aluminum zirconium trichlorohydrex gly. One reviewer wrote, "It doesn't feel gunky on my pits like other brands. It feels light and clean. It's as if I'm not wearing any at all." Reviewers have loved how effective (and gentle!) it is on their sensitive and allergy-prone skin.
Promising Amazon review: "By far and away the best deodorant antiperspirant I've found that does not irritate sensitive underarms. [...] Highly recommend trying if a a deodorizer isn't enough and antiperspirants are often irritating."
4. The Best Roll-On Antiperspirant Deodorant
Type: Roll-on
For use on: Underarms
The fan-favorite Ban roll-on antiperspirant offers 24-hour wetness and odor protection. In addition to its 18% concentration of aluminum chlorohydrate, the product is formulated with Kihada extract, which Ban claims can help break down sweat and prevent unwanted odor. While roll-on antiperspirant deodorants can take longer than traditional stick options due to their liquid formulas, several reviewers have noted that this one dries quickly and goes on clear. The Powder Fresh fragrance has been described by customers as "pleasant," "clean," and "floral."
Promising Amazon review: "I've tried several deodorants over the years (different brands, applications, scents, etc) and have finally found one that works. I just apply this once my underarms are dry after showering and wait a few minutes for the deodorant to dry before putting on my shirt. I experience minimal moisture and it keeps odor away for several hours! I also have sensitive skin and experienced rashes with other deodorants, however this one does not cause irritation. The smell is also pleasant. Absolutely recommend."
5. The Best Antiperspirant Lotion For Hands & Feet
Type: Lotion
For use on: Hands and feet
This pack of Carpe antiperspirant lotion for hands and feet offers a smooth, non-greasy, and quick-drying formula that's free of parabens, phthalates, and sulfates. It's also made with 15% aluminum sesquichlorohydrate, which, according to Carpe, can cause less irritation than many other types of aluminum compounds frequently found in antiperspirants. For optimal results, the manufacturer recommends applying the lotions twice a day, before bed and when you wake up.
The lotion is eucalyptus-scented, which one reviewer described as "slightly medicinal." While the formula contains some moisturizing ingredients, customers have noted that it can dry out the skin over time (in which case, reviewers have incorporated an additional daily moisturizer to their routines). Carpe makes antiperspirant and deodorant lotion for underarms, too.
Promising Amazon review: "These are the best over-the-counter products I've found to prevent hand and foot sweat. They're easy to apply, fairly inexpensive, and work better than I'd expected. I've suffered sweaty hands and feet for as long as I can remember, and for reasons I don't entirely understand, it's only gotten worse over the course of my life. Carpe's Antiperspirant Hand Lotion and Foot Lotion have greatly reduced the sweating after only a week or so of use. I no longer have to worry about the dampness, and even better, there's no excess moisture to soak into shoes and clothing, which previously led to contact dermatitis whenever I wore shoes or worked with materials made with glues, dyes, and perfumes. This stuff is a big help, and I highly recommend it."
Experts:
Dr. Ava Shamban, Owner of Ava MD
Dr. Joshua Zeichner, Director of Cosmetic and Clinical Research in Dermatology and Associate Professor of Dermatology at Mount Sinai Hospital
Dr. Michele Green, Cosmetic dermatologist
Dr. Peterson Pierre, Founder of the Pierre Skin Institute