The Best Underwear For Sensitive Skin, According To A Dermatologist
We only recommend products we love and that we think you will, too. We may receive a portion of sales from products purchased from this article, which was written by our Commerce team.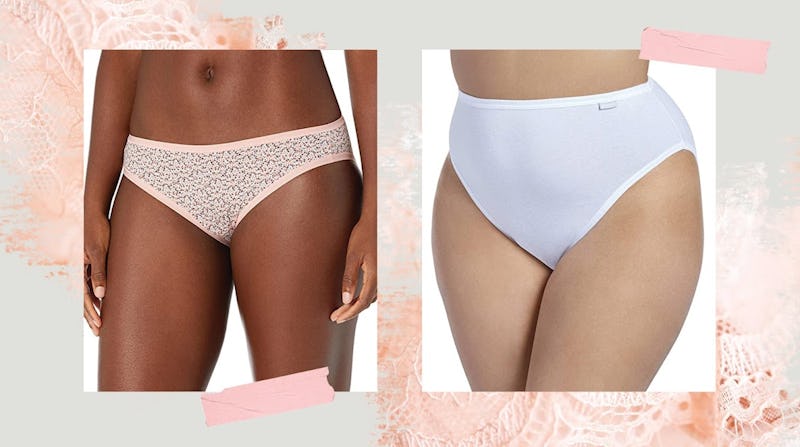 Bustle / Amazon
If you have sensitive skin or are prone to rashes or irritation, you have to be mindful of everything you put on your body — including your underwear. The wrong pair can cause skin irritations due to friction, while certain fabrics can contribute to vaginal infections like UTIs and yeast infections. Bustle reached out to board-certified dermatologist Marisa K. Garshick, M.D. to learn what to look for when shopping for the best underwear for sensitive skin. According to Garshick, you'll want panties made primarily from cotton, with a 100% cotton gusset, and the fit should be neither too tight nor too loose.
The Expert
Marisa K. Garshick, M.D., is a board-certified dermatologist based at MDCS Dermatology: Medical Dermatology & Cosmetic Surgery in New York City, as well as an assistant clinical professor of dermatology at Cornell - New York Presbyterian Medical Center. She is a member of the American Academy of Dermatology, the American Society of Dermatologic Surgery, and the Women's Dermatologic Society. She specializes in both cosmetic procedures and general medical dermatology, such as providing treatments for eczema, psoriasis, and rosacea.
What To Look For In The Best Underwear For Sensitive Skin
Fabric
By far the most important factor when shopping for sensitive skin-safe underwear is the material. Dr. Garshick says, "Cotton tends to be the best fabric for those with sensitive skin as it is gentle and not irritating." And not only is cotton soft, it's also incredibly breathable. While other fabrics trap heat and moisture (which can make your underwear a breeding ground for rashes and vaginal infections), cotton wicks away moisture and dries quickly.
Most of the cotton underwear listed ahead contains a small amount of spandex, which gives them that comfy stretch. If you're worried about exposed elastics causing irritation, opt for styles with leg openings and waistbands lined in cotton (as is the case with most options on this list), so you get you can still enjoy a stretchy feel without the potential skin irritation. And if you absolutely must wear underwear made from any fabric other than cotton, Dr. Garshick recommends that it at least has a 100% cotton gusset.
Fit
Fit and style likely depends on personal preference. However, Dr. Garshick points out that whatever style you choose, whether it's a full-coverage brief or a cheeky bikini cut, it's important that it fits properly. Too loose, and you risk slippage and bunching; too tight, and you can create unnecessary friction that can irritate the skin.
Thongs have gotten a bad rap for promoting vaginal infections, like UTIs and yeast infections, but that theory has been roundly debunked. That said, Dr. Garshick suggests that it's best to avoid thongs if your skin is very irritated, as they tend to create friction. (If you can't live without your thongs, though, choose one that's made from cotton and is free of irritating seams.)
Care
While choosing a cotton underwear with a comfortable fit is the most important consideration if you have sensitive skin, how you wash them is also important. Dr. Garshick suggests avoiding detergents with heavy fragrances, harsh chemicals, and dyes. But, Dr. Garshick warns, "a product that is unscented may still have a masking fragrance which can lead to irritation or sensitivity, so it is best to look for a product that is labeled fragrance-free." In particular, she recommends all Free Clear, Tide Free & Gentle, and Arm & Hammer Free & Clear Sensitive Skin.
Whether you're looking for a multi-pack of neutral hipsters or a pair of colorful boyshorts, keep scrolling for a list of the best underwear for sensitive skin.