The 12 Best Wine Racks, According To Sommeliers
Expert tips on racks that'll keep your bottles in tip-top shape.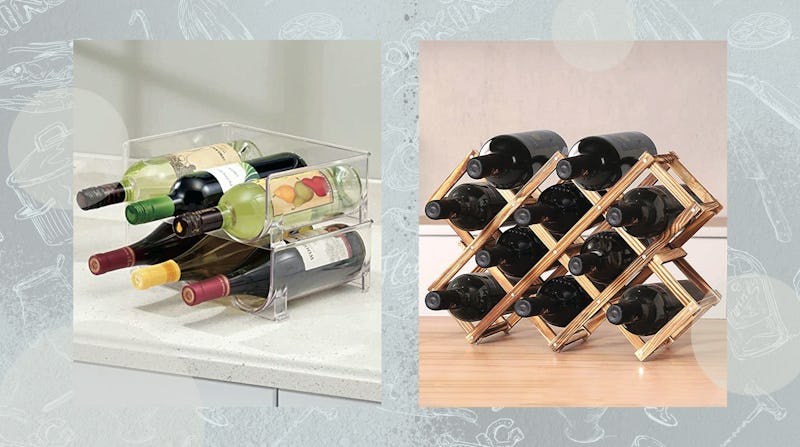 We may receive a portion of sales if you purchase a product through a link in this article.
Whether you keep just a couple of bottles of wine on hand or you're fully stocked with an extensive collection, one thing is true: You'll need somewhere to store them. And the best wine racks provide the perfect place to do so. The ideal wine rack will have sufficient space for all of your vino and will position the bottles horizontally to prevent the cork from drying out. Aesthetics play a factor, too — choose a wine rack in a style, shape, and material that you love.
The Experts
Adam Edmonsond, CSW, is a Senior Sommelier and General Manager of The Sommelier Company, a resource for wine expertise (including wine storage) and hiring sommeliers for private and corporate tasting events.
Michele Gargiulo is the Wine & Beverage Director of the Fearless Restaurant Group, overseeing 10 restaurants in Pennsylvania and New Jersey. She's also a sommelier and the author of Pairing Paws.
Melissa Vogt has more than a decade of experience working and writing in the wine industry. She is a California Wine Appellation Specialist and WSET Advanced Certified, and she's the founder and director of MV FoodDrink.
What Criteria To Consider When Shopping For The Best Wine Racks
Wine Rack Capacity
Wine racks can hold anywhere from a few bottles to over 100. And so to figure out a capacity that's right for you, Melissa Vogt recommends considering your wine consumption and collection habits: "If you only drink wine on occasion, you might want to look into a small 6-12 bottle wine rack, some of which are dainty enough to sit on a China cabinet or a dining room serving table." And if you consider yourself an avid wine collector, you'll want to go with a larger capacity pick.
One trick sommelier Michele Gargiulo recommends is choosing a wine rack that can hold multiples of 12 (whether that's 12 bottles, 24 bottles, 36 bottles, etc.) so "you can order cases at a time." But if you're more likely to buy a bottle here and there, this might not be a key consideration. Regardless, make sure that you have space in your home for your desired wine rack — the larger the capacity of the wine rack, the more room it'll likely take up.
One thing to note: Many wine racks are designed to hold 750 milliliter Bordeaux-style standard wine bottles. However, if you're someone that typically keeps wider bottles on hand (like Burgundy or sparkling wine bottles, for example) make sure you choose a more versatile rack that can accommodate those as well.
Wine Rack Design & Style
Once you've determined the proper size wine rack from your home, it's time to make some fun decisions regarding aesthetics. Wine racks come in different shapes and styles — including wall-mounted, under-cabinet, freestanding, and tabletop wine racks — so choose based on what you love most and what works in your space. Vogt mentions that she prefers wine racks with individualized slots for each bottle (over styles where the bottles rest on top of one another) since "There is less room for breakage and pressure if each bottle is nested in its own slot."
While the material that you go with is largely an aesthetic decision, sommelier Adam Edmonsond points out that wooden racks are "less likely to damage wine labels or emit screeching noises when you move glass bottles over them."
Another factor to consider: How easy is it to read the labels when the wine bottles are stored on the rack? "Many racks are efficient places to store wine but not good places to pick out a wine," explains Edmonsond. If this is important to you, there are wine racks that position the bottle so the label is easier to read than others.
Shop The Best Wine Racks
In a hurry? These are 10 of the best wine racks on Amazon:
Need wine racks for your home? You've come to the right place — these 12 have all gotten rave reviews on Amazon. Try pairing them with these brilliant wine accessories to take your wine appreciation to the next level.
Frequently Asked Questions About Wine Racks
Where Should You Put A Wine Rack In Your Home?
While your first instinct may be to put your wine rack in your kitchen, most experts Bustle confided in mentioned that this is not an optimal location due to temperature fluctuations. Instead, set up the rack in a cool room (ideally, 55 degrees Fahrenheit with 75% humidity, according to Gargiulo) that's dry and dark. "If you have a basement, this is an ideal location, because they tend to be much cooler than inside our homes," explains Vogt. "A pantry or closet can be a good location as well, if you want your wine rack tucked away."
What Is The Best Way To Organize The Bottles On A Wine Rack?
As Vogt puts it, "Organizing a wine rack is highly personal," and so there is no "right" way to do it — heck, you don't even have to organize it at all if you don't want to! However, if you have a pretty extensive wine bottle collection, setting up some type of organization system may be helpful. Some experts Bustle connected with recommend organizing the bottles by region, grape variety, or by what the wine is used for (like an everyday wine versus a special occasion bottle). Or you could consider organizing the bottles by style, like sparkling, white, rosé, red, and dessert.
Experts:
Adam Edmonsond, CSW, Senior Sommelier and General Manager of The Sommelier Company
Michele Gargiulo, Wine & Beverage Director of the Fearless Restaurant Group, sommelier, and the author of Pairing Paws
Melissa Vogt, a California Wine Appellation Specialist, WSET Advanced Certified, and the founder and director of MV FoodDrink