Why Bethenny Frankel Never Feels Imposter Syndrome
"People who are successful realize that it's about working hard, it's not about the money."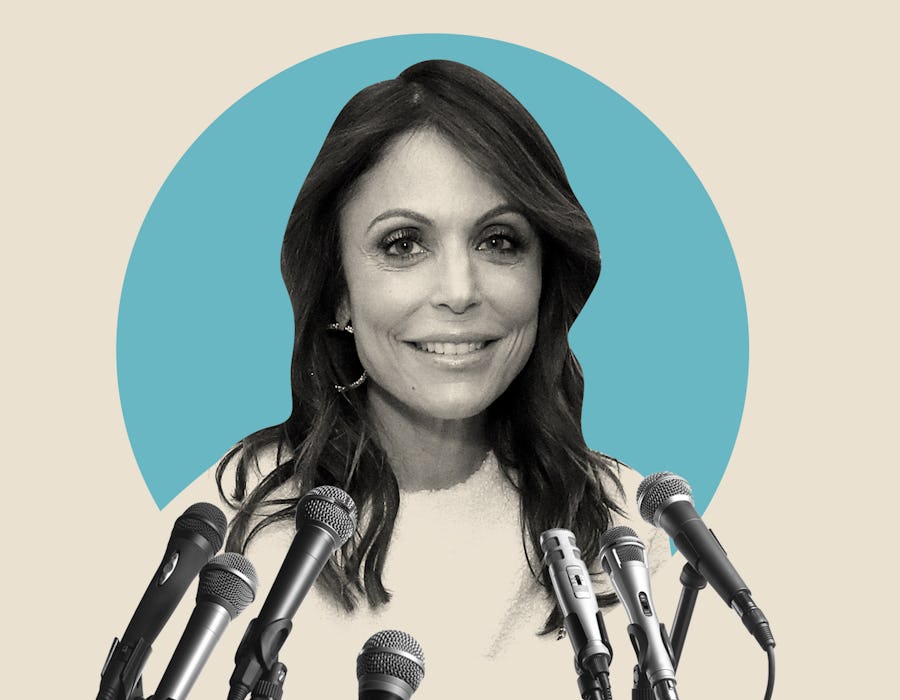 Cindy Ord/Getty Images
In Bustle's Quick Question, we ask women leaders all about advice — from the best guidance they've ever gotten to what they're still figuring out. Here, Bethenny Frankel shares her thoughts on imposter syndrome, how she handles a crowded to-do list, and her go-to method for de-stressing.
As Bethenny Frankel goes over everything she's currently working on, I get a wave of secondhand stress. She, however, couldn't be more chill about it all — "it all" meaning the entrepreneur's ever-expanding Skinny Girl empire, her new swimwear line, her active philanthropic efforts through disaster relief organization BStrong, her reality competition-based TV show on HBO Max, her podcast, four home renovations, and being a mother. "I'm very organized and I'm very efficient," she calmly tells me over the phone, completely unfazed.
To add to her list of projects, Frankel's also working with Scotch Brand on its Small Business Grant initiative where she'll select recipients and share advice with the winner — something she, as a passionate business owner, is really excited about doing. "It's been a crazy time, and if you weren't somebody who just got over the shock of what was going on in the world [during COVID] and kicked it into high gear, you could be left behind," she tells Bustle. "Small businesses need help with executing and being organized."
Frankel is all about sharing knowledge, and this partnership is, in essence, a way for her to pay it forward: She gets to share her business intel the way celebrities do with her when they're guests on her podcast, JustB, which has had Hilary Clinton, Matthew McConaughey, and Mark Cuban (to name a few).
For Real Housewives of New York City fans who've watched Frankel's career grow since her eight seasons on the show, it's clear she's gotten to where she is now for a reason. In her words: "I've worked so hard and I'm pretty smart," says Frankel. "I'm not a genius, but I work hard — I'm just a machine."
Here, Frankel shares the career advice that inspires her, how she unplugs, and the tip she thinks everyone going into business should know.
I can't imagine what your to-do list looks like. How do you manage it? Do you multitask?
Beyond. That's a hilarious question. That's like saying, 'Are you a person?'
What's the best business advice you've ever received?
Mark Cuban says that if you'd give him $5,000 to [start his career over] again, he wouldn't need the money — he'd just go to work. I think most people are expecting things to come to them and feel entitled in some way, and that they can gimmick their way through having a business. But Cuban agrees with me: It's [about] old-school hard work. People who are successful realize that it's about working hard, it's not about the money. And that's why they're successful.
On the flip side, what's the worst business advice you've ever received?
I was watching CNBC and some guy said, "Anyone who says to follow your passion doesn't know what they're talking about." And I thought that was crazy — I'm lost if I'm not following my passion.
Despite all your successes, have you ever felt imposter syndrome?
No, because I don't feel like I'm just sitting back as stuff is coming to me. I'm exhausted — I've worked for every single thing I have. Not one person has ever said to me... OK, actually, just one person told me, "You're lucky," and I almost combusted. But I don't think you'll have imposter syndrome if it's your blood, sweat, and tears.
"You often think you have to have it all wrapped up in a bow when you're young."
How do you pump yourself up for a big meeting or presentation?
I don't even know what's going on until I'm sitting down in front of it. I'm not a preparer — I'm a running-gun type of person. I build the rocketship while it's flying.
What do you do to unplug?
I do yoga at home. I recently made it a priority to just wake up and do it in my pajamas, so that's at least an hour where I've done something good for myself. And I have this great infrared mat with electromagnetic-something in it [the HigherDose Infrared Mat] — I lie down on it, and it's what I call my sanity mat. When I'm on it, it feels like I'm going on a spaceship to some relaxing place, so I just breathe and listen to a meditation app. And I snuggle with my daughter.
What's something you wish all entrepreneurs or people starting out in their careers knew?
You often think you have to have it all wrapped up in a bow when you're young. Everybody thinks they have to like, be in a garage and be Paul Allen creating Microsoft. Go to Europe, have fun, flirt, experience life, then get on the road. I feel like it's a choose-your-own-adventure: You have to decide whether you're an entrepreneur or whether you're a business person who needs to be within the confines of structure. You have to figure out your own personal style, but everyone's in too much of a rush to be there — the journey is really great.
This interview has been edited and condensed for clarity.