TikTok's Favorite Bartender Thinks Mimosas & Bloody Marys Are Out For Brunch
Your brunch Boomerangs for the 'gram will never be the same.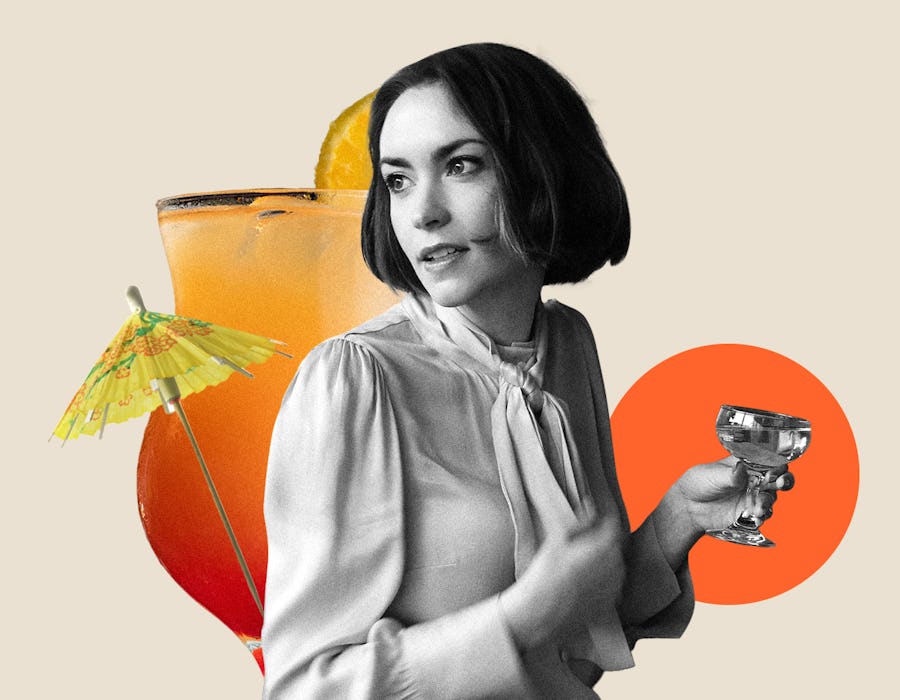 Courtesy of Hannah Chamberlain, Lais Borges/Bustle
Brunch is a ritual of sorts for many, especially as the weather gets warmer and long weekends commence. It's an excuse to try a new restaurant, wear a fun outfit, post a Boomerang of glasses clinking together on the 'gram, and prioritize your day-drinking plans over a night out. Mimosas and bloody marys have been staples of the brunch scene for quite some time (both have origins dating back to the 1920s) but every few decades we see trends in the food space cycle in and out of the mainstream, and Hannah Chamberlain of @spiritedla tells Bustle it may be time for a change. "It all comes down to mood and ingredient availability," she says. "I'm open to things all year round, but there's certain things that just taste a little better during certain seasons."
Chamberlain, an Oregon-based home bartender, shares her cocktails on TikTok with an audience of over 550,000 followers. A scroll through her page will show a collection of unique vintage glassware and gorgeous drink recipes that are easy to follow, so it's no wonder her profile has received over 10.3 million likes. On her page, she shares videos to help TikTok users upgrade their cocktails and host with ease — whether they want to put together a seasonal punch for a crowd or are curious about what kind of ice cubes to use in their drink.
Some trend predictions have said the playful "Dirty Shirley" may be the new drink of the summer or the classic martini will be the beverage of choice, but as we look ahead to the many daytime brunches to be enjoyed in the upcoming season, it's possible brunch drink trends might lean more into the feral girl summer of the internet. Read as: shots for breakfast.
Below, we talk to Chamberlain about what she thinks might be the new — and boozier — alternative to the basic brunch drinks of the past, plus how to make better drinks at home.
Of course the mimosa and bloody mary are brunch classics, but what if you're bored of them? How can you upgrade those drinks?
When I think of a bottomless brunch mimosa, I think of a day-long hangover and passing out in bed. Mimosas taste like trouble to me so I love mixing it up and trying something different. There are ways to upgrade these classics for the summer. For one, the Canadian version of a bloody mary, which is called a Caesar, is so much better. They're not vegan because they have clamato instead of the regular tomato juice, which adds a bit of interest along with the typical ingredients [vodka, a Caesar mix, hot sauce, and Worcestershire sauce] and they're finished with a celery salt rim and they're similarly fabulously garnished like a bloody.
For a twist on a mimosa, a French 75 is a really great bubbly cocktail that's just a little boozier. It's usually gin, simple syrup, some citrus, and Champagne. You can mix it up by changing out either the base spirit — you could make it cognac or tequila — or you could change the syrup you add to it to be lavender, peach, raspberry, you name it. They're very Instagram-worthy and tasty.
Are there any new brunch drink trends you predict will start popping up this summer?
More tea cocktails, like a fusion of an afternoon tea and a brunch. I've been seeing tea cocktails all over TikTok, all over Instagram. You can serve it from a teapot, which would be really fun, and it blends itself well with brunch. One of my favorite go-to cocktails now is an Earl Gray Old-Fashioned.
I think there will be a brunch trend where we get to be a little boozier than we normally would in the morning. Maybe we'll start seeing things as wild as brunch shots, brunch martinis, and brunch espresso martinis.
What would a brunch shot look like?
It could be a play on a bloody mary, but with way less tomato juice and more vodka. It might have teeny tiny garnishes too. Or maybe a play on the mimosa where you have a little bit of spirit and then a touch of orange juice in there.
Editor's note: Chamberlain has since shared her take on a "Blueberry Poptart Shot" on TikTok, which uses blueberry syrup, tequila, vanilla liqueur, and a frosting-with-sprinkles rim.
What can people do to try out new drinks, like a brunch shot, at home?
Using fresh citrus is key to making your cocktails taste better, and getting a hand squeezer for them will make it easier, too. When you're using citrus juice or anything with particles in it, like chipped ice, having a fine mesh strainer upgrades drinks — and they're cheap and easy to find. If you're mixing outdoors for brunch and using citrus, make sure that your hands are protected with sunblock because you can easily get burns on your skin from all residuals. [Instead of a cocktail shaker], you can use Tupperware in a pinch or even a mason jar — they all do the same job.
Lastly, make sure you're using enough ice. You can use a really nice liquor but if you're not using enough ice, it won't get as cold or as diluted as it should be. Without the right amount of ice, you'll notice a big difference between the cocktails you're making at home and the cocktails you enjoy while you're out.
What advice do you have for someone who wants to experiment more with the drinks they choose?
Drinking what looks good is important, but I think people are also returning to simplicity. They're drinking what they like, whether that means classic cocktails or something like the Dirty Shirley. Lemon drops and cosmos are coming back — things that feel kind of nostalgic and don't feel overly sophisticated. It's just something that people like, so I think that going with your gut and kicking it simple is a nice way to go.
This interview has been edited and condensed for clarity.