What You Need To Know Before Booking A Holiday In 2021
The lifting of travel restrictions depends on the vaccine rollout and rates of COVID-19.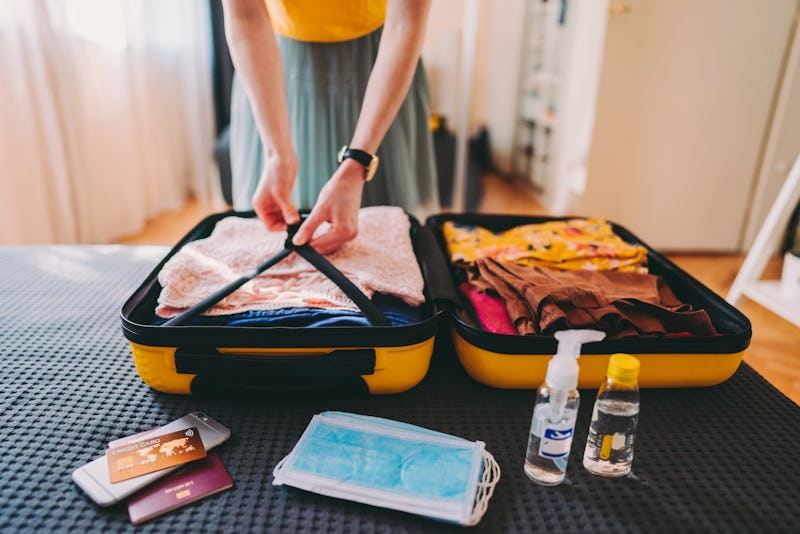 martin-dm/E+/Getty Images
As we mark the one year anniversary of England's first COVID-19 lockdown, your last trip away may feel like a distant memory. Many of us may are clinging onto the hope of going on holiday in 2021, but what are the latest rules in terms of travelling both within the UK and abroad for holidays this year?
When can I go on holiday in the UK?
You can now go on holiday domestically as self-contained accommodation such as cottages and private villas have reopened in England, but only to people within the same household. You can also go camping or glamping across England.
On May 17, all other types of accommodation (hotels, B&Bs, and so on) are set to open in England. However, no more than six people or two households will be able to travel together.
From June 21, all restrictions on travel in England are set to be lifted.
Rules regarding non-essential travel between Wales and England have been lifted as of April 12, but Scotland and Northern Ireland are yet to officially comment on when travel will be allowed within their respective countries or when people from England will be allowed in.
When can I go on holiday abroad?
At the moment, it's against the law to travel abroad unless it's for work or for an essential reason (including volunteering, education, medical, or compassionate grounds, or to attend a wedding, funeral or related event).
Boris Johnson's initial schedule for lockdown easing suggested that, if the vaccine rollout was successful and guidelines were followed, foreign travel for any purpose (including holidays) could resume on May 17. Transport Secretary Grant Shapps has suggested that now may be a good time for Britons to book summer holidays, but with another surge in COVID cases happening across Europe, his government is now considering a change of plan.
Under draft laws published on March 22, England's ban on foreign travel could be extended until June 30. Anyone who travels to a port or airport with the aim of leaving the country could face fines of up to £5,000.
Also under discussion is a "traffic light" system, which is suspected to categorise countries as follows:
Green countries: no restrictions or requirement to take a test.
Amber countries: open but with a quarantine period at home on return and requirement to take a test.
Red countries: banned entirely or compulsory quarantine period at a hotel on return and requirement to take a test. (Effectively, this will be a continuation of the red list rules already in existence).
The earliest date people from Scotland and Wales will be able to go on holiday abroad is, like England, 17 May. There have been no further announcements from these governments on this issue and Northern Ireland has not yet announced any plans for foreign travel.
However, whatever rules UK governments set, we will also need to consider which countries will be open for visitors; when they will open; and what their requirements for entry will be.
The Guardian has reported that Cyprus and Portugal are among the destinations that have said they will welcome vaccinated English tourists. The BBC reported that it's currently unknown how people will prove that they've had their jabs.
Elsewhere, Turkey's tourism minister, Mehmet Ersoy, said, "We will not require vaccination passports from international travellers when entering the country" and you may be able to travel to Greece without self-isolating upon arrival.
International travel restrictions have changed a lot over the last few months and if you're weighing up whether to book a summer trip away then the Guardian's consumer expert Miles Brignall suggests staying closer to home in the early summer. He writes, "Plenty of adults will have been vaccinated by then but many won't have had the two doses they need to show immunity. Most children won't have been vaccinated and would face having to be tested. If you are determined to go ahead, you may want to opt for a package tour that is fully refundable in the event it is cancelled."
Contributions from Alice Broster.
This article was originally published on