What You Need To Know Before Making Any Plans To Travel Abroad
Including rules for green, amber, and red countries.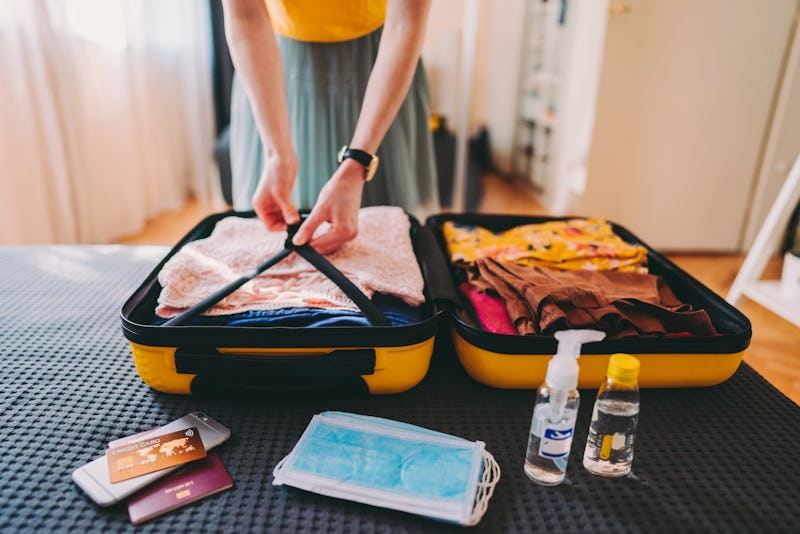 martin-dm/E+/Getty Images
While pubs, shops, and cafes are now open and life is starting to feel a lot more normal, your last trip abroad may feel like a distant memory. Many of us are clinging onto the hope of going on holiday in 2021, but what are the latest rules in terms of travelling both within the UK and abroad for holidays this year?
When can I go on holiday in the UK?
You can now travel freely between England, Scotland, Wales and Northern Ireland.
In England, you can now go on holiday domestically and stay in all types of accommodation (hotels, B&Bs, and so on). However, no more than six people from multiple households, or any number from two households can travel together. You can also go camping or glamping across England.
Things are slightly different in Scotland. Whilst all holiday accommodation is open, six people from three households can share self-catered accommodation. However, you can't share a bedroom with someone you don't live with or isn't part of your support bubble.
In Wales, you can stay in all holiday accommodation, but only with people from the same household or extended household. Campsites and caravan parks are also open, but visitors must maintain social distancing rules. However, overnight stays in private homes with anyone not from your household or extended household are still not possible.
In Northern Ireland, all holiday accommodation can open with up to six people from two households staying together overnight. Children aged 12 and under are not counted.
Although travel across the UK less restricted, the government has advised that people minimise travel in and out of the following areas where the new Delta variant is spreading:
Bedford
Birmingham
Blackburn with Darwen
Blackpool
Cheshire East
Cheshire West and Chester
Greater Manchester
Kirklees
Lancashire
Leicester
Liverpool
North Tyneside
Warrington
When can I go on holiday abroad?
England
Restrictions on foreign travel have now been lifted. Transport Secretary Grant Shapps has introduced a traffic light system for international travel, which dictates what travellers must do when they arrive back from certain countries. Countries will either fall into red, amber, or green depending on the risk associated with those locations. The rules are as follows:
Red countries
Before you travel back to England, you must
take a COVID-19 test
complete a passenger locator form
On arrival in England
you must follow these rules even if you have been vaccinated
The list of red countries can be found here.
Amber countries
Before you travel back to England, you must:
take a COVID-19 test
book and pay for day 2 and day 8 COVID-19 travel tests – to be taken after arrival in England
complete a passenger locator form
On arrival in England
you must quarantine at home or in the place you are staying for 10 days
you must take a COVID-19 test on or before day 2 and on or after day 8
you must follow these rules even if you have been vaccinated.
you may be able to end quarantine early if you pay for a private COVID-19 test through the 'Test to Release' scheme.
The list of amber countries can be found here.
Green countries
Before you travel back to England, you must
On arrival in England
you must take a COVID-19 test on or before day two after you arrive
you do not need to quarantine unless the test result is positive
you must follow these rules even if you have been vaccinated
you must self-isolate if NHS Test & Trace informs you that you travelled to England with someone who has tested positive for COVID-19
The list of green countries is as follows:
Anguilla
Antarctica/British Antarctic Territory
Antigua and Barbuda
Australia
Balearic Islands (Formentera, Ibiza, Mallorca, Menorca)
Barbados
Bermuda
British Indian Ocean Territory
British Virgin Islands
Brunei
Cayman Islands
Dominica
Falkland Islands
Faroe Islands
Gibraltar
Grenada
Iceland
Israel and Jerusalem
Madeira
Malta
Montserrat
New Zealand
Pitcairn, Henderson, Ducie and Oeno Islands
Portugal (including Madeira and the Azores)
Singapore
South Georgia and South Sandwich Islands
St Helena, Ascension and Tristan da Cunha
Turks and Caicos Islands
If you're travelling, you should keep an eye on the red, amber, and green lists as some countries may move to a different list. Prime Minister Boris Johnson has advised people "should not be going to an amber list country on holiday", and that they should only travel for "exceptional circumstances''. Grant Shapps added that "common sense" should be applied when considering travel to these destinations, and Skills minister Gillian Keegan has said that a decision to travel to a country on the amber list is a "personal responsibility."
Wales
Restrictions for foreign travel were lifted on May 17 in Wales. First Minister Mark Drakeford has advised against foreign travel altogether and has recommended that people holiday in Wales as a safer alternative, but has said that people should "not feel guilty" about choosing to travel abroad if they wish to.
Those who do go on holiday abroad will face the same traffic light system as the one implemented in England. However, Welsh residents cannot travel directly back to Wales from a red list country, and instead must arrive at a UK designated port of entry in either England or Scotland. You must also quarantine for 10 days in a managed hotel there as well.
Scotland
Foreign travel restrictions were also lifted in Scotland on May 17, and the country has also adopted a traffic light system that mirrors Wales and England.
Northern Ireland
Since May 24, a traffic light system for foreign travel, similar to that of England, Scotland and Wales has now come into effect.
Vaccine passports
In England, you can now request an NHS Covid Pass through the NHS website or the NHS app. This is different to the 'Test and Trace' app. You can only receive your pass after you've had your second dose of the COVID-19 vaccination and both must have been administered in England. You must be registered with a GP surgery to use the NHS app. If you don't use a smartphone, you can access a copy by calling 119. More information on vaccine passports can be found here.
You can also get a pass if you've had a negative PCR test or lateral flow test result in the past 48 hours, and have logged this on the NHS website.
A paper-based 'vaccine passport' may be available in Northern Ireland from as early as July 5.
Scottish residents can access vaccine certificates from an NHS portal without asking their GP. More information on Scottish vaccine certificates can be found here.
Contributions from Alice Broster, Sophie McEvoy, and Aishi Rimi.
This article was originally published on