How To Teach Yourself To Be Left-Handed
Turns out, left handedness is only 25% genetic.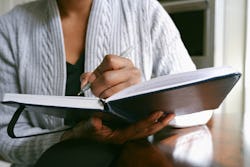 Grace Cary/Moment/Getty Images
If you're a right-handed person, you might be curious about what it's like to be left-handed. After all, it still seems like something that is quite unique, as even science says it's still a pretty rare trait. Maybe your curiosity has reached a point where you actually want to learn how to write with your other hand. Teaching yourself how to become left handed if you're right handed can be extremely tricky, and it's going to require a lot of patience and training — but it's not impossible.
There are a few reasons someone might want to learn how to be ambidextrous. Some people believe that learning how to use both hands interchangeably can be better for brain function, while others simply want to say that they can write and use both hands. And then there are more practical reasons: some get injured or sick, lose the use of their right hand, and have no other choice.
According to Sebastian Ocklenburg, Ph.D., a professor of biopsychology at Ruhr University's Institute of Cognitive Neuroscience in Bochum, Germany, and blogger on handedness at Psychology Today, left handedness is "determined by both genetics (25%) and non-genetic factors (75%)." He explains that this has been determined by "large-scale studies comparing handedness in twins, with siblings and parents."
If you're determined to become left handed as a righty, then doing so can be possible, however, as Ocklenburg explains to Bustle, "while some parts of the brain of converted right-handedness resemble activation in left-handers other parts will stay in the typical right-handedness pattern forever." So, keep in mind that this isn't exactly the easiest task in the world, and if you're naturally right handed, you will forever exhibit some right handed patterns. This is due to the fact that these two parts of our brain are not interchangeable, and so you're basically going against your nature when learning how to use the other hand properly.
There are certain steps you can attempt to take, and remember: be patient. This isn't going to happen overnight!
Additional reporting by Siena Gagliano.
This article was originally published on