7 Candles That Smell Like The Beach, According To Reviewers
All the beachy vibes — with none of the sand.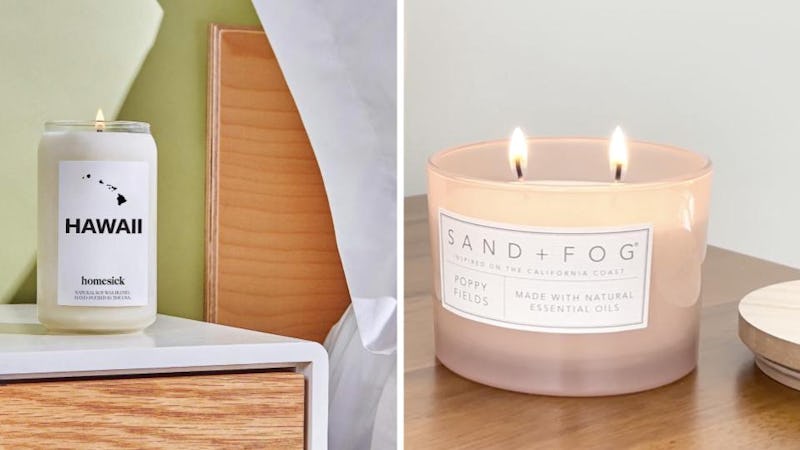 We may receive a portion of sales if you purchase a product through a link in this article.
Regardless of the season or your proximity to the shoreline, you just can't go wrong with candles that smell like the beach. The best beachy candles feature a scent profile, burn time, and aesthetic that, when combined, have the ability to transport you to a sunny paradise in an instant.
What To Look For
Scents
There are lots of different scents that can invoke a beachy feel. Fruit and citrus smells are among the most common — aromas with hints of pineapple, melon, citrus, berries, or coconut do a fantastic job of delivering the beach into your space. If you're looking for more of a floral ambience, you may want to opt for a candle with notes of jasmine, violet, lavender, geranium, ylang-ylang, or honeysuckle. But, if an earthier essence is what you're after, spice scents like cardamom, cedarwood and sandalwood can help get you there. Of course, some candles combine many of these scents for a well-balanced profile.
Wax & Wicks
When shopping around for the perfect beach-scented candle, one thing to keep in mind is the type of wax it's made with. Traditional paraffin options are often less expensive but tend to burn faster and sometimes create more soot. Soy candles, on the other hand, usually last longer and are believed to produce less soot. There are also soy blends, which often have paraffin mixed in and thus offer a combination of these traits (although the other wax type isn't always specified).
Another thing to think about is the style of wick — cotton wicks tend to be the most common option. But some people prefer wooden wicks for the cozy, crackling sounds they make when lit. You'll find that larger candles often have multiple wicks — this can create brighter flames and help the scent last longer, while also helping them to burn more evenly.
Additional Factors
The final consideration is aesthetics. Candles are meant to enhance the look of your space, and if you don't love the way it looks, you won't be eager to display it. The options below range in style, from sleek and minimalist to kitschy beach house vibes, so there's sure to be something that matches your taste.
To help you find the perfect option, I've gathered some of the best candles that smell like the beach in a variety of styles and scents.
Shop The Best Candles That Smell Like The Beach
In a hurry? These are the top picks...
About The Recommender
As a Bustle writer since 2017, I've covered dozens of topics related to home goods and decor. I've also researched and reviewed products for publications including Mic, Bustle, Digital Trends, Men's Journal, Yahoo Tech, and Gear Junkie.