How To Access Financial Support As The UK Cost Of Living Rises
Many people are facing debt through no fault of their own, but help is out there.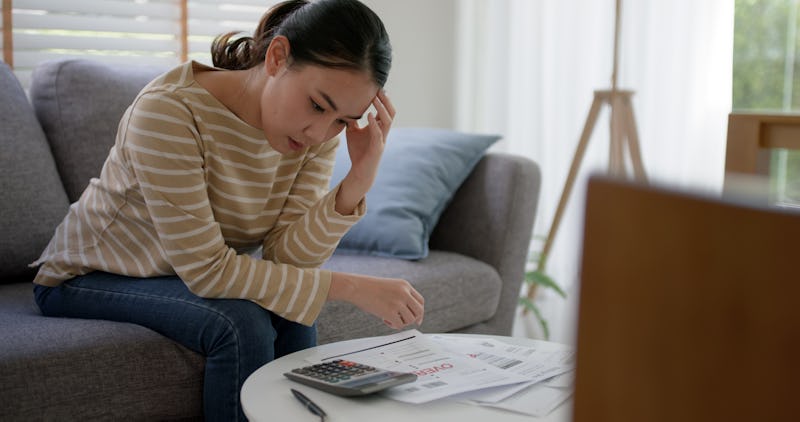 Shutterstock
As the cost of living in the UK rises, many people are facing financial hardship and debt. In fact, a report from the Office for National Statistics (ONS) found that as high as 83% of people among 13,000 adults across Great Britain saw an increase in their cost of living in March 2022. A staggering figure compared with the 62% who reported an increase in November 2021. Shortly after being announced as the nation's new leader in Sept. 2022, Prime Minister Liz Truss unveiled her plan to tackle the cost of living crisis.
A big part of Truss' proposal was her decision to freeze energy bills at £2,500 for the next two years. However, whilst delivering his revised mini-budget on Oct. 17, Jeremy Hunt, the newly-instated Chancellor of the Exchequer, reneged on this. As per the new proposal, the cap on household energy bills is now only in place until April 2023, and is set to be reviewed then.
As millions of people across the UK are struggling to keep on top of household bills and afford ever-increasing food and fuel prices, many will be facing a worrying financial future. Thankfully, there are plenty of resources available across the UK to help: offering long-term plans to get your financial worries sorted and providing you with some peace of mind in uncertain times.
Financial resources to help if you're in debt
MoneySaving Expert is an extensive resource for all kinds of debts, with guides on everything from small debts to persistent debt. They also advise that you do not seek advice or help from any "loan consolidation companies that advertise on TV or in some newspapers" as well as individual voluntary arrangements (IVAs) and debt-wiping companies.
There are dozens of services available in the UK that provide free advice and resources if you're in debt, including the National Debtline, the Debt Advice Foundation, and the StepChange Debt Charity. Citizens Advice offers full debt and consumer help over the phone or online, face-to-face appointments, and specialist caseworkers that deal with any kind of debt.
Turn2Us is another great resource that provides "practical help" for people struggling financially, offering services like the Benefits Calculator and Grants Search to help you find out if you're entitled to "means-tested" benefits and grants. They also offer information about benefits and grants relevant to your situation, whether you're struggling with energy and water bills or are after specific support.
Financial resources to help if you're facing debt
If you're facing debt, MoneySaving Expert is an excellent resource that provides extensive, step-by-step guidance if you're facing debt. The Debt Advice Foundation also offers free, confidential advice on any aspect of debt and has a free helpline available to chat with an advisor. As a service, the Debt Advice Foundation want to "promote education for public benefit in financial capability and money management, so as to reduce the likelihood of debt misuse."
Financial guidance & support
Provided by the Money and Pensions Service, Money Help can assist you in seeking out free debt advice. As the service notes, a debt advisor can provide advice on:
Managing your money
Whether you can claim benefits or entitlements
Help find ways of dealing with debt that are open to you
The NHS also offers free financial wellbeing guidance and support through the MoneyHelper service. You can receive support by the following methods:
This article was originally published on