Here's Where Prime Minister Liz Truss Stands On The UK's Key Issues
From her views on immigration to her plans to combat the cost of living crisis.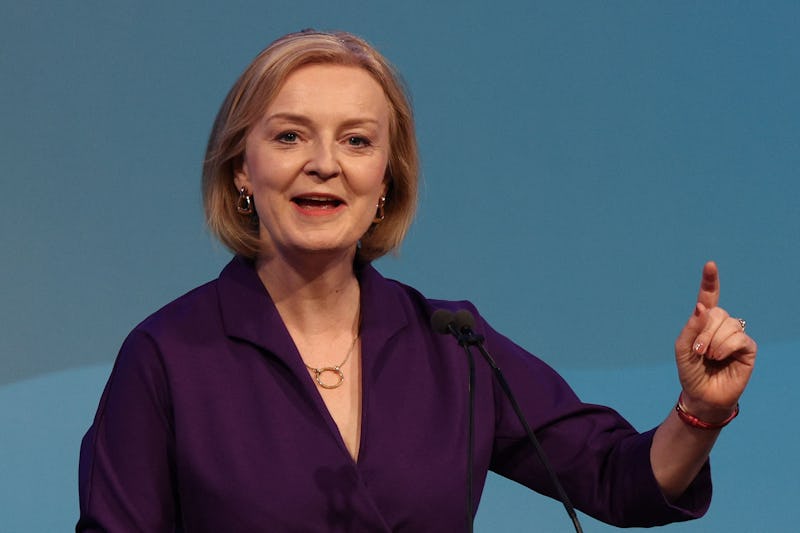 Getty Images/Adrian Dennis
Following discord within the Tory party, Boris Johnson resigned in July 2022. Then, after a leadership race between herself and Rishi Sunak, South West Norfolk MP Liz Truss was sworn in as the UK's new Prime Minister. All eyes were on Truss to address the pressing matters facing the UK, most notably the soaring energy prices and the general cost of living crisis. However, her first month in office has been anything but smooth. On Oct. 14, Truss sacked Chancellor of the Exchequer Kwasi Kwarteng, after their disastrous Mini-Budget sent shockwaves through the government, stock market, and public. Whilst the budget has dominated the beginning of her time in Downing Street, there are many other key issues that Truss must face as the nation's leader, with abortion rights, immigration policies, and NHS reform among the most prevalent. But where does Truss stand on these vital matters? We delve into her political stances, below.
Cost Of Living Crisis
In her first official speech as the UK Prime Minister, Truss assured the public that quelling the cost of living crisis was at the forefront of her mind. As per The Telegraph, annual energy bills for the average household will be frozen at around £2,500, with the current £400 discount for every household remaining in place.
There have been many back and forth decisions made regarding taxations and tax cuts. Kwasi Kwarteng (the Chancellor of the Exchequer at the time) announced the 2022 Mini-Budget in the House of Commons on Sept. 23, to pretty disastrous effect. Among the key announcements, the scrapping of bankers bonuses and the 45% income tax rate for those earning above £150,000 caused economic turmoil in the UK. As these tax cuts would be funded borrowing billions, the pound fell from 1.12 to 1.03 to the dollar within a matter of hours.
As a result, the Bank of England issued an emergency £65bn bond-buying programme, lenders removed over 1,600 mortgage products from the market, and food price inflation rose from 9.3% to 10.6%, The Guardian reports.
Just over a week later, on Oct.3, Kwarteng announced a U-turn of the scrapped 45% income tax rate, despite Truss standing by the decision the day before. The fall-out and lack of confidence in the government gathered pace in the following days, with Truss ultimately sacking Kwarteng on Oct. 14. He held the position of Chancellor of the Exchequer for just 40 days. Jeremy Hunt has been announced as Kwarteng's replacement.
In a press conference (totalling less than 10 minutes) held on the afternoon of Oct. 14, the Prime Minister admitted that the initial Mini-Budget proposal had moved too fast. Truss also made another major U-turn, this time on Corporate Tax Cuts, returning to the previous government's original plan of a UK-wide rise in corporation tax from 19% to 25% in April 2023.
Please note: Here's how to access financial resources and support amid the cost of living crisis.
Immigration
According to The Times, Truss is "planning to increase the cap on unskilled seasonal workers who can come to the UK by 20,000 per year." This is despite Home Secretary Suella Braverman wanting to "substantially reduce" these numbers, with farmers currently able to recruit up to 40,000 workers from outside the country.
In the run-up to becoming prime minister, Truss said she was "determined" to see the UK's Rwanda asylum plan "through to full implementation, as well as exploring other countries that we can work on similar partnerships with." She told the Mail on Sunday: "It's the right thing to do."
Continuing with the Rwanda scheme is part of a three-point plan to tackle immigration and "deter illegal Channel crossings," Truss said on Twitter. This plan includes reinforcing "border force with more staff" and not "cowering" to the European Convention of Human Rights (ECHR). Truss further explained to the Mail on Sunday that "we need to make sure our immigration system is fair," noting that "this illegal immigration that we're seeing across the Channel is both unfair and incredibly dangerous."
As the MP representing South West Norfolk, Truss has "always voted" for a stricter asylum system and "consistently voted" for more stringent immigration rules, per the voting record database TheyWorkForYou.
Abortion
Described by Glamour as "an enigma when it comes to reproductive freedom for women," Truss hasn't been very vocal on her stance on abortion, even though she was elected as the Minister for Women and Equalities in 2019.
One of the few times she's spoken publicly on abortion rights was during a Conservative hustings event in August, where she responded to an audience member who claimed that the UK government had "undemocratically" imposed abortion laws on Northern Ireland, per Sky News. "I'm afraid I don't agree with you," Truss said. "We are a United Kingdom and we need all our laws to apply across the United Kingdom. That's what a Union is."
Glamour notes that Truss voted in favour of abortion being legalised in Northern Ireland, but abstained on a parliamentary vote on installing buffer zones around abortion clinics and decriminalising abortion in England and Wales. Truss also abstained on a bill introduced in 2022 to enable women to terminate a pregnancy with at-home abortion pills. In addition, the British Pregnancy and Advisory Service accused Truss of "ignoring" their call for her to publicly address Roe v. Wade when it was overturned by the Supreme Court in the U.S. on June 24, 2022.
LGBTQ+ Matters
Despite voting in favour of gay marriage and same-sex marriage among members of the British Armed Forces, Truss isn't widely considered as an ally for the LGBTQ+ community. During a Conservative party conference in 2021, Truss said that under her role as the Minister for Women and Equalities, she "improved the process for gender recognition to make it simpler and kinder" but also made it clear that "under-18s shouldn't be able to make irreversible decisions about their own future."
She also expressed her support for Labour MP Rosie Duffield, agreeing with her stance that "only women have cervixes" and adding that Duffield had the "right to be able to express her view."
During her time as Minister for Women and Equalities, she controversially appointed Baroness Kishwe Falkner as the chair of the Equality and Human Rights Commission (EHRC). Falkner had said they would protect the "freedom of belief" in their role, including "gender critical" beliefs which are "entirely reasonable." Truss also appointed barrister Akua Reindorf to the EHRC in Dec. 2021. Reindorf is known "in the community for her review of the 'de-platforming' of two anti-trans speakers at the University of Essex," per Pink News.
In 2021, Truss vowed to ban conversion therapy, and promised that a new LGBT Advisory panel would be formed, after the first disbanded in April. However, Truss has yet to tackle or implement changes for either issue.
The Ban Conversion Therapy Colaition, made up of 79 LGBTQ+ and human rights charities, called upon Truss to "deliver her word" on these pledges. "As prime minister, Liz Truss can now finally deliver on her own commitment to protect lesbian, gay, bi and trans people from harm," said Nancy Kelley, Chief Executive of Stonewall.
Climate Change
Truss has described herself as "an environmentalist before it was fashionable." Yet, it has been suggested that one of her first policies as prime minister will be to "approve a series of oil and gas drilling licenses in the North Sea," according to The Times. She's also a supporter of fracking. "We will end the effective ban on extracting our huge reserves of shale gas by fracking but be led by science, setting out a plan to ensure communities benefit," Truss vowed.
Despite pledging to reach net zero emissions by 2050, Truss is adamant that to maintain "energy security," the UK must continue to invest in new oilfields in the North Sea. "Gas is a very important transition fuel — it has half the emissions of coal," Truss told BBC reporter and presenter Laura Kuenssberg. "It is a good fuel to use as we are transitioning to net zero."
Truss has said that she is "very supportive of renewables" and wants the country to do more with "hydrogen, on wind power, on solar, provided it is in the right place." However, she's previously been quite critical of solar power, calling solar farms an "ugly, blight on the countryside." Truss is also against imposing a windfall tax, suggesting that it "sends the wrong message to international investors and to the public."
Industrial Action
Truss has been very vocal about her disdain for strikes, and previously shared her intention to crackdown on industrial action. Of the summer rail strikes, the politician remarked: "Once again, we're seeing militant trade unionists holding our country to ransom, with members of Sir Keir Starmer's party keeping them company on the picket lines."
Ahead of winning the leadership race, she vowed: "As Prime Minister, I'll crackdown on the debilitating strikes that cripple the vital services that hard-working people rely on."
NHS Reform
In her first speech as the UK Prime Minister, Truss told the public: "I will make sure that people can get doctors' appointments and the NHS services they need. We will put our health service on a firm footing."
Meanwhile, during the Tory leadership hustings on Aug. 23, 2022, Truss pledged to divert £10 billion of the extra £36 billion a year allocated for health and care spending from the NHS to social care. "I would spend that money in social care. Quite a lot has gone to the NHS. I would give it to local authorities," Truss remarked. "We have people in beds in the NHS who would be better off in social care. So put that money into social care." This equates to a 7 percent budget cut to the NHS, according to The Times, and NHS bosses have said they'll have to cut services in the winter if this plan goes through.
The newly-elected Conservative leader is also overturning the April 2022 increase in National Insurance, which was initially implemented to fund a £12 billion package to clear appointment backlogs and waiting times in the NHS. "This would be just the start of reducing the backlogs," Truss's spokesman continued. "We would cut bureaucracy in the NHS, ensuring staff are focused on their patients, not paperwork. And Liz's focus on growing the economy would mean we can properly fund the NHS, so it can deliver world-class services."
Truss has also pledged to decrease the number of doctors leaving the NHS once they reach their lifetime pension cap, per The Telegraph. A source close to the party leader reportedly said that under Truss' leadership, they will "make it easier for doctors and nurses who have recently left or are planning to leave the NHS but want to return or stay to do so" by ensuring doctors earn more "from their pension and pay combined than they would earn working full-time," The Telegraph reports.
It is worth noting, however, that in 2009, Truss supported a Reform think tank report she co-authored that suggested a cut to NHS doctors' pay and for patients to pay for GP services.
This article was originally published on