Why Scientists Are Still Encouraging You To Wear A Face Mask
Here's what current evidence says about face masks & their effectiveness.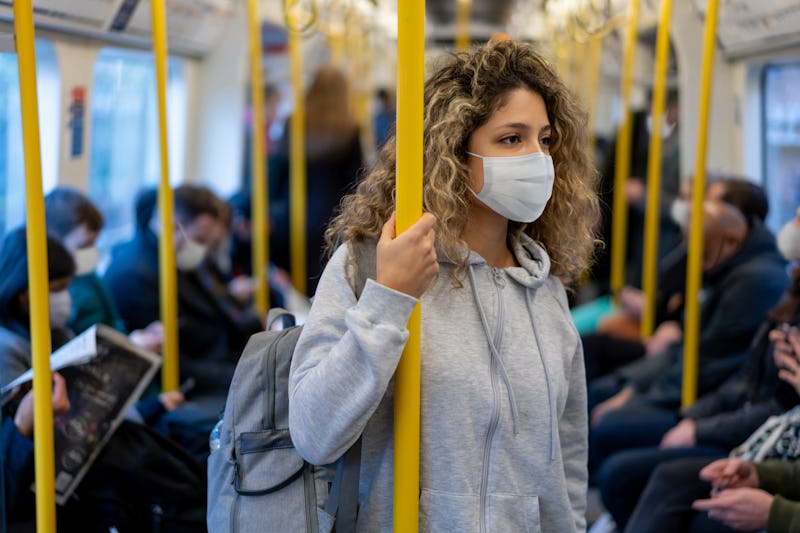 andresr/Getty
As part of the government's easing of COVID-19 restrictions, Prime Minister Boris Johnson has ruled that face coverings in public places are recommended but are no longer a legal requirement in England. Northern Ireland will follow suit from July 26, but in Northern Ireland Scotland, rules remain the same.
Despite the rules on face masks relaxing in England, Johnson has advised people to remain cautious and a number of city mayors, including Sadiq Khan and Andy Burnham, have said they will still be mandatory on public transport. Some experts have warned that the change of rules on face masks, plus other easing of restrictions in England elsewhere, could lead to a massive spike in the infection rates later in the year. Concern about the Delta variant is rising and in the week ending July 16 the UK reported more than 50,000 daily cases of COVID-19 for the first time since January.
For those interested in the science behind how face masks help prevent the spread of viruses, below is a break down of the various studies and scientific findings that have been published on this topic.
Do Face Masks Stop The Spread Of COVID-19?
According to the current evidence, the COVID-19 virus is primarily transmitted between people via respiratory droplets, says the World Health Organisation (WHO). Respiratory droplets can be from coughs, sneezes and speaking, and it is generally agreed that they travel through the air and can occasionally live on surfaces for short periods of time, too. According to the Centre for Disease Control (CDC), face masks are designed to stop the spread of these "virus-laden droplets."
These droplets, the CDC warns, "can be deposited onto the mucosal surfaces of the upper respiratory tract of susceptible persons who are near the droplet source." Basically, transferring these droplets from one person to another can cause the recipient to become unwell and face masks are believed to help trap those droplets.
While exact science around the effectiveness of face masks is still being established, there is research out there to suggest they are a useful tool in stopping the spread. Research published on the Proceedings of the National Academy of Sciences of the United States of America (PNAS), for example, noted that most evidence indicates "mask wearing reduces transmissibility per contact by reducing transmission of infected respiratory particles in both laboratory and clinical contexts."
For this reason, scientists are urging people in England to continue wearing face masks beyond July 19.
"Most studies are observational and prone to all sorts of biases, but taken together there is a consistent finding towards face coverings having benefit both in protecting others if the wearer is infected and also to protect the wearer from others," Professor Paul Hunter told the Observer. "Estimates vary but they probably reduce transmission somewhere between 10 and 25%."
Speaking about his decision to make face masks compulsory in the capital beyond July 19, Sadiq Khan said to the BBC, "We know from the government's own advisors and from the World Health Organisation, that wearing a face covering indoors does reduce transmissions. It leads to greater public safety and greater public confidence as well. As long as the virus is still with us, and as long as we're still concerned about the virus being transmitted, we will make it compulsory."
Do Face Masks Offer Protection To The Wearer?
Over the 15 months year, scientists have been working to to establish not only the impact that masks have had on infection rates but also how efficient they are at protecting the wearer. As Channel 4's Fact Check writer Georgina Lee explains, in order to know for sure, randomised control trials would have to take place. These are considered the gold standard of scientific research and would mean separating two groups at random, allowing one group to wear masks and the other group to go without and then comparing the rates of COVID-19 among the participants. However, due to the health complications attached to COVID-19, this has been deemed unethical.
However, there is some evidence that face masks can offer some protection to the wearer. According to analysis published on medRxiv (a site that distributes unpublished eprints about health sciences) and cited in a report from the University of Oxford Leverhulme Centre for Demographic Science, wearing a face mask appears to slightly reduce the odds of the wearer getting in by around 6%.
What Face Mask Materials Are The Most Effective?
In a report published by the University of Oxford Leverhulme Centre for Demographic Science, its authors state that "[o]ptimal cloth face coverings are made from specific material (e.g., high grade cotton), hybrid, and multilayer constructions (e.g., silk-cotton)."
A Which? independent consumer report published in October 2020 tested 15 reusable fabric face coverings of different designs and found similar results. In fact, they discovered that the best performing masks with several layers were able to block more than 99% of bacterial particles penetrating the mask material. The worst-performing masks (a single layer of mostly polyester) blocked just 7%. You can also consider double masking in particularly busy areas.
(You may ask why Which? tested bacterial particles when COVID-19 is a virus. The answer is that testing the bacterial filtration efficiency is the standard test used to measure the effectiveness of blocking particles. While the Coronavirus particles can be much smaller than bacterial particles (as little as 0.1 micrometre in diameter), face coverings aren't intended to block all particles including the ultra-fine particles, but instead to help capture larger droplets which can carry the virus.)
Disposable masks are single-use, non-recyclable products, so they're not really a practical solution for sustained daily use and they're terrible for the environment. With reusable face coverings, however, you must wash them after each use, according to the UK government website. The Which? independent consumer test even found that almost all of the face coverings they tested proved more effective at filtering particles after five hot washes, due to the fibres compressing.
Best Practices When Wearing A Face Masks
Of course, how effective the mask is at protecting the public also depends how you wear it.
As the UK Government website states, a mask should cover your nose and mouth and should hold securely against the side of the face.
The WHO advises that people should avoid touching the face, even while wearing a mask. When worn, masks should be removed from behind, without touching the mouth or nose area, and immediately discarded in a closed bin.
Contributions from Aoife Hanna, Orla Pentelow, and Alice Broster.
This article was originally published on