Meet The Lecturer Documenting The Digital Lives Of Black People
Dr Francesca Sobande discusses Black creativity, the "internet boyfriend" phenomenon, & the best career advice she's ever received.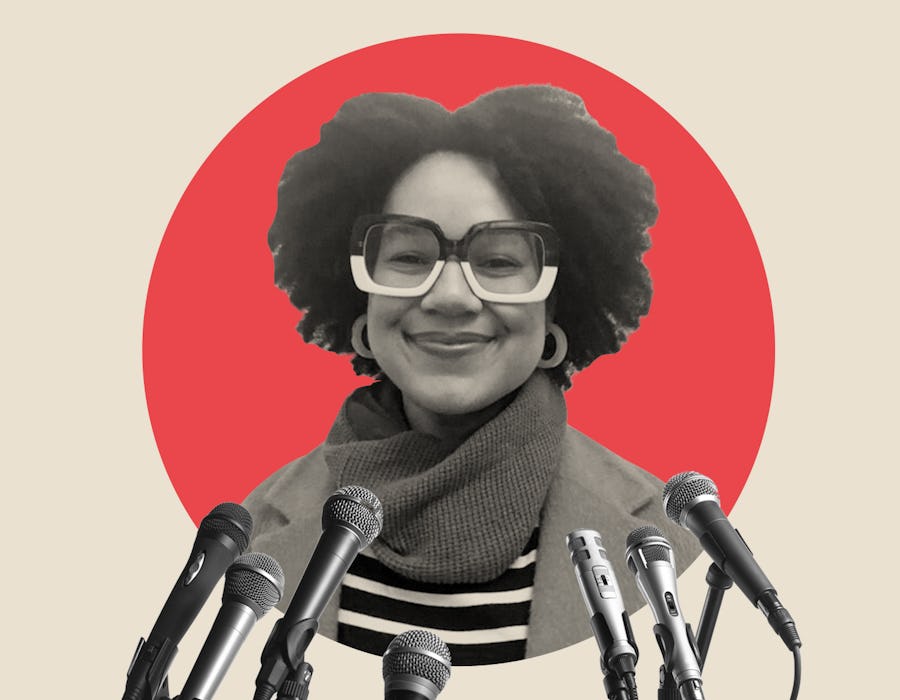 Photo courtesy of Francesca Sobande
Behind a viral dance challenge, fashion trend, or meme, more often than not you'll find a Black person. They just don't miss. To paraphrase hip-hip scholar Snoop Dogg — in the heat of battle, they don't miss, in the heat of controversy, they don't miss. As lecturer, author, and activist Dr. Francesca Sobande tells Bustle, "Black people have been making use of digital culture, and making use of technology, in incredibly impactful ways for the longest of times."
Born in Scotland with few opportunities at hand to learn about Black British history and the lives of Black people in the UK, Sobande has since dedicated her professional life to centring Black British experiences that take place online and in the media. Her most recent book, The Digital Lives Of Black Women In Britain is born out of the research she undertook for her PhD at the University of Dundee and explores how digital culture has both enriched and negatively impacted the lives of Black people.
"While online platforms can provide opportunities for Black people in different parts of the world, across continents, to connect, to co-create, to collaborate in really meaningful ways, I also recognise there are real constraints to so many of these digital spaces," Sobande explains.
Here, Sobande shares her expert thoughts on digital culture and the 'internet boyfriend' and remembers the best career advice she's ever been given.
What did you want to bring to light in your new book, The Digital Lives Of Black Women In Britain?
I was interested in the different ways brands and organisations have, in recent years, been taking an interest in the digital work of Black women in Britain – in digital forms of creativity, cultural productions, and knowledge creation. Often, however, [it happens] in an extractive and exploitive way. [Brands attempt] to tap into the work of Black women but without really supporting them, crediting them, or engaging with their work in a long-term and sustained way.
How does the Black community navigate the digital world differently than other communities?
There is so much incredible creativity, knowledge production, and knowledge sharing. [There are so many examples] of Black consciousness-raising and transnational solidarity. Black people in different parts of the world make use of digital technology to come together, to raise awareness, and to support different grassroots and collective organising efforts.
But, [at the same time], I would say that within so many digital platforms there are also spaces in which Black people are faced with a huge amount of abuse, harassment, and forms of surveillance. So, I think the hyper-visibility that Black people experience when simply being online can come at a huge cost in terms of their health and wellbeing.
Are we seeing representation of Black women change in the media and, if so, why?
Some changes we have seen have been the result of work led by Black women as writers, as producers, as creators. [For example] individuals such as Michaela Coel [who has made sure that] Black women are not just treated as side characters or as a plot device and not portrayed in a very flat, stereotypical way that doesn't, in any shape or form, get to that reality of the lives of different Black women.
You recently held a seminar on the phenomenon of the Internet Boyfriend at the University of Winchester, where you discussed the concept of the "internet crush" and how it's so focused on white men such as Timothée Chalamet, Jeff Goldblum, or Ryan Gosling. Can you share more on your findings?
What has come out from this work has really involved me looking at the ways famous men are digitally remixed and remediated. [It's often] in ways that are shaped by Anglo-Western normative notions of perceived desirability and idealised masculinity, which are often rooted in the dominance of whiteness.
There are famous white celebrities who I don't think necessarily warrant these commentaries, but suddenly they are being marketed and discussed as though they are incredibly different or alternative. [They are framed as if] they embody a new identity or new expression of masculinity – without there being clear reasoning why people are making these claims.
What I often find myself reflecting on is [the fact that, by contrast,] we are seeing Black queer people in the media, celebrities, or high profile individuals treated with so much contempt and oppression for simply being who they are.
You are one of the few Black female lecturers in the UK, what has the experience of working in academia been like for you?
I'm always conscious that institutions and maybe industries will sometimes perpetuate the idea that there is only one and can only be one. When, of course, while there aren't many Black women lecturers in these different spaces, there are always more of us than these institutions acknowledge. While I feel lucky to be able to do the work, I do I recognise I'm not the only person doing this sort of work.
I'm also grateful for the work I see happening led by Black people in Britain and often very much led by students and also those doing grassroots work outside academic institutions too.
What is the best career advice you have been given?
I was discussing with somebody the idea of having to do work that is at odds with your principles and values and they said to me, "I don't subscribe to that." That moment was such a reminder of the fact that in institutions, in different organisations across industries, there can be a huge amount of pressure placed on people – especially Black people – to constantly subscribe to norms that rarely have the interests of Black people in mind.