20 Funny Quotes To Text Your Mom On Mother's Day This Year
Because laughing together is an act of love.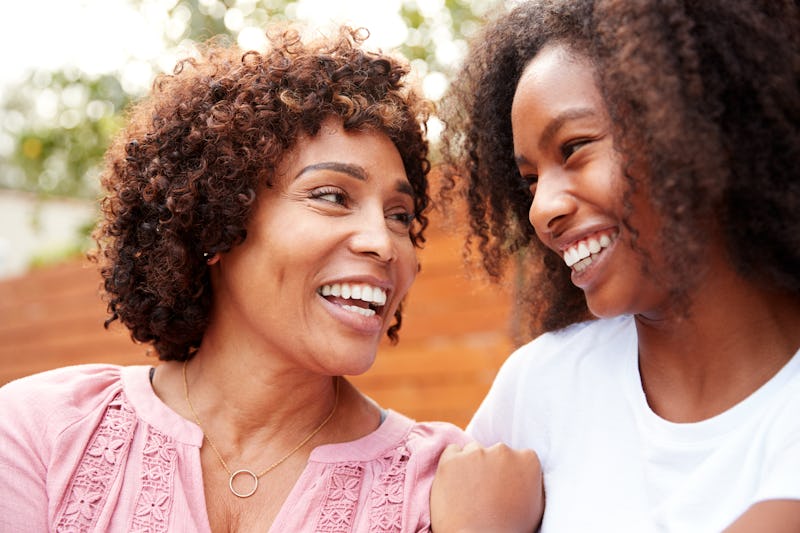 Shutterstock
Mother's Day is fast approaching, which means it's time to get your Instagram captions and heartfelt text messages ready. While this holiday is often seen as a sentimental one to honor the mother figure in your life, people celebrate it in different ways. So if you and your mom love joking together and have a humorous relationship, instead of something more conventional and heartwarming, it might be a good idea to use one of these funny quotes for your Mother's Day well wishes.
If you and your mom like to express love through humor, it's only fitting your Mother's Day ode makes her (and your followers or family group chat) giggle. But you want to make sure she feels appreciated as well, which is why you'll need a quote that's hilarious while still acknowledging all the hard work she puts in every day. Here are 20 funny quotes for Mother's Day that perfectly explain the dynamic between mothers and daughters so you can honor your relationship in a cute way, even if you can't be together this holiday.
1. "The first lesson every child of Athena learned: Mom was the best at everything, and you should never, ever suggest otherwise." – Rick Riordan
2. "Mother-daughter disagreements were, in hindsight, basically mother stating the truth and daughter taking her own sweet time coming around." – Barbara Delinsky
3. "Mother and daughter got on very well indeed, with a deep affection founded on almost complete misunderstanding." – Mary Stewart
4. "Yes, it's quite amazing how I continue to shock my mother even after all these years together." – Eloisa James
5. "Any mother could perform the jobs of several air traffic controllers with ease." – Lisa Alther
6. "It's not easy being a mom. If it were easy, fathers would do it." – Betty White
7. "Insanity is hereditary; you get it from your children!" – Sam Levenson
8. "Mom, I love you and your super long voicemails." – Unknown
9. "Our mothers always remain the strangest, craziest people we've ever met." – Marguerite Duras
10. "When your mother asks, 'Do you want a piece of advice?' it's a mere formality. It doesn't matter if you answer yes or no. You're going to get it anyway." – Erma Bombeck
11. "Every day I wake up and think: How on Earth did I become so much like my mother?" – Unknown
12. "Clarity and focus doesn't always come from God or inspirational quotes. Usually, it takes your mother to slap the reality back into you." – Shannon L. Alder
13. "A mom forgives us all our faults, not to mention one or two we don't even have." – Robert Brault
14. "Mom, I love you, even though I'll never accept your friend request." – Unknown
15. "In the end, mothers are always right. No one else tells the truth." – Randy Susan Meyers
16. "Sometimes I open my mouth, and my mother comes out." – Unknown
17. "My mother had a great deal of trouble with me, but I think she enjoyed it." – Mark Twain
18. "If at first you don't succeed, try doing it the way Mom told you to in the beginning." – Unknown
19. "Life doesn't come with a manual. It comes with a mother." – Unknown
20. "A mother is a person who, seeing there are only four pieces of pie for five people, promptly announces she never did care for pie." – Tenneva Jordan
This article was originally published on