21 St. Patrick's Day Instagram Captions That'll Make Your Friends Laugh
"The paddy don't start till I walk in."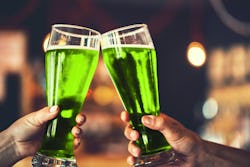 Shutterstock
St. Patrick's Day might have begun as a celebration of the patron saint of Ireland, St. Patrick, but the holiday has evolved into something very different here in the United States. For most people celebrating, it's basically all about wearing green, eating corned beef, and drinking beer. That, of course, gives you the perfect opportunity to post some Instagram photos which, of course, deserve some funny St. Patrick's Day Instagram captions.
In case you were curious, the way we celebrate St. Patrick's Day in the states is barely related to Ireland at all. In fact, the first St. Patrick's Day parade wasn't even held in Ireland — it was held here, in the United States, with Irish soldiers marching in New York City. Corned beef and cabbage, Irish soda bread, and green beer aren't actually Irish either. Instead, they seem to be another Irish-American tradition. And drinking for the entire day? Yup, that's something else that started in the U.S. Today, of course, St. Patrick's Day is celebrated in Ireland (and in other countries as well), but it's more for tourists than anything else.
All of that being said, this is still one of those days where you might just feel like celebrating and there's nothing wrong with that. Just take a lot of pictures for social media and, of course, for memories. Whether you'll be celebrating solo or with friends over Zoom, here are 21 St. Patrick's Day captions worthy of your Instagram.
This article was originally published on