22 Genius Things That Fix Red Bumps & Other "Gross" Shaving Problems
We only recommend products we love and that we think you will, too. We may receive a portion of sales from products purchased from this article, which was written by our Commerce team.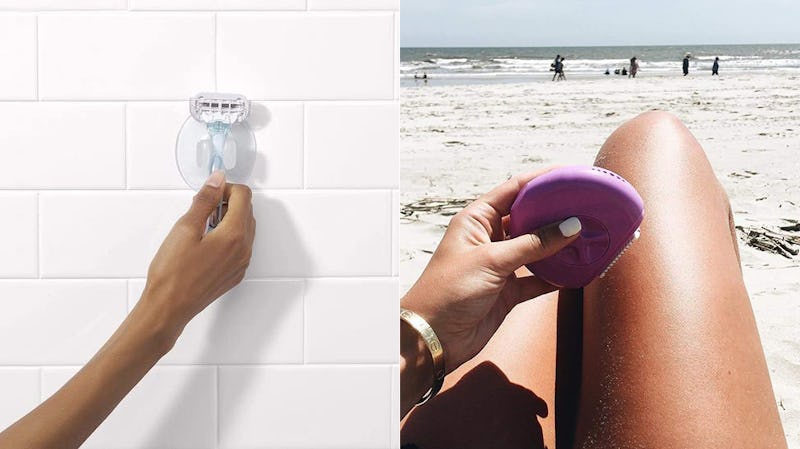 No matter how careful you are while shaving, you've probably encountered red bumps at some point. Don't worry, though — I've also been there, and it's completely normal. But your skin doesn't have to become irritated with every swipe of a razor. Luckily for both of us, there are tons of genius things on Amazon to fix red bumps and help prevent them altogether.
But first, what exactly are these "red bumps" that I'm talking about? To put it simply, they're shaven hairs that haven't broken through the skin, but have instead curved inward while trying to grow. Some ways to help prevent them include using clean razors and replacing them often — but treating the affected areas with moisturizing lotions and antibacterial serums (like aloe vera and tea tree oil) can also help. If you're in need of a razor refresh, rest assured that many of the ones I've selected for this list are suitable for sensitive skin, and several even feature hydrating, aloe vera-infused lotion strips.
Now, let's move onto the "gross" problems that might come hand in hand with shaving. I'm talking about the puddle of water that your razor might be lying in, or even the dusty pocket in your travel bag that it's tucked into. If you can relate, make sure to check out the variety of razor mounts I've made sure to include. They'll keep your blades up and away from standing water, allowing them to dry faster. And if you're always on the go, there's also a set of protective razor covers in here. The zinc strips inside will help keep your blades sharper, for longer — even if they go in wet.
Shaving doesn't always have to end with irritated skin. With so many genius things that fix everything from ingrown hairs to unprotected razor blades, there's no reason not to give at least a few of these a try. Your skin will thank you for it.