How Old Navy's 'This Way ONward' Program Empowers The Next Generation To Build Careers & Confidence
Old Navy has committed to reach 20,000 participants by 2025.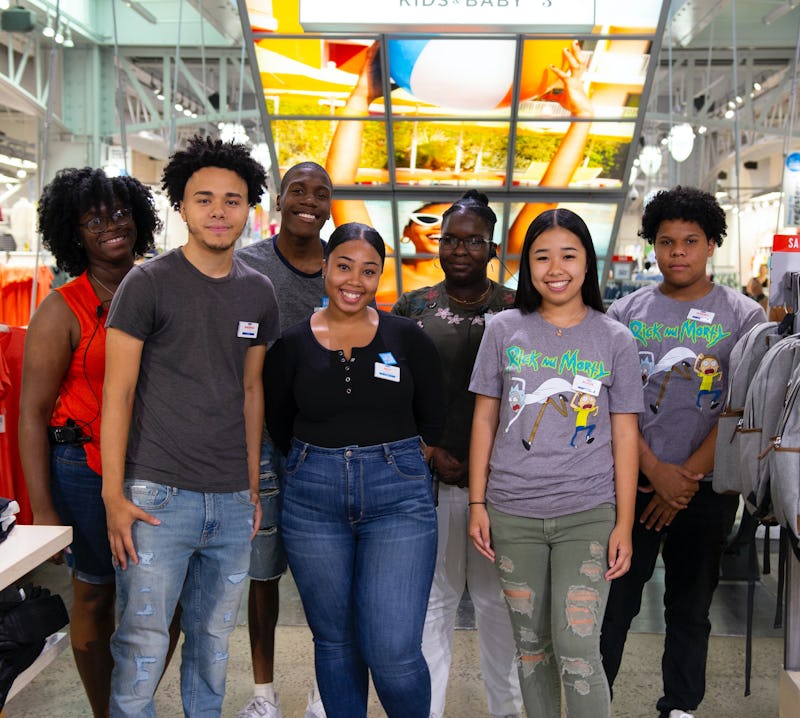 Courtesy: Old Navy
When you land your first job, it can be such an exciting experience. But oftentimes, that same opportunity can be equally overwhelming — especially if you're not getting guidance from team leaders on how to succeed. Imagine instead, if managers at your first-ever job were just as committed to your career growth as you are, working constantly to evolve your skill development, provide community support, and more. Well, Old Navy does exactly that with its in-store job training and mentorship program, This Way ONward.
Since its launch in 2007, the program has provided the next generation of leaders aged 16-24 with the jobs and mentorship they need to develop the skills and confidence to succeed. This year Old Navy is donating $1 million to the cause that will go toward its goal to support 20,000 participants by 2025. The brand is well on the way to reaching that goal. They've had 10,000 participants so far and are on track to have five percent of all new entry-level store hires come from This Way ONward by the same goal year.
Making A Difference In The Lives Of Individuals
Take Richard Greene's experience, for example. He was a high school senior when he realized he needed an income to prepare for college. Self-described as an optimistic kid, Greene experienced depression in his teenage years as he began to experience the weight of the world. He discovered This Way ONward through one of Old Navy's partner organizations, the Boys & Girls Clubs of America. "I applied for job after job but kept getting denied," says Greene. "Then the director at my Boys & Girls Club told me about This Way ONward."
After nailing the interview (and with support from his parents), Greene began training and soon found his niche. As he grew within the role, he began to realize how having a job in a positive environment with supportive team members encouraged him to push himself forward. "Going to work gave me a reason to get up in the morning. I would tell myself, 'I'm not going to worry about college or the chaos running our streets. I'm going to think about the person I need to be today,'" he says.
As part of the program's three-part mentorship initiative, Greene found himself supported by a job coach, a store leader, and a "Big Sib," who is an experienced employee that guides them. Greene says his Old Navy coworkers became like family to him. "Spencer, one of our managers, was so uplifting. He made every challenge fun. And eventually I found myself doing the same," he says.
Over time, Greene also learned how to interact with customers, sharpen his leadership skills, and even budget his earnings. But the camaraderie he received became one of the most meaningful parts of the program. "At first, I was going to work for the paycheck, and it was satisfying to see the money in my bank account continue to climb," says Greene. "But eventually, it was more about the relationships I developed with people."
Old Navy Will Donate $1 Million To Help Young People Start Careers
This Way ONward is part of Old Navy's purpose platform The Imagine Mission, and it's also a key factor in the company's efforts to increase representation of Black employees by 50 percent in store leadership roles by 2025. (Last year, This Way ONward employed over 900 new hires, with 90 percent identifying as people of color.) This holiday season, Old Navy is continuing its annual tradition of donating $1 million through the Imagine Mission Fund to fuel its This Way ONward partners.
"Having a job you enjoy keeps you present," says Greene. "It helped me leave the stress of the world behind. This Way ONward really taught me not to look at a job as a job, but as an opportunity."