How To Choose A Podcast If You're Not Sure Where To Start
Prepare for your weekly shows to become a pillar of your personality.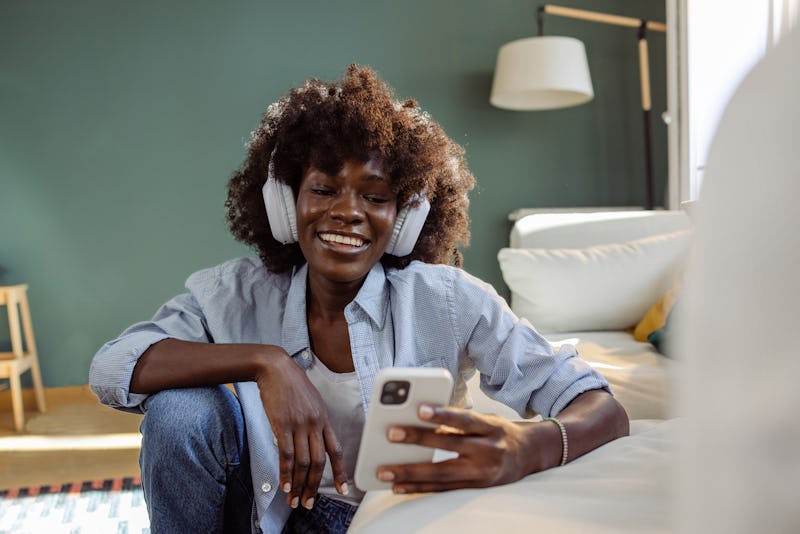 Riska/E+/Getty Images
It seems like there's a podcast for everything these days, from shows that take you behind the scenes of your favorite sitcoms, to investigations into the eeriest true crime mysteries. But with so many options to choose from, it can be tough to pick the podcast that's right for you. Thankfully, the most popular podcast apps are designed to make finding the perfect show simple and painless — you just need to know how to use them. Whether you need content to listen to on your next road trip, or you're looking for your weekly dose of pop culture, here's how to choose a podcast on Apple Podcasts, Spotify, and more.
According to Podcast Index, there are over 4 million podcasts listed in the index as of April 21. Sure, it's good to have options and all, but if you're new to the world of podcasts, that number can seem daunting. How many podcasts will you have to test out until you find the show that speaks to you? How do you determine which series are worth the hype and which are certified skips? Instead of letting the decision paralysis get the best of you, these helpful tools on the Apple Podcasts and Spotify apps can help you find the genre you're looking for, so you can spend less time searching and more time listening.
How To Choose A Podcast On Apple
Finding podcasts on the Apple Podcasts app is so simple, and the best part is, you probably already have the app on your phone — if you have an iPhone, that is. To find the podcast that best fits your ~vibe~, here's what you'll need to do. Open the Apple Podcasts app, aka the purple app that features an illustration of two circles surrounding a stick figure, then open the Browse tab at the bottom of the page.
From there, you can browse through the app's lengthy selection of shows by section. The Top Shows section highlights the most popular podcasts on the app, while What's Trending features the most buzz-worthy shows of the moment. New & Noteworthy is home to the app curators' current favorites across all genres, and The Moment has all the most cutting-edge reporting on today's top stories. There's even a New To Podcasts section that makes the selection process even smoother, thanks to easy-to-navigate subcategories like Charts, Trending, In-Depth Interviews, All-Time Favorites, Immersive Fiction, and more.
When you find a show you like, you can also scroll down to the bottom of the podcast page to check out the "You Might Also Like" section, in case you're looking for even more content to fill your library. If you're looking for a specific show or interview with a public figure, you can also enter their name in the search bar to find the podcast you're looking for.
Spotify
To begin browsing Spotify's selection of podcasts, all you have to do is open the Spotify app, tap the Search button on the bottom of the screen, then select the Podcasts option underneath "Browse All."
From there, the subcategories within the podcast section shouldn't be too hard to navigate if you're a regular Spotify user. Similar to how the platform's playlist options are laid out, you can browse Spotify's selection of podcasts by genre (thanks to sections like Comedy, Educational, Music, Sports, Fiction, and History), popularity (via Podcast Charts), exclusivity (via Only On Spotify), and more.
To see an even more organized breakdown of options, you can also tap the "See all categories" button at the bottom of the page. Here, the content will be separated into eight categories — Arts & Entertainment, Business & Technology, Educational, Games, Lifestyle & Health, News & Politics, Sports & Recreation, and True Crime — where a range of related topics will be listed under each section.
Under the Arts & Entertainment section, you can browse content about books, celebrities, comedy, design, film, TV, pop culture, and more, while the Educational section covers content related to government, history, language, philosophy, and science. This page will make pinpointing your interests a lot easier, so make sure to check it out if you're feeling overwhelmed with options.
When you find a podcast worth subscribing to, don't forget to browse the "More Like This" section on the show's page to find similar content.
Other Podcast Apps
If you want to explore your options even further, you can also download podcast apps like the iHeart Radio app, Stitcher, NPR One, and Google Podcasts to listen to your favorite shows and search for similar content.
If you asked 10 people for podcast recommendations, you'd probably get 20 different answers. Thankfully, you don't need the help of 10 people to begin your podcast journey — you've already got all the tools you need, though it never hurts to ask your group chat for some recs.