How To Get In On The Reese Witherspoon Challenge That's Taking Over Instagram & Twitter
It captures your 2020 moods from Jan-Sept.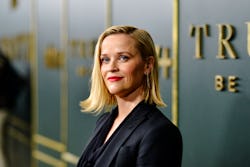 Jerod Harris/Getty Images Entertainment/Getty Images
The internet loves a mood board. Especially a mood board in which we get to use otherwise unusable photos of ourselves, our pets, or our favorite celebrities. In what people are calling the Reese Witherspoon Challenge, everyone from Mindy Kaling to Kerry Washington to, of course, Reese Witherspoon is turning lemons into... well, maybe not lemonade, but a photo collage of those lemons.
There is a calendar for every and all 2020 moods, including Toni Collette, Kate Beckinsale's cat, and The Upside Down. Similar to the Dolly Parton Challenge from earlier this year, the Reese Witherspoon Challenge is a collage of nine pictures, each captioned with a different month. The challenge is dubbed as such because the trend took off after the actor posted her Reese-ified calendar to Instagram. It's very "choose your fighter" coronavirus-edition. It's the nine horsemen of the pandemic apocalypse. It's... just something to do, OK?
If you don't have photo editing tools at your disposal, fear not: you can still partake in the challenge. Here are three free ways to make your own Reese Witherspoon Challenge collage. Some require you to sign up with an account, but you aren't required to sign up for any of the paid plans.
If all else fails, just become super rich and famous, hire an assistant, and make them figure it out! Or just enjoy the extremely good Reese Witherspoon Challenge collages everyone else has been making.