How To Find Posts You've Liked On Instagram
For anyone too lazy to curate their Saved folder.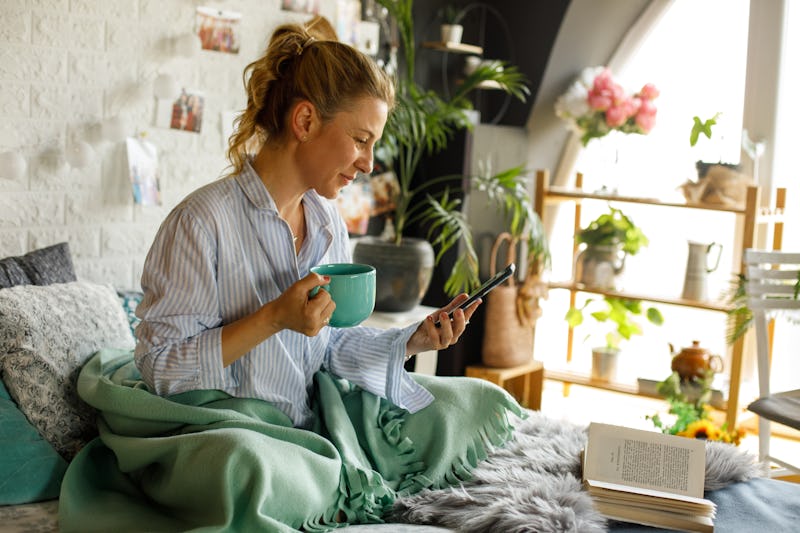 fotostorm/E+/Getty Images
If your time on social media is spent mindlessly scrolling and tapping, finding posts you've liked on Instagram will be like rediscovering your feed all over again. The app has a record of the like buttons you've smashed, so that you can reflect on what posts resonated with you — such as your friend's major milestones that might require IRL congratulations, or infographics you wanted to refer back to.
Discovering your previously liked posts page on Instagram is also an opportunity to cringe at your errant thumb taps. "My Liked page revealed that I had liked a photo my husband's ex-girlfriend posted of them, years ago," says Lizzie, 31. She says it's far too late to unlike the shame away.
To find the photos you've double-tapped, go to your profile, then tap the three menu bars on the upper right side of the screen, tap the Settings wheel, Account, and then Posts You've Liked. There you'll find your 300 most recent liked photos, which won't take you too far back unless you're particularly stingy with the hearts. Because Instagram only lets you take a limited look back on your likes, you can take the opportunity to unlike posts you hearted out of a sense of social obligation (looking at you, freshman year roommate's engagement shot), which will then pull up a few more previously liked feed pics. No one gets notified if you unlike a photo.
While you can use the Posts You've Liked section to revisit posts — maybe you want to write a heartfelt comment when you have the time, or want to go back to a pic to finish reading a long caption — the save button might be more useful for keeping posts organized. The little bookmark-shaped icon can be found on the right hand side of the engagement bar under a photo. Saving a photo is private; it doesn't send a notification to the poster, unlike with likes. If you're big on saving, you can create collections so that you can easily organize posts in groups like, "wedding inspo" or "recipes" or "babes with epic bangs" for fast storage. You can find saved posts by heading to your profile, tapping the menu bar on the upper right corner, and then tapping Saved.
Whether you use likes or saves to keep track of content you want to revisit, looking back through it can be a walk down memory lane — or a not-so-funhouse full of surprises.