How To Get Tested For Coronavirus In The UK
Here's what you need to know.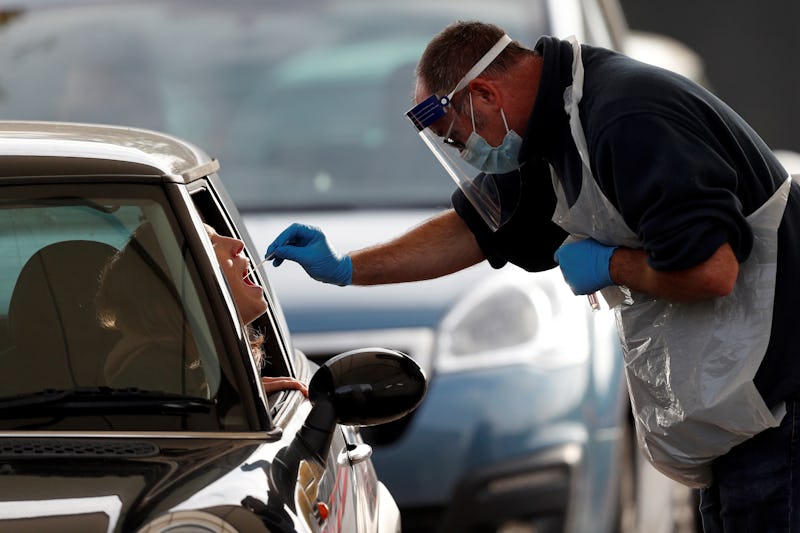 ADRIAN DENNIS/AFP/Getty Images
The NHS website has provided a list of COVID-19 symptoms and has advised that, if you are experiencing any, you should self-isolate and seek advice from medical professionals, who may ask you to get tested. But how do you get tested for coronavirus in the UK?
As of Nov. 1, 31,817,003 COVID-19 tests have been processed of which 1,053,864 came back positive. In April the government announced a testing strategy which aimed to test more people with symptoms as well as people who had come into close contact with those displaying symptoms. The government launched the NHS Test and Trace system in May and at the end of September the government said that more than one in ten people in England have been tested at least once during the pandemic. The NHS Test and Trace mass testing scheme is currently underway in Liverpool (Nov. 6) and will result in more access for people in high-risk areas.
If you think you might have coronavirus here's what you need to do, based on advice from the NHS.
When Should You Get Tested For Coronavirus?
The symptoms of COVID-19 given by the NHS are a cough, shortness of breath, and a high temperature. You may also notice a loss in your sense of smell or taste. If you are experiencing these symptoms, you should call 111 to get assistance. It is especially important to call if you've been in contact with someone who has COVID-19 or if you've recently returned from a country that's classed as a high risk.
Alternatively, you may be notified through the NHS Track and Trace app that you've been in close proximity to someone with COVID-19 symptoms. If this is the case, you should self isolate for 14 days and, if you start to exhibit symptoms, you should be tested.
How Do I Get A Coronavirus Test In The UK?
If you're concerned you may have COVID-19 then the best thing to do is to stay at home and avoid contact with other people. You shouldn't go to your GP or hospital. Instead, call the NHS 111 number to seek their advice. You can also check your symptoms against the list on the NHS website.
To get tested you have to visit the government website to assess whether you can have a test sent to your house or whether you should go to a testing site. To book a slot you must answer a series of questions first about your condition, where you live, and other key information.
Where and how you are tested varies depending on area and case. Right now, there a few different ways you can be tested:
You may be asked to drive to a special testing site, or a hospital car park, where a medical professional in protective gear will come out and test you through your car window.
You may be asked to visit an isolation booth outside a hospital.
You may be visited by a specialist testing team at home.
You could be sent a test kit to do at home and send back in a labelled envelope
Currently, you can also buy a COVID-19 test from a private clinic. On Oct. 26 Boots announced its plan to offer testing services which could give patients a result within 12 minutes. They said the LumiraDx devices will be put in some pharmacies over the next few weeks and the test will cost £120. A spokesperson for Boots also said that the price would drop depending on demand.
What Does A Coronavirus Test Involve?
A normal COVID-19 test involves taking a swab from the back of your throat and up your nose. You may administer the test yourself or a clinician may do it for you.
What Is Operation Moonshot In Liverpool?
On Nov. 3 it was announced that people in Liverpool will be the first to try out whole city testing. This means that everyone working or living in the city will be offered a test, whether they have symptoms or not, and then will have a follow up test every two weeks. Liverpool has one of the highest death rates from COVID-19 in England and the government has said that if this scheme works then it could be rolled out in other cities.
There's been a positive response from the plan so far from Liverpool's mayor Joe Anderson. It's been reported that his brother died from COVID-19 last month and he said, "we're pleased that our numerous conversations have resulted in Liverpool becoming a pilot for mass testing, which will help to quickly identify people who have the virus and reduce transmission substantially."
After doing a test, you'll then be asked to isolate for two weeks unless your test comes back negative.
As of Friday Nov. 6 city-wide mass-testing is being rolled out in Liverpool, the pilot city for the government's 'Operation Moonshot' initiative. The UK government has spent a hefty £323 million on a new lateral flow test which is said to offer results in 20 minutes, without the use of a lab. The hope is rapid saliva tests could be introduced in schools, Universities, hospitals and care homes to help prevent the spread of the virus in hard hit areas. Following crucial trials across Greater Manchester and Salford in October, there had been concerns about the accuracy of these tests. Per The Guardian, scientists found it only identified 46.7% of infections in Greater Manchester.
Around 2000 Military personnel have been brought to Liverpool to set up drive-through and walk-through testing sites and help administer the tests. Per the Gov UK website, people and children in Liverpool can get tested even if they're showing no symptoms. They will be subject to a mix of the existing swab test and these new "lateral flow tests" which are "very accurate". There's a detailed guide to booking a test in Liverpool on the UK government website.
Can I Be Tested For Coronavirus Immunity?
An antibody test (which determines whether you've had COVID-19 before) has been developed but isn't widely available yet. Currently, the antibody test is only available to people who work in health and social care and education. The antibody test can tell you if you've had COVID-19 but isn't an assurance that you're immune.
Best Practices
Whether you are experiencing the symptoms of COVID-19 or not, you should still try to keep yourself safe by making sure you wash your hands regularly and thoroughly and avoid touching your face, wearing a mask when in enclosed public spaces, and adhering to COVID-19 restrictions in your area.
This article was originally published on