5 Ways To Keep Demanding Justice For Jacob Blake
An email to send, petition to sign, and hard convo to have.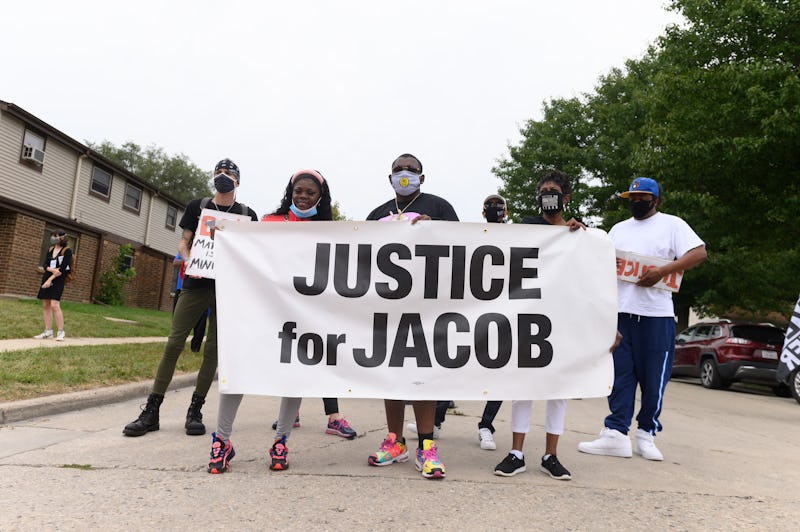 Daniel Boczarski/Getty Images Entertainment/Getty Images
Even if you follow the news as much as your mental health can handle, it can be hard to know what issues to focus on. This week, you might be solely focused on ways to create justice for Jacob Blake, who was shot seven times in the back by Kenosha, Wisconsin, police officers in August of last year. Following the shooting, the 29-year-old was paralyzed from the waist down, and multiple cities saw another wave of protests against police violence. On Tuesday, Jan. 5, Kenosha District Attorney Michael D. Graveley announced that his office would not bring charges against Rusten Sheskey, the officer who shot Blake, or the two other officers involved in the shooting, CNN reported.
"It is my decision now that no Kenosha law enforcement officer will be charged with any criminal offense based on the facts and laws," Graveley said, per CNN.
Chris Ott, executive director of the ACLU of Wisconsin, expressed disappointment over the decision in a statement. "This continues the cycle of enabling police violence and evading accountability when they seriously injure and harm a Black person," he said. "This officer will continue with his career with the mistaken belief that he has done no wrong, while Jacob Blake will remain paralyzed and left to deal with the consequences of this officer's actions. Today, justice was not served."
Despite these events, you can still take action in support of Blake. Below, you can find a petition to sign, an email to write, a conversation to have, and places to donate or volunteer if you want to make a difference.
Additional reporting by Leila Barghouty.
This article was originally published on