The 9 Best Ways To Cut Costs On Your Wedding, According To Wedding Planners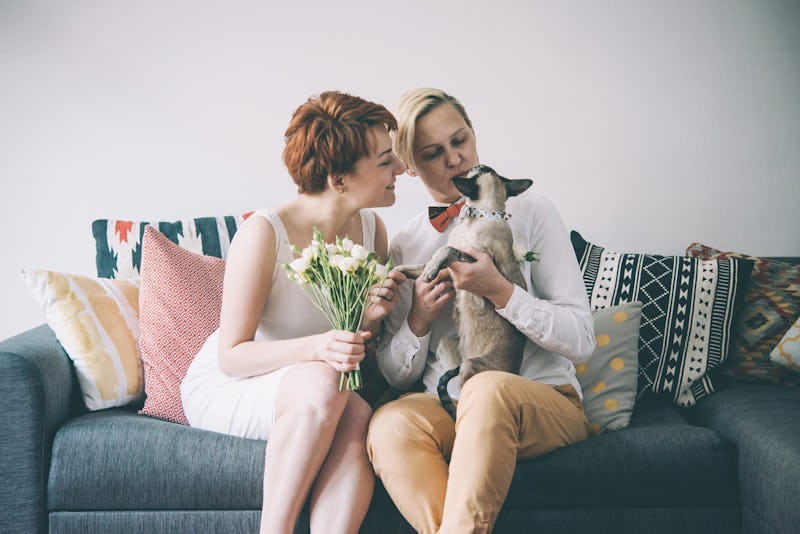 Yulia Grigoryeva/Shutterstock
Planning a wedding sounds pretty magical until you actually start adding up things like venue fees, catering costs, and even the money you'll spend on invitations to the big day. Sticking to your budget might seem impossible. But the best ways to save money on your wedding don't have to be super extreme. With a little careful planning or prioritization, a simple swap could end up saving you hundreds of dollars.
An important overall tip is to figure out what's important to you and your partner, and what isn't. "Eliminate things that are not important to you or don't add value to your priorities," Boston's Seaport Hotel & World Trade Center's wedding expert, Leah Malin, tells Bustle. "Don't feel the pressure to have a completely branded and customized wedding with lots of signage and over-the-top favors if that is not authentic to your taste and style." Instead, figure out what choices will do the best job reflecting your personalities, and work from there. If something doesn't bring any true value to the wedding for you, throw it out.
That being said, Malin says that there are some things that probably shouldn't be skimped on, regardless of your taste and style. "There is nothing worse than inviting friends and family to a celebration and then running out of food or beverage, or not having enough staff to take care of those that have come from near and far to celebrate with you," she says. Food for you could mean a three-course open bar wedding, or homemade finger food for everyone to munch on. Whatever route you go, be sure that nobody will go hungry.
Here are nine ways to cut costs on your wedding, according to experts.