These 15 Prompts Are The Best Inspo For An Instagram Q&A
You don't have to be an influencer to interact with your followers.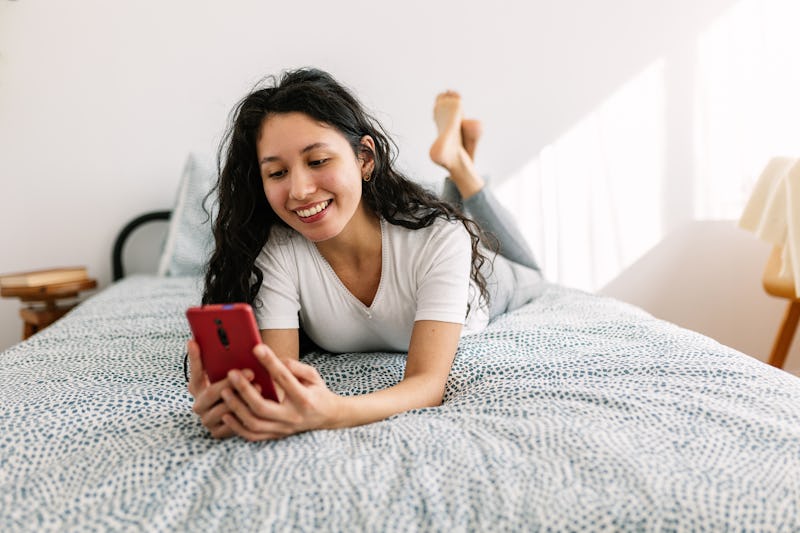 Xavier Lorenzo/Moment/Getty Images
Whether you're looking to channel your inner influencer for a day or you just want to get to know your followers better, the "Ask Me A Question" tool is a great way to chat with your followers on Instagram. But in order to stop them from tapping through your Story, you'll need to pick some seriously burning questions that they won't be able to resist answering. Next time you're in the mood to host your own Q&A, don't forget to check out these 15 "Ask Me A Question" ideas for IG for some inspo.
With the "Ask Me A Question" sticker, you can bring the drama with a hot topic debate, or crowdsource helpful advice for issues that are way too specific for Google. You can even score some recommendations on everything from the best beauty products and new music for your playlists, to restaurants, recipes, or even vacay spots. Whatever you decide to use the "Ask Me A Question" tool for, you're gonna want to make sure your prompt is an attention-grabber, because what's the point of asking a question if nobody answers?
It might sound like a lot of pressure, but don't stress. You don't have to think too hard about which questions will stop your followers in their tracks and which should be left in the drafts because this list of "Ask Me A Question" ideas has got you covered.
1. "What songs/albums are you listening to?"
A quick scroll through your friends' IG Stories will tell you just how much people love to share what they're listening to, so if you want your inbox to be flooded with responses, questions about music are a guaranteed hit.
2. "Date night dinner recs?"
No gatekeeping here.
3. "What's your drink of choice?"
The "Ask Me A Question" feature only provides a limited amount of space for each response, so questions that don't require a long response are always a plus.
4. "Where do you get your style inspo?"
Translation: do you prefer to spend your time on Pinterest or TikTok?
5. "What's your biggest ick?"
Asking your followers about their icks is sure to get their attention every time because most people will have an answer at the ready that they're eager to share.
6. "Who was your childhood celebrity crush?"
No one can resist a nostalgic question, and there's nothing more nostalgic than reminiscing about your middle school bedroom covered in posters of your favorite Disney stars.
7. "Dream travel destination?"
Because everyone has a travel bucket list.
8. "First date advice?"
Hey — it's engaging and helpful.
9. "What's your holy grail skincare product?"
Dermatology appointments are expensive, y'all.
10. "Best place for a day/weekend trip?"
Who needs Yelp reviews when you have IG followers?
11. "Where/when did you meet your partner?"
Let's face it: everyone loves a chance to talk about their person.
12. "What's your go-to snack?"
This one is for the foodie followers, obviously.
13. "Do you have an opening line on dating apps?"
A person's opening line says a lot about them, and there's nothing wrong with being a little nosey.
14. "One beauty product you can't live without?"
From bronzer to brow gel, there's bound to be a good recommendation waiting for you in your DMs with this one.
15. "What's your go-to film for movie night?"
Instead of asking about favorite films or movie recs, adding a mention of movie night will make other generic movie-based questions stand out among the rest.