For Valentine's Day Only, Instagram Is Making It Easier To Slide Into DMs
Here's how to use the new features.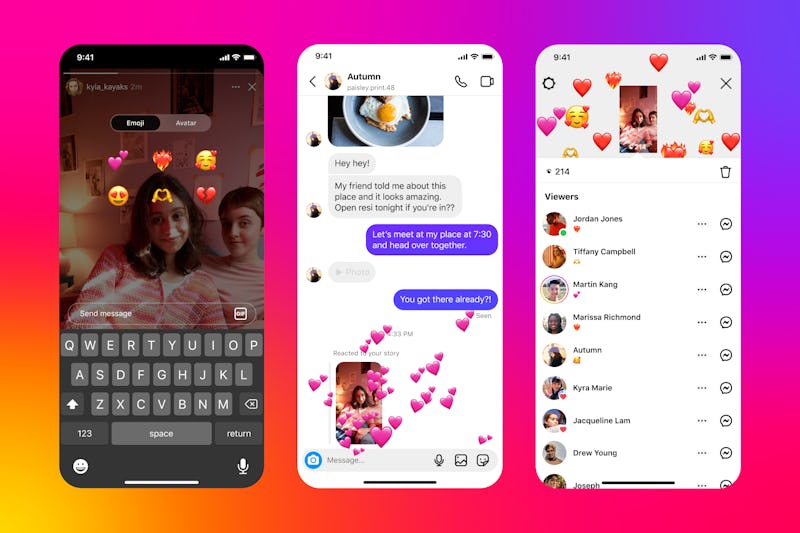 Courtesy of Meta
Instagram is rolling out some changes for V-Day that are basically the adult version of giving out Valentines at school. For one day only, the social media platform is transforming your feed with special in-app surprises for Stories and DMs filled with hearts, smiley faces, and more. Even if you're beau-less on the romantic holiday, Instagram's Valentine's Day features are so sweet you'll be spreading the love all day long.
Instagram announced the adorable changes for iOS users on Feb. 14, just in time for you to post a flirty ode to your partner — or make a move on your crush. If you're someone who always replies and reacts to your bestie's Stories, there's a good chance you'll clock the updates pretty quickly. But if you don't spend much time in the DMs, you might need some help spotting the changes. The one-day features to look out for include new V-Day-themed reactions for Stories and exciting animations in DMs and the Story viewers page for those reactions. Here's how they work.
On any other day, you can show your quick support for a Story with the laughing-crying emoji, shocked emoji, heart-eyes emoji, sad emoji, clapping emoji, or fire emoji. But on Feb. 14, you'll see a whole new crop of lovey-dovey emoticons to react with: the double heart emoji, fire heart emoji, smiley face with hearts emoji, heart-eyes emoji, hand heart emoji, and broken heart emoji. Yup, love is in the air and in the DMs. Hopefully, you won't have to use that last one too much, though.
When someone reacts to your Story with a Valentine's Day emoji, the reaction will also be amplified with a fun animation in the DMs of the emojis exploding across your inbox, because there's no such thing as subtle DM-sliding on V-Day. The special animations will also pop up on the Story viewer page when you check in on who has viewed your story so you can feel the love all day long.
If you're having trouble accessing the features, keep in mind that they will only be available to iOS users and will likely require a quick app update beforehand.
If you're looking for even more ways to spread the love on Feb. 14, you can always add a V-Day inspired Sticker to your Story or Reel, which you can do by uploading your Reel or Story, then tapping the Sticker icon and browsing through the selection of heart-shaped Sticker options. And don't forget to show off your favorite pics of your valentine with a romantic "Add Yours" prompt by selecting the Add Yours Sticker in Stories and writing your own prompt, or generating a pre-made prompt by tapping the Dice icon on the screen.
Between cute new ways to slide into the DMs, heartwarming Story reactions, and eye-catching animations, Instagram's Valentine's Day changes are perfect for showing your loved ones you're thinking of them — or getting your crush's attention, too.