The iPhone 15 Comes In A Barbiecore Pink
Consider your selfie game upgraded.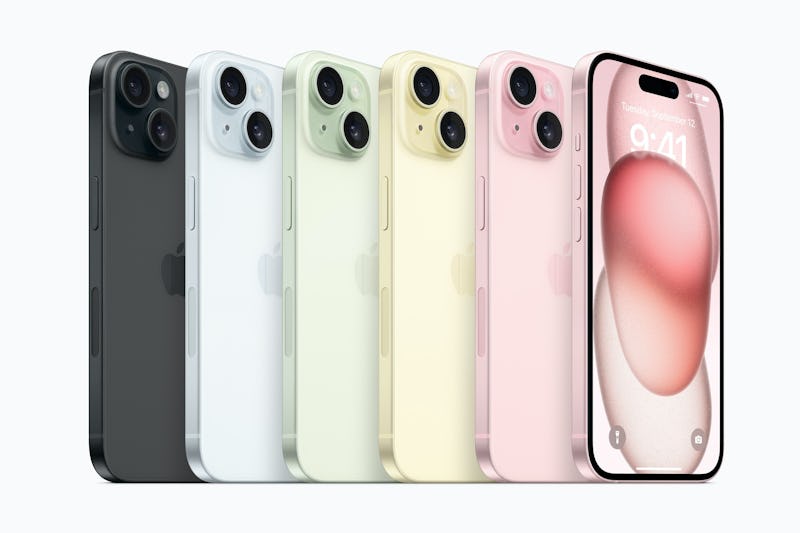 Courtesy of Apple
Apple held its annual keynote event on Sept. 12 in Cupertino, California, where the brand unveiled the new iPhone 15 series in a number of pretty pastels, including a Barbiecore-inspired pink hue. Plus, the tech company also announced a host of exciting additions to its devices including more portrait options, guided directions to your friends, and a USB-C port that's going to change everything. If you're due for an upgrade, you might be wondering if the new products are worth it, so here's a rundown of everything you need to know about the iPhone 15 series including its features, colors, and more.
Apple's lineup of new phones includes four models: the iPhone 15, iPhone 15 Plus, iPhone 15 Pro, and iPhone Pro Max. Each phone comes equipped with a Dynamic Island notch, which made its debut with the iPhone 14 Pro, and a USB-C port that allows Apple fans to use the same charger to charge their Mac, iPad, iPhone, and second-generation AirPods Pro. (IYDK, this change has been in the works ever since the European Union voted in favor of implementing a common charging standard for all electronics in June 2022.) The new collection is available now for pre-order and hits store shelves on Sept. 22, but before you trade in your current device, you'll need to decide which phone (and which color) fits your lifestyle the best.
iPhone 15 & iPhone 15 Plus Colors & Features
The iPhone 15 and 15 Plus are available in five colors: Blue, Yellow, Green, Pink, and Black. Aside from Black, the colorways are all subtle pastels, so don't expect to see the forest green option that made its debut with the iPhone 13. These colors are also only available for these devices, so if you were thinking about upgrading to a Pro series model, you might want to reconsider depending on your color preference.
The iPhone 15 comes with 6.1-inch display, while the screen on the 15 Plus clocks in at 6.7 inches. You can snag the iPhone 15 starting at $799 and the Plus series for $899, though prices may vary by storage and carrier.
iPhone 15 Pro & iPhone 15 Pro Max Colors & Features
Though the Pro series doesn't have the same fun color options as the iPhone 15 or 15 Plus, the new collection marks the iPhone's first-ever "aero-space titanium design," per Apple. This helps give the Pro series a slimmer and thinner design, which means you don't have to worry about the titanium dragging you down. In fact, the Pro series phones are only about 20 grams heavier than their regular series counterparts. The phones are available in Natural Titanium, Blue Titanium, White Titanium, and Black Titanium.
The iPhone 15 Pro and 15 Pro Max both come equipped with three cameras, including a more advanced 48-megapixel main camera. The Pro Max also features a new telephoto lens that enables 5x optical zoom, beating out the iPhone 14 Pro series' 3x zoom.
The iPhone 15 Pro comes with a 6.1-inch display and a starting price of $999, and the 15 Pro Max comes with a supersized 6.7-inch screen for a starting price of $1199, which may vary depending on your storage size and carrier.
iPhone 15 Series Features
It wouldn't be an iPhone drop without some exciting new features worth obsessing over, starting with the precision finding tool in Find My. Now when you share your location with someone, you can navigate to their exact location, even as you work your way through a crowd or a park. With easy-to-follow instructions and helpful distance indicators, the app will guide you every step of the way — literally.
As for camera upgrades, iPhone 15 users will no longer have to switch to Portrait mode to take a stunning selfie. Plus, you'll also be able to switch the focus subject of a portrait, even after the photo has been taken. Lastly, now that the iPhone 15 series is USB-C friendly, you can charge your second-generation AirPods Pro directly from your phone when the wireless earbuds are dying. So long, low battery noise.