What Happened When Jasmine Rice Put A Paywall On Her Tweets
A new social network is the latest foray into the creator monetization economy.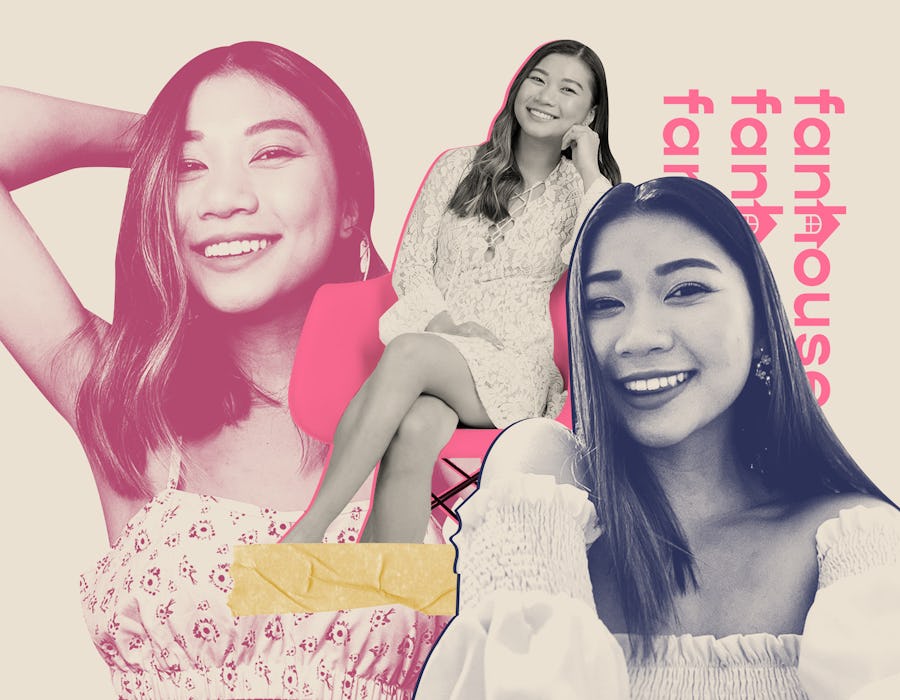 People on the internet really like Jasmine Rice. Her 110,000-plus Twitter followers like her singing covers, her cheerful selfies, her spicy shower thoughts. ("Every disney princess movie plot is just driven by how horny the disney princess is.") They like her so much, they're willing to pay her $10 just to send her a DM.
That's the business model, anyway, for the 23-year-old Wharton School of Business graduate's venture, Fanhouse, best described as a PG-13 version of OnlyFans. On Fanhouse, users pay creators for access to Finsta-like content — low-fi selfies, unfiltered behind-the-scenes videos, and diary-like, stream-of-consciousness posts. Rice talks a lot about masturbation.
"Anything that I'm comfortable telling my group chat, I'm also comfortable telling to my Fanhouse page," Rice tells Bustle. "I talk about crying a lot. Every time I have a mental breakdown, people will send me like $20 tips just to be like, 'I'm sorry you're having a rough time. Go get some boba.'"
The strategy is one that Rice has been experimenting with since her earliest days as an adult online. (Jasmine Rice is a nom de internet adopted for safety.) When she first started sharing her financial struggles in college — neither of her parents, one of whom is disabled, currently work, and Rice supported herself through four "hellish" years of higher ed — strangers sent her not only supportive comments but also money.
"The internet is a place where people care about other people first, right?" Rice says. "More so than they care for brands, and more so than they care for ads and sponsorships and whatever the normal influencer used to be — they want people that they can relate to."
Rice, like thousands of others, signed up for OnlyFans in March 2020, two months before her pandemic graduation from Wharton, which the first-generation student had attended on a full ride. "I sent home money all the time" during college, Rice says, and thought OnlyFans could be a way to increase her earnings. Within the first week of making an account, Rice found herself in the top 1% of earners, thanks to her loyal Twitter followers. By the summer, she was earning $35,000 in a month.
"I made more than my family has ever made in a year," she says. "I transitioned from poverty and food stamps and month-to-month kind of living to like, 'Holy sh*t, I should start putting money toward retirement. Let me open up an IRA. Let me treat my family to some nice things.'"
But while Rice had heard that women were making six figures on the site by sharing pictures and videos and messaging with fans, she says she wasn't fully aware of what she was getting herself into. A "bikini thirst trap" didn't bother her, but the expectation of more did. "Like 90% of people subscribing only want nudes ... and are really angry when you don't give them this access to your body, which they believe that they've purchased access to," Rice says, noting that she made it clear that her OnlyFans was a non-nude page.
Rice's experience with trolling — "I've been called a whore, been told to die" — is not singular. "I've spoken with other creators on OnlyFans and I think that harassment and abuse is almost universal with all the female creators." (OnlyFans' terms of service prohibit using the platform "to stalk, bully, abuse, harass, threaten or intimidate anyone else," as well as posting sexually explicit or objectifying content that is "non-consensual"; violations of the terms can lead to suspension or termination of an account.) While OnlyFans is not the only place where Rice says she's received unsolicited dick pics — she chalks the junk mail up to "being a woman with a large platform" — she thinks OnlyFans users feel uniquely entitled to behave that way. Fanhouse, she says, was born of the need for a platform where people could monetize safe-for-work content, and an environment where dick pics don't clog their inboxes.
"It reminds me of when my friends have a bad day — sometimes I'll just Venmo them."
Rice was confident that people were hungry for a personal and candid connection — and willing to compensate for it. In August, Rice and two Twitter friends — Jerry Meng and Khoi Le, Stanford graduates who turned down mega tech jobs for the startup life — experimented with putting a $5 paywall on Rice's private Twitter. She made $2,000 in 2 weeks. That was the genesis of the app that would become Fanhouse, of which Meng and Le are now chief technology officer and chief executive officer, respectively.
In September, Rice began working part-time on Fanhouse, both as a creator and on the business side, while also pursuing her original post-grad plan: a lucrative job in investment banking. ("I had never heard the words investment banking until I went to Wharton. I was like, 'What the f*ck is a Goldman Sachs?'") Fanhouse officially launched in November, and Rice quit the analyst gig in January.
Four months post-launch, the platform has 5,600 active monthly users and over 400 creators. It's also profitable, per Rice; Fanhouse skims 10% off of all transactions, a relatively low rate compared to OnlyFans' 20% and to other creator monetization platforms like Patreon, Twitch, or Substack. The company has six full-time employees, including Rice, who's officially chief marketing officer; the team, she texts me proudly, is 50% female and 100% people of color.
Fanhouse doesn't allow nudity or pornography, in part because the third-party apps they work with won't process payments for sexually explicit content, but also because Rice wanted to build a space for creators to "showcase their personalities" without feeling objectified. "Knowing that this platform is PG makes it so people can't harass creators or pressure them to do NSFW content," she says.
She likens the creator-subscriber relationship to IRL friendship. "It reminds me of when my friends have a bad day — sometimes I'll just Venmo them. I'm like, here's $10, get a Starbucks, make yourself feel better, you know, get some soup," she says. "Sometimes I just write the most random posts like, 'Oh, I'm cold. I wish I had some pajamas,' and then boom, someone will send a tip for PJs," Rice says. "They don't want anything in return except your happiness."
Still, Fanhouse isn't immune to harassment and leaks. Rice says a handful of creators have had their PG selfies end up on revenge porn sites. "We track down leaks. We DMCA them," she says, referring to the Digital Millennium Copyright Act, which makes it illegal to duplicate original content for sale or distribution. "Fortunately, we've only had to do that three times in the last three months that we've been around. For over 400 creators, I think that's very lucky to say."
Fanhouse is part of the broader "creator economy," where anyone with a social media presence can turn their followers upside down and shake out their pockets for the loose change, and tech executives can make bank for facilitating the trade. While Rice's Fanhouse takings don't yet compare to her "cushy" investment banking salary, she says it's worth it to feel fulfilled in her work. Would she recommend co-founding a business in a pandemic? No — "that's dumb" — but she's not turning back. "If you asked me, if I made no money from Fanhouse for the next few years, would that be OK? I would say yes."
Correction: A previous version of this article mischaracterized Rice's current earnings from Fanhouse.
This article was originally published on