Dining Out With The Kardashians
A farewell tour of the most important restaurants in Keeping Up With the Kardashians' 14-year run.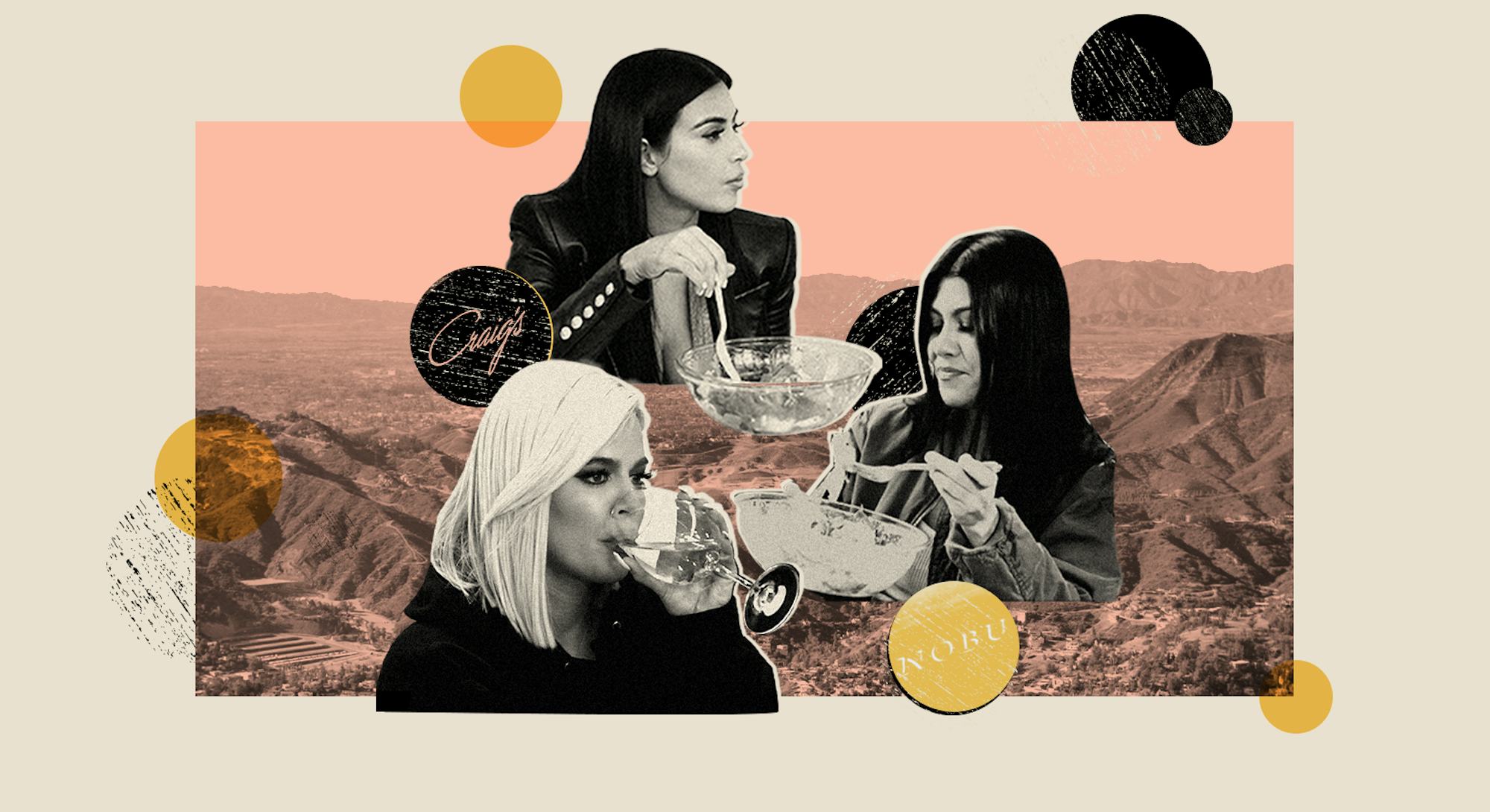 While the Kardashian-Jenners are unlike the rest of us in most ways, their eating habits are surprisingly relatable. Over 20 seasons of Keeping Up With the Kardashians (which concludes next Thursday), we saw takeout salads at the kitchen table, oven-baked pastas cooling on the counter, and big birthday reservations somewhere outside their Calabasas gated community, though not usually beyond suburban San Fernando Valley.
Yes, the Kardashians sometimes spent lavishly at expensive steakhouses and other temples of conspicuous consumption. But they also went to a lot of Los Angeles' immigrant-owned legacy family restaurants. Maybe because they understand what it's like to be in business with your entire family, or simply because those restaurants have some of the best food and vibes in the city. (They also just really love sushi.) For a clan renowned for their bad taste, anyone who lives in Los Angeles will begrudgingly admit they actually have great taste in restaurants.
The Most Important Restaurants In Kardashian History
Nobu: The Malibu location of Nobu, the Japanese fusion restaurant named for chef Nobu Matsuhisa, is a stronghold for celebrity sightings in LA, with paparazzi perpetually waiting outside. Perhaps it's because Robert DeNiro is a co-owner, or maybe it's just that Nobu Malibu is such a beautiful place — the patio directly overlooks the Pacific Ocean — it attracts the beautiful people. Drake, who like the Kardashian-Jenners lives just over the canyon in the valley, has taken Rihanna and J. Lo, in addition to rapping about it. Nobu is where Caitlyn and Kris reunited to celebrate Kylie's 18th birthday, according to reality TV restaurant guide Taste of Reality, where Kim toasted Jonathan Cheban for legally changing his name to Foodgod, and where, if you have a couple hundred dollars to spend and live near one of its 47 locations, you can celebrate your version of a special occasion with superlative miso black cod, sashimi tacos, and wagyu with truffle butter.
Hansen's Cakes: This seventh-generation family bakery is behind the pearlescent, basketweave-piped cakes that appeared at virtually every Kardashian-Jenner celebration. When Kim tweeted, shortly before North's birthday in 2016, that the family was "looking for a new bakery," fans demanded they return to the Hansen's, whose cakes may not be the most cutting-edge but certainly cut the frosting for any normal person's graduation party. (Hansen's had to put out a statement denying any falling out between the bakery and the famous family.) If you visit Hansen's Tarzana location, you can see photos of the Kardashians posing with different cakes (and faces) over the years.
Carousel Restaurant: Kim had her 37th birthday at this beloved Lebanese Armenian restaurant, which opened in 1983 and was a favorite of her late father, Robert Kardashian. (Well, here and at the $2,000-a-night Utah retreat Amangiri.) The original Carousel is tucked away in a strip mall in the Little Armenia neighborhood in Hollywood; the Glendale location preferred by the Kardashians is a party-friendly banquet hall with a belly dancing show on weekend nights. All of the food is amazing, but the signature dish is kibbeh nayyeh (the Armenians version of which is called chi kofte), a steak tartare made with filet mignon. If you're not up to raw ground beef, Carousel has a million other items, cooked, vegetarian, and vegan.
Health Nut: If a Kardashian is eating a big chopped salad with a giant iced tea (unsweetened!) at an enormous marble kitchen island, someone has been to Health Nut. The unassuming salad and bowl spot in a west valley mini-mall is the series' most consistently featured eatery — and also the most humble. Owner Steve Choi's parents, who are Korean immigrants, bought the former vitamin shop in 1988 and pivoted to health food as Amazon and Costco ate into supplement sales. (Thanks to the Kardashian effect, they now have three locations.) Choi has said the Kardashian-Jenner salad orders come by the dozen — enough for production and assistants.
Casa Vega: The restaurant where Kim spent Cinco de Mayo complaining to Kourtney about the cellulite visible in photos from her Mexico beach vacation just happens to be a Mexican American classic, family-owned since 1956. The Casa Vega neon sign is iconic (it appears in Quentin Tarantino's Once Upon a Time in Hollywood), its interior is low-lit with red vinyl booths, the margaritas are strong, and the enchiladas are a dreamy mass of cheese, sauce, and tortillas. Patriarch Rafael "Ray" Vega, who immigrated from Tijuana as a child and grew up in his parents' restaurant downtown, died from COVID-19 complications earlier this year, leaving the family business in the hands of his children. If you can make it there, raise a margarita, an agua fresca, or a shot of tequila to Ray Vega and his beautiful valley Casa.
Sugarfish: In a family full of wealthy LA sushi lovers, it's important to mark your own sushi territory, and Sugarfish is all Kylie's. It's not a major KUWTK filming location, but the hundreds of articles published documenting Kylie's trips over the years make it part of the broader Kardashian-Jenner universe. Sushi chef and owner Kazunori Nozawa is a Hollywood legend whose first restaurant, Sushi Nozawa, popularized omakase (chef-chosen sushi tasting menus) in LA and had strict rules: no cellphones, no loud talk, no requests, no maki (aka cut rolls like California rolls). Charlize Theron was once thrown out for asking for modifications. Sugarfish offers more casual "Trust Me" nigiri boxes — what Scott Disick called Sofia Richie's "TV dinner" — and even cut rolls. But still no California rolls. That's not what this is about.
For The Kardashian Kuisine Completist
Ruth's Chris: The Woodland Hills mall location of this national steakhouse chain saw Caitlyn Jenner birthdays and regular family dinners.
Nate 'n Al's: A 75-year-old Jewish deli in Beverly Hills beloved by Kim and just about everyone else. Famous and non-famous clientele have worked to protect this slice of mid-century LA from rising real estate costs and an incursion from New York's Carnegie Deli.
Iroha Sushi: A low-key sushi spot in the valley where I once spotted the rarest Kardashian, Rob, eating dinner with Scott Disick.
Erewhon: The high-end health food and grocery store where Kourtney gets her ghee and Manuka honey.
Craig's: Kris' favorite, a reliable place to get papped (and get a wedge salad) for a decade.
Chin Chin: Kim has declared her love for this '80s-style Chinese American fusion restaurant, and a fictionalized version of her family was depicted eating there on FX's The People v. O.J. Simpson.