TikToker Kate Glavan Has The Antidote To The "Hot Girl Walk"
Trade your matching workout sets for stained sweatshirts.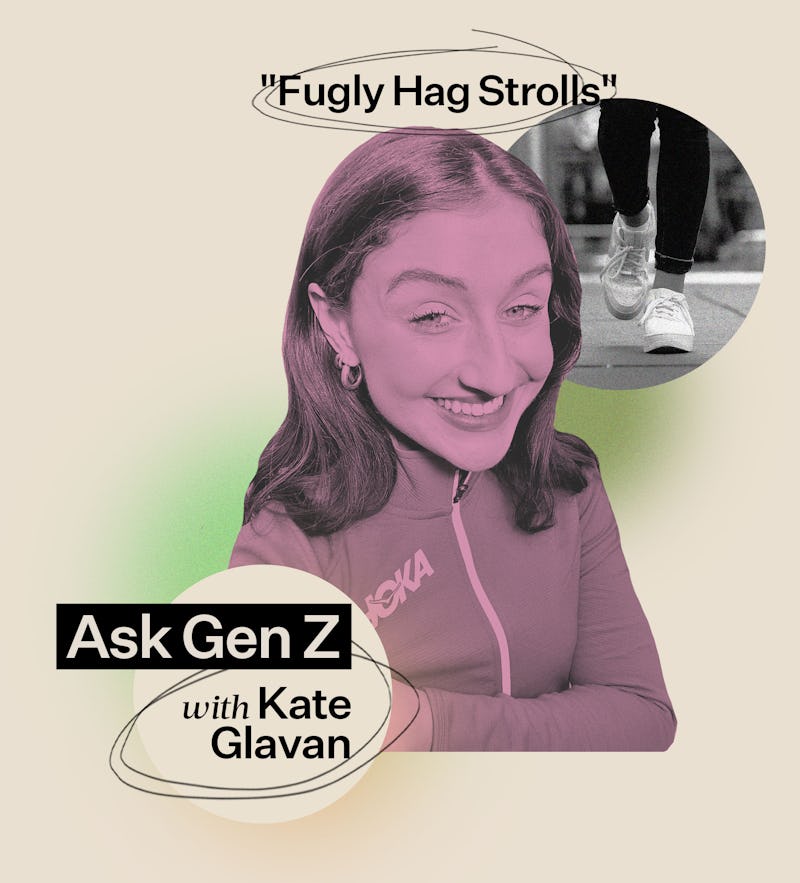 Courtesy of Kate Glavan; Marcel Strauss/Getty
In Ask Gen Z, youngs answer our burning millennial questions about internet culture, dating, and what's actually cool right now. Here, influencer Kate Glavan offers a new perspective on the internet-favorite "Hot Girl Walk."
In 2020, while her peers were whipping their coffee and listening to "Say So" by Doja Cat, Kate Glavan was finishing up undergrad at New York University and resisting joining TikTok. "I'm not dancing on the f*cking internet," says the 23-year-old of her hesitation. But in June 2021, she got over it and jumped on the bandwagon. Now Glavan has over 100,000 followers on the app, has amassed over 7 million likes on her profile, and has several contracts with brands she's loved for years like HOKA, Lyft, and Supergoop.
After just seven months on the app, she started pursuing social media full time. Along with her TikTok account, she has a podcast and corresponding meme account of the same name, "Sea Moss Girlies," that she produces with her co-host and friend Emma Roepke. Together, the two Gen Zers are cultivating a community of demystifying wellness. But let it be known: Glavan does not take sea moss.
On her TikTok, you'll find candid videos of her simply "living her life" in the form of vlogs, 'fit checks, running videos, and the occasional take on a trending sound. But you'll never see Glavan post her workout routines, or a "what I eat in a day" video — popular trends she considers contrived and toxic. "I'm not registered [in nutrition or exercise science] so I'm not giving fitness or health advice to my followers, leave that to the professionals," she says. "But I feel very empowered if people feel inspired in some way when they view my content."
Instead of cut-and-dry advice, she likes to focus on an "anti-aesthetic" approach to wellness. The #HotGirlWalk, a trend that focuses on going on a daily walk in a fun workout 'fit with an empowering playlist queued up, has over 153 million views on TikTok. Meanwhile, Glavan has reason to believe her way of walking, which she has coined the "Fugly Hag Stroll," may be the antidote to the image-conscious workout trend.
Below, Glavan talks about moving your body as a form of self-appreciation.
The Hot Girl Walk, let's talk about it. What are your overall thoughts on the TikTok trend?
I think the pandemic obviously accelerated the trend since gyms were closed and there was nothing else to do but look at yourself and analyze yourself, which would lead to a spiral. When I first saw the Hot Girl Walk I was like, "OK I get it." Now, I'm seeing cookie-cutter videos of people posting the same, very routine and very aesthetically-driven take on their daily walk. I have an issue with the way some people associate those themes with wellness — it makes wellness seem like it's only for white girls wearing Alo Yoga sets.
I appreciate the Hot Girl Walk if it's something you're doing for your health but my problem with it is that it's turned into showing off your personal wealth and consumer habits. What workout set are you wearing? Where's your expensive green juice coming from? I'm not shading anyone who's ever made a video — I just think it's highlighting the wrong things and the videos all look the same. It's very much a wink and a nod — "If you don't wear the right matching workout set, then go f*ck yourself, because you can't be in wellness."
On March 22 you posted a video about your "Fugly Hag Stroll" and in the comments explained how your walks are about speed and not being perceived. Where did that idea come from?
I was like, "You know what? I never look hot when I'm on a walk, I look so fugly, I look like a hag." And I remember thinking, "F*ck this Hot Girl Walk." The first time [I posted about it] I was running late to a workout class and I filmed a TikTok. Everyone in the comments was agreeing, saying, "Yeah, I don't want to feel like I'm hot and dressing for the male gaze on my walk. I'm just walking to walk." That's where the term originated and I guess people are resonating with it and understanding you can be into health and wellness but it doesn't have to be aesthetically-driven at all.
What do you think of all the other iterations of the Hot Girl Walk like the Rich Mom Walk and Model Walk that have branched off from the original trend?
Everything is a performance on social media. Me going on a Fugly Hag Stroll, is that a little bit planned and curated? Yeah, I'm doing it to stick it to the system. To go against this "sporty and rich" ethos so I think everyone is probably doing a little bit of performance when it comes to social media.
Is there a "Fugly Hag Stroll" starter pack — what's the playlist you like to listen to?
I always get really nervous that I'm going to get stopped by one of those people in New York, who asks what song you're listening to, and I'll have to be like, "A podcast about the gut microbiome at 1.5 speed by an old white dude! Or The Wizard of Oz soundtrack!"
I feel like Fugly Hag Stroll can just be a [walk to disconnect]. For me, my music of choice for that is Lana Del Rey or Beach House. Those are my hitters, but whatever helps you get into that mental state of numbness.
What about your Fugly Hag Stroll OOTDs?
I always wear HOKAs and then I'll absolutely have to wear an article of clothing that has a stain on it. I'm always getting a mustard stain, turmeric stain, chlorella stain — something odd like that on my clothing and I think that's an essential in a Fugly Hag Stroll. Maybe you walk in your pajamas or you're wearing flip-flops to your bodega. For me, it's always a sweatshirt and sweatpants. It could be an old T-shirt that you've had for five years. It's from your high school band or your college, or maybe it says, "World's Best Grandpa."
Final thoughts on Hot Girl Walks vs. Fugly Hag Stroll: Go.
If the Hot Girl Walk is something that is really helping you get your step goal in, or get you out of the house, or have that alone time for yourself, that's awesome. But if it gets to a point where you're thinking, "Oh, I need to go buy a new workout set because it's 20 degrees hotter outside." That can be a hard but important conversation to have with yourself regarding your personal health journey. There's so much noise out there to distract you from what you actually like doing versus what you feel pressured to do. So yeah, if a Hot Girl Walk works for you, go ahead. If not, try a Fugly Hag Stroll.
This interview has been edited and condensed for clarity.