6 Things To Know About Dominic Cummings' Coronavirus Hearing
From depressing behind-the-scenes info to the citing of a Spider-Man meme, this was the wildest seven hours in recent political history.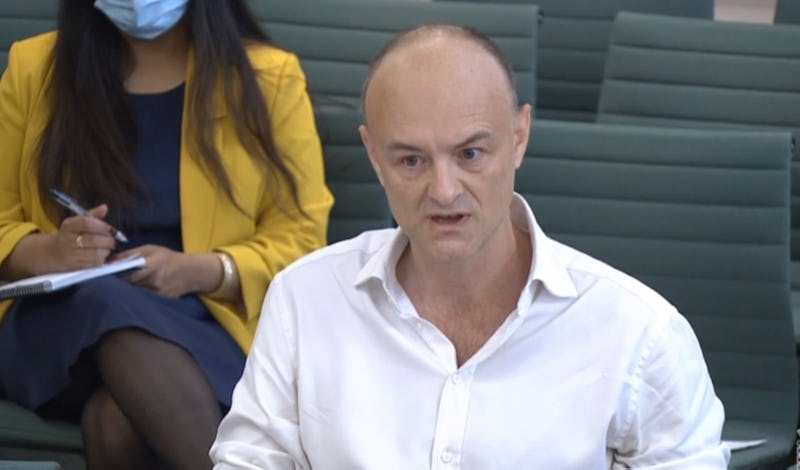 House of Commons - PA Images/PA Images/Getty Images
On Wednesday, May 26, Boris Johnson's former chief advisor Dominic Cummings gave evidence to a joint inquiry into the government's handling of the coronavirus pandemic, and the lessons that can be learned. Led by the Health and Science Select Committees, Cummings provided seven hours worth of testimony against former colleagues and the prime minister, even going so far as to say that "tens of thousands of people died who didn't need to die" due to the government's actions over the past year.
Prior to appearing at the inquiry, Cummings was already sharing a variety of claims via his Twitter account. In one post, he tweeted a photo of a whiteboard that showed the government's initial plans ahead of the first wave of coronavirus. This included a "plan A" and "plan B", and also included a question of "who do we not save?" in the event that the NHS was overwhelmed which may have also resulted in the death of 4,000 people per day from the virus.
While the whiteboard wasn't a major talking point within the inquiry, it set the tone for what would be one of the biggest moments in UK political history of the past decade. Below are just six of the major moments during Cummings' evidence giving, which paint an alarming picture of what may have happened during the days leading up to the first wave.